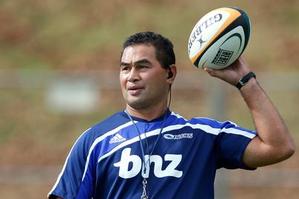 Blues coach Pat Lam is looking for one last effort from his battered and bruised team when they meet the winless Lions in Sunday's (NZT) Super 14 rugby match in Johannesburg.
The eighth-placed Blues desperately need a morale-boosting win after two losses on the road at the hands of the Cheetahs in Bloemfontein last week and the Sharks in Durban the week before.
But a growing injury toll has forced Lam into making a raft of changes.
First five-eighth Stephen Brett has been unable to train after a knee injury suffered in the 32-36 loss to the Cheetahs, and is bracketed on the bench with George Pisi.
Daniel Kirkpatrick, 21, will wear the No 10 jersey and take on goalkicking duties while Isaia Toeava returns to fullback after playing centre last week. Rene Ranger moves into the No 13 spot and Paul Williams switches to the the wing.
Lam said he had no doubt his players would take the changes in their stride.
"We're not putting any of them in a position they haven't played before. Paul will still give us straight, strong running from the wing, and Ice (Toeava) gives us the organisation play, particularly at phase play," he said.
"Rene will get a chance to get more involved at centre playing outside Benson Stanley."
The Blues' loose forwards have also been hit by injury. Lam said flanker Tom Chamberlain was unavailable due to a quad muscle injury while Vilami Ma'afu has a sternum injury and openside flanker Serge Lilo, named in the starting lineup, is also struggling with a few niggles.
Peter Saili starts at No 8 in place of Ma'afu, and All Blacks lock Anthony Boric replaces Filo Paulo.
Blues captain Keven Mealamu hasn't been able to shake off the injury he suffered in the 23-10 loss to the Sharks, and Tom McCartney will again start at hooker.
Lam said Mealamu had been "pretty keen" to play.
"He's still not 100 but, Keven being Keven, he was keen to get out there. But the medical staff said there was a really high risk of more permanent damage which could put him out for a while, and he's got bigger things to come," Lam said.
"The sensible thing was to not put him out there -- calf muscles aren't something you want to mess around with."
Lam was hopeful Mealamu would be back in time for the final game of the competition against the Chiefs in Auckland on May 15: "He's taking it hard watching on the sideline."
Flanker Jerome Kaino continues his role as skipper in Mealamu's absence.
Lam said the Blues were keen to finish their three-game South African tour on a winning note.
"Obviously we came on tour hopeful to get points, but the games didn't pan out that way and we're pretty disappointed about that," he said.
"But this is the last week of the tour and everyone's committed to getting this game right. The Cheetahs were probably our worst performance of the year, and we realise we've got to finish strongly."
- NZPA