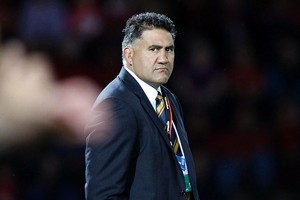 Highlanders coach Jamie Joseph calls it "mettle".
It is the commodity he went shopping for when handed the Highlanders' chequebook in the middle of last year.
Some he imported from up north in the form of players such as Jarrad Hoeata, Nasi Manu and Shaun Treeby. And some he found within the southern men he inherited with the job.
Joseph explains how he assembled a team so distinctively hard-nosed.
"One of the most important things for me was whoever we selected had to be of good mettle - players that wouldn't give in, players that would keep standing up if they lost, players that would work hard regardless of outcome because of their character, because of the way they were as players and ... players that could adapt to living in the south."
Joseph took on a Highlanders team in poor shape; second to last in 2010 - losing not only games, but fans, money, credibility and players.
"So we had to create a team and that's a bit of a different challenge from going out and finding some stars."
As coach of the Wellington Lions and New Zealand Maori, Joseph was familiar with the rising talent in those areas that the northern franchises had not picked up. Beyond that, he looked to his rugby network for advice.
"I asked a lot of questions."
So, while Highlanders fans were recovering from last winter's rout, Joseph was on the road and in the air, interviewing prospective players in Koru lounges around the country - "poaching" development players and just trying to "suss a few things out".
Joseph says he wanted players who were "relentless" and had a strong work ethic.
"Those are the sorts of things I'm looking for by asking questions to people that know them, coached them, taught them, whatever, whoever."
At the same time as he was signing up new players, he was also dealing with dispirited Highlanders players, several looking at their options elsewhere.
"They just weren't enjoying their footie, so you'd just say fair enough really. They all want to do well at the game, so if they are getting pumped every week it's not very enjoyable. So I had to persuade some."
The most high-profile of those were Adam Thomson and captain Jamie Mackintosh.
"I'm not a car salesman; I didn't really sell them. I just sort of told them what I'm about and what I was going to do and how that would improve the team and the environment, which then would lead to an improvement in our performance. And they could be part of that if they wanted to."
Joseph says it was a "a bit of a shame" he did not get a chance to talk to Israel Dagg before he decided to leave for the Crusaders.
He also had to move a couple of players on, "which was also very difficult".
One thing he found "a wee bit weird" was why the strong Southland contingent in the Highlanders did not perform in 2010.
"The Southland boys played really well for Southland but they didn't play very well for the Highlanders."
He decided part of the way to reach this "untapped potential" was to bring Southland co-coach and former All Black Simon Culhane ["Nibs"] into the Highlanders management team as assistant coach.
"Everyone sort of underestimates how important a good management team is and I guess what I did first was look at what I had to offer a team and what I don't have to offer.
"I tried to fill those holes in with the coaches I've selected."
Having gathered up his raw mettle, Joseph set about forging a side that could compete - turning the narrow losses of the previous season into wins.
He started by having a "few yarns" with the management team to devise a plan.
"What we have is a commodity of teamliness and sticking together and work ethic and all these sorts of things which I've sort of defined as 'mettle'. And when we click ... we can play and beat anybody."
Joseph established a leadership group of seven from among the players - Mackintosh, Thomson, Jimmy Cowan, Alando Soakai, Jason Rutledge, Kendrick Lynn and Nick Crosswell.
Crosswell, one of the new boys, he included because he did not want "just an old boys' network" from the previous year.
"What I said to those guys was that this will only work if they are right in, 24-seven, for the whole season. And thus far they have been."
But perhaps the most important tactical decision of the 2011 Highlanders' season was made back in July last year and was not made by Joseph at all.
It was the New Zealand Rugby Union's decision to offer Joseph the Highlanders job.
Joseph had applied for the Hurricanes job and felt he had a good chance of getting it.
"I had been the Wellington coach for three years ... and had reasonable success with the Lions side so I certainly had the personal confidence to be able to step up and coach at this level."
Staying in Wellington would also have "made sense" for his family. His wife Mandy is from there and their four children were growing up there.
"So it just made a lot of sense to have a crack at that job and I was disappointed that I missed out."
Asked why he missed out, Joseph says the NZRU "just had a preferred candidate" in Mark Hammett.
"It's like anything that you apply for. You can only do what you do and only give what you give and I obviously wasn't what they were looking for, mate."
Joseph feels disappointed now for the Hurricanes players who had not performed as well as they might have liked.
"What I find is that if you can get the guys to play intrinsically [rather than] for professional remuneration, then they tend to play a lot better and they tend to enjoy their football a lot more."
- OTAGO DAILY TIMES