Herald Rating: 4/5
Address: 88 Maunganui Rd, Mt Maunganui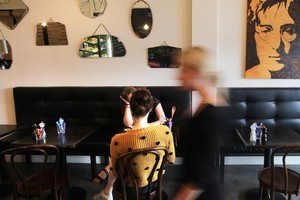 We came here because we were at the Mount for the weekend and thought this place stood out as having a bit of character.
Parking was a challenge - on this particular Sunday the area was playing host to the Tinman Triathlon, the Clipper Round the World Yachts and a cruise ship.
We walked in and immediately thought we'd chosen well. We loved the décor, with its wall of art deco bevelled mirrors, the kitchen partition made of old fence palings, the huge blackboard for doodles, and the retro armchairs in the window. There's also a super-cute covered courtyard. It was sadly full but we sat quite happily on the street.
The most unusual thing on the menu was the bubble and squeak side dish ($4).
We ordered creamy mushrooms with crispy bacon and sourdough ($16) and the energiser vegetarian breakfast ($15.50), which came with gluten-free toast, pesto, hummus, cottage cheese, spinach, flat mushroom and a poached egg.
I'm not gluten intolerant but really enjoyed the fresh seeded bread. The ingredients were full of flavour - especially the pesto - though the egg was a little undercooked. The mushrooms were declared a success. We struggled to finish both.
The coffee was excellent - really creamy and super hot, just how we like it.
The service was so laid-back that we wondered if our food would actually arrive, but both the coffee and our meals landed on the table before we'd barely opened the Sunday papers.
We recommend if you come here you take away a couple of items from the impressive selection of homemade-style counter food. We grabbed a deliciously gooey caramel and coffee oaty slice, a savoury muffin packed with pumpkin which had half a rasher of bacon around it, and a light apple crumble muffin with lots of raspberries. Divine.
Overall we thought should the owners of Cafe Eighty Eight set up a branch in Auckland, we'd go all the time, without a doubt.