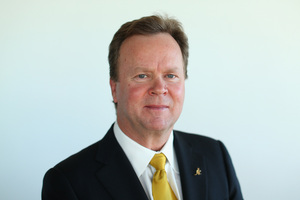 New ARU boss Bill Pulver piled on the sugar coating as he talked up the Lions tour.
He unveiled record crowd figures, TV broadcast numbers, expressed confidence the Wallabies could regain the Bledisloe Cup for the first time since 2002, and floated the idea of a combined one-off Anzac team to play the Lions at Twickenham in 2015 to mark the centenary of Anzac Day.
Pulver was spruiking ideas while hailing the Lions' tour of Australia a resounding success. Like his predecessors and many in the Southern Hemisphere, Pulver did not show the same magnanimity towards the IRB and its judicial systems.
Rugby's governing group had integrity, he began, before words like "uncomfortable", "uncertainty", "unfair" and "double jeopardy" roared into his sentences. Twin hearings into the validity of James Horwill's boot work had been a glacial process, which did nothing for the reputation of the IRB or the equilibrium of the Wallaby captain.
Not a lot has changed to streamline and clarify rugby's judicial system in the eight years since the Lions toured New Zealand. All Black captain Tana Umaga and Keven Mealamu were exonerated after the opening test in 2005 when they upended Lions skipper Brian O'Driscoll in a lifting tackle that dislocated his shoulder.
The pair were cleared by South African judicial officer William Venter, who scarpered home as the furore continued.
That time the Lions persisted with the issue while the IRB alone, according to Pulver, decided to get involved in a repeat examination of Horwill's case.
Chief executive Brett Gosper, the president and legal officer of the IRB, had reviewed the decision of the judicial officer and chose to put it under repeat scrutiny.
Pulver approved of the independence of the system but was critical of the flawed and elongated process. He wanted the system changed to separate the judicial and administrative arms of the IRB to eliminate further cases of double jeopardy.
It is the second time Gosper has been involved in some public judicial outcry.
Last November, he tweeted about Adam Thomson's careless boot work on a Scottish opponent. He did not like the initial one-week suspension and wanted a review.
It was silly enough then for someone in his role to tweet about his displeasure with the decision and just as daft for the IRB to get involved again in Horwill's case. Rules, refereeing, judicial outcomes, penalties must have a global uniformity. The game is played at a fast clip, an attribute the IRB should aim for to quicken the speed of its administration.