Grant Allen conjures up a banquet on the road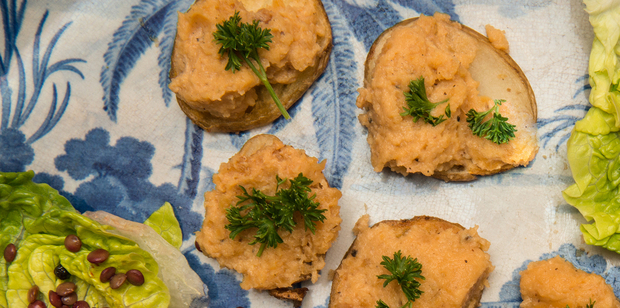 Southland is rightly famous for its swedes and spuds so I had to use these. The garlic head was bought at Dean's Bush. If you are making these ahead, re-warm them just before serving.


1. Roast the garlic head whole and squeeze out the soft garlic puree.
2. Peel the swedes, chop them into small pieces and cook them gently in milk until they are very tender.
3. Cut some small waxy potatoes into discs (leave the skin on), brush them with oil and space them out on an oven tray. Roast them until they are just soft and nicely golden coloured.
4. Drain the swede (keep the poaching liquid) and puree them with the roasted garlic. Add enough of the poaching liquid to achieve a firm but smooth puree.
Mound up a generous teaspoon of the mash on to each disc, season well with salt and pepper and top with parsley.