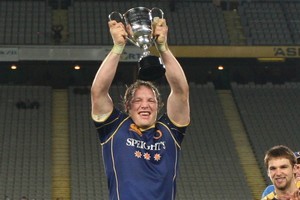 Wednesday night should have been one of the greatest in my love affair with sport when Otago beat Auckland at Eden Park for the first time in 35 years. But it just wasn't.
I was born the last time the blue-and-gold triumphed at Eden Park but I hadn't ever witnessed it.
In 1976 players were lucky if they were slapped on the back when they scored a try, it was a time when boots were as black and white as the television pictures and when players used beer to replace fluids rather than fancy energy drinks.
Beating Auckland was something many Dunedinites dreamed of. Winning this game, particularly in Auckland, was the biggest scalp of all. It was in our DNA to hate Auckland and the people who lived there - this dissipates pretty quickly when you move away and realise Aucklanders aren't descendants of the devil and don't really care for national prejudices.
Despite my shifting view of the world, it was hard to get excited about something that happened on a Wednesday night at an empty stadium when many people were tuning in to Survivor instead.
The NPC was a great competition in its heyday but it's become the club rugby of the professional age and it's probably time we treated it as such. Instead of giving it a place at the top table, the NZRU need to set it free.
There is already considerable pressure on players, fans and sponsors in what is an ever-expanding season. They are asked to front up from February to December and it's difficult to sustain that sort of intensity for such a long time.
Put simply, less is more.
Super Rugby should be the year's most important domestic competition and start in March. It should be played over a full round (everyone plays everyone) with the home-and-away derbies on top. The competition can stop for the June internationals but there needs to be enough afterwards to ensure momentum can be achieved heading into the playoffs, unlike 2012, when it will happen near the end.
The Four Nations will then follow in August and September before the northern tour rounds off the year.
The ITM Cup can still be a breeding ground for the next tier of players but it doesn't deserve its own window that dictates an unsatisfactory end to Super Rugby. Being a traditionalist, I was a staunch defender of the NPC's place in the rugby calendar but reality must take hold.
We are often too quick to disregard what happens in the over-hyped and over-indulged US sporting world but it's worth more than a curious glance.
American football is probably the closest thing to rugby union in that country. Teams play 16 games before the playoffs and if a team goes all the way to the Super Bowl, they play 20 games.
They aren't then asked to play in a secondary competition like the ITM Cup on top of internationals against other countries. Perhaps it's a bit short, particularly with the absence of internationals, but it certainly can't be accused of being too long and it's followed avidly. Players and fans can't complain of burnout.
Of course, 2011 is an exceptional year when it comes to rugby in this country. It will never be like this again with competitions squeezed into a tight schedule to accommodate the Rugby World Cup.
But it's also a time to accept where provincial rugby should sit in the natural order. It's what this fan wants.Speaking of fans, the Warriors would be wise not to disregard theirs when choosing their new coach.
Brian McClennan is an immensely popular figure and most fans would be contented if he was appointed coach. McClennan didn't play for the Warriors - he finished playing a year before the Warriors were established in 1995 and it's unlikely he would have been good enough anyway - but he is seen as a man of the people.
He has a common touch league folk find appealing. Players like him, media like him and, crucially, fans like him. Around 88 per cent of more than 2000 respondents to a Herald online poll voted for McClennan ahead of Tony Iro and John Ackland to be the next Warriors coach.
The role of the fans should not be underestimated. They are the ones players play for - or should play for - who, in a roundabout way, pay the wages and turn players into stars. Their voice should be heard.
In English football, in particular, they can be a powerful body. Liverpool fans played a leading role in ousting Roy Hodgson and replacing him with Kenny Dalglish as manager in January.
Hodgson acknowledged he would never have been a success at Anfield because the fans didn't want him if it meant Dalglish missed out.
"They wanted somebody else and that makes life a lot more difficult," said Hodgson, who lasted 31 games before he was sent on his way.
It would be a similar situation if Iro, Ackland or Justin Morgan, present coach of Hull KR, were given the top job. They are probably all good coaches but, with McClennan willing and available, they would be judged more harshly and swiftly.
If the Warriors lost four in a row, like they did in June, calls for McClennan would emerge faster than Kevin Locke scooting through a hole in the defence. In contrast, fans are likely to be more patient if McClennan was in charge because he is their man.