First lady Melania Trump has revealed that there actually was a message behind the infamous jacket with the words "I really don't care, do you?" splashed across the back, which she wore on June 21, amid the unaccompanied migrant children crisis.
At the time, the White House vehemently denied the wardrobe choice was anything more than a fashion statement, as the wife of President Donald Trump unexpectedly showed up for a visit to the Upbring New Hope Children's Shelter in McAllen, Texas, reports The Daily Mail.
But now, in a sit-down interview with ABC's 20/20, Melanie told Tom Llamas that the message was "for the people and for the left-wing media who are criticising me".
She added: "I want to show them that I don't care. You could criticise whatever you want to say, but it will not stop me to do what I feel is right."
When the first lady opted for the controversial look of the day, about 2000 children remained separated from their families at the border, due to the administration cracking down on illegal entries, according to US Department of Homeland Security figures.
Melania's now infamous jacket was first photographed as she boarded her plane at Andrews Air Force Base in Maryland on June 21, headed to Texas.
She was criticised as being tone deaf with the outfit selection, given the tense situation as so many children remained separated from their parents and guardians, who had been detained while trying to enter the US.
"It was kind of a message, yes," Melania told Llamas, contradicting the official White House word on the matter, from back in June.
"I would prefer that they would focus on what I do and on my initiatives [rather] than what I wear."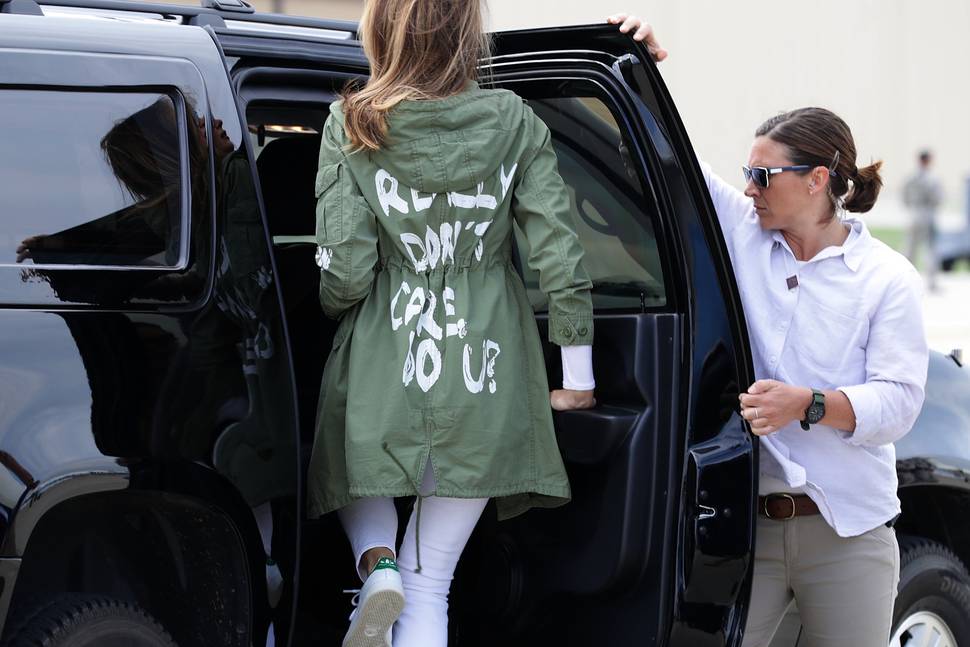 Figures show that 1995 minors were separated from 1940 adults between April 19 and May 31, breaking down to an average of 46 children per day being separated from their families.
The separations were not broken down by age, and included separations for illegal entry, immigration violations, or possible criminal conduct by the adult.
It was under a "zero tolerance" policy announced by Attorney General Jeff Sessions that Department of Homeland Security officials began referring all cases of illegal entry for criminal prosecution.
US protocol prohibits detaining children with their parents because the children are not charged with a crime when the parents are.
The policy was so disliked by the public that the president ended it by executive order on June 20.
Even so, Melania was the only senior administration official to visit multiple detention centres in June. She quickly dismissed previous suggestions that the words on the jacket had anything to do with the plight of the children she was visiting, and their families.
"It's obvious I didn't wear the jacket for the children," she said. "I wore the jacket to go on the plane and off the plane. After the visit, I put it back on because I see how [the] media got obsessed about it."
There was also some discussion that the words on her jacket may have been a reference to not caring about stories of her husband's alleged extramarital affairs.
But Melania put those rumours to bed, as well.
"It is not a concern and focus of mine," she told Llamas, speaking about whether the accounts about the president's alleged infidelities have put a strain on their marriage.
"I'm a mother and a first lady and I have much more important things to think about and to do."
She's aware of what's being said, though, made apparent by the list she rattled off when asked what kinds of claims she had to endure.
"People say that I'm not happy in the White House, that I don't even live there and that I'm miserable in my marriage, that I'm out of touch," she said. "There are so many things I don't know where to start."
She added: "I know people like to speculate and media like to speculate about our marriage and circulate the gossip but I understand the gossip sells newspapers, magazines, getting advertisers and, unfortunately, we live in this kind of world today."
Melania didn't say outright whether she thought the president had ever stepped outside the bounds of their relationship.
The very private woman said one of the hardest things about her role, which she's been envisioning herself in since at 1999 when she first gave an interview on what kind of first lady she might be, was possibly the lack of privacy that comes along with it.
"You're always under the microscope," she said, adding that it's also been a difficult transition when it comes to spontaneous travel of any kind.
"I cannot freely move anymore," Melania said, discussing the production required any time she has to go somewhere. But she made sure to let Llamas know that though she's restricted, she's happy where she is right now.
"I don't feel like a prisoner, I'm enjoying it," she said. "This will not last forever and it's a very special time."