The online shop selling Madeleine McCann merchandise to help highlight the missing girl's plight and raise funds for her search has abruptly been closed down by her mother Kate.
Too-busy Kate has told how she has unfortunately had to shut the website store selling travel packs, T shirts, posters and car stickers bearing her daughter's face with slogans "Please don't give up on me" and "Still missing, still missed" because of her "many commitments and pressures".
In another fresh blow it has been revealed that donations from the public to the Maddie Fund have dwindled to 'virtually zero' over the past 11 years, reports Daily Mail.
A source close to Kate and husband Gerry said: "The idea that money is still flooding in is just wrong. Donations dried up a long time ago. At times the story comes into the news a few kind people send in a quid or two but their is nothing of any real value."
The McCanns are still waiting to fund out if Scotland Yard will request extra cash to keep the search for Maddie going when their current funding runs out in just eight days.
So far the Met Police has not put in a new bid to the Home Office leaving Kate and Gerry on tenterhooks not knowing what's happening.
A family member told MailOnline today: "We have to wait to see what the Home Office decide about the Grange operation."
Three-year-old Maddie vanished from an apartment in Portugal's Praia da Luz during a family holiday in May 2007. She and her younger twin siblings had been left sleeping alone in their beds while her parents were dining in a nearby tapas restaurant with pals.
The Madeleine Fund, officially called Leaving No Stone Unturned, was launched shortly after she went missing. Its sole purpose of to find Maddie, support her family and bring her abductors to justice.
A sum of £750,000 is left in the pot which the McCanns will dip into to pay for their own private investigators if the police search is shelved. But a threat of losing a vast chunk of the money in a bitter legal battle which is still ongoing against a former Portuguese police chief looms over them. Retired officer Goncalo Amaral accused the McCann's of being involved in their daughter's accidental death and covering up - false claims over which they couple sued him for libel.
Heart doctor Gerry and former GP turned medical worker Kate, both 50, of Rothley, Leicestershire, are waiting to hear of the European Court of Human Rights will consider their ultimate appeal against a ruling against them made by the Supreme Court in Portugal.
Their friend said: "If the case goes ahead and they lose they will have to pay Mr Amaral £430,000 in damages and legal fees which could wipe out the fund for their daughter. Three quarters of a million sounds like a lot of money but it is not if a legal payout has to be made at any point in the future."
Mr Amaral has called on the McCanns, who have paid their Portuguese lawyer helping them fight their libel battle, to reveal just how much they have spent on "court cases". He said today it was not his fault if they run un out of cash, insisting he has never taken any legal action against them. He told news website Portugal Resident.com that the couple should explain "how much money they have spent on lawyers' fees", adding: "These were thousands of pounds not spent on looking for their daughter."
Over the years money had been flooding into the Fund - which once topped nearly £2million - much it from online sales of merchandise to help the search for Maddie, who would now be aged 15. But Kate recently closed the shop, posting on the Find Maddie website: "Unfortunately, due to many commitments and pressures, I am unable at this time to attend to website orders. We greatly appreciate your support. Thank you to everyone who has kindly donated to Madeleine's Fund through our Online Store. Your support means a lot to us."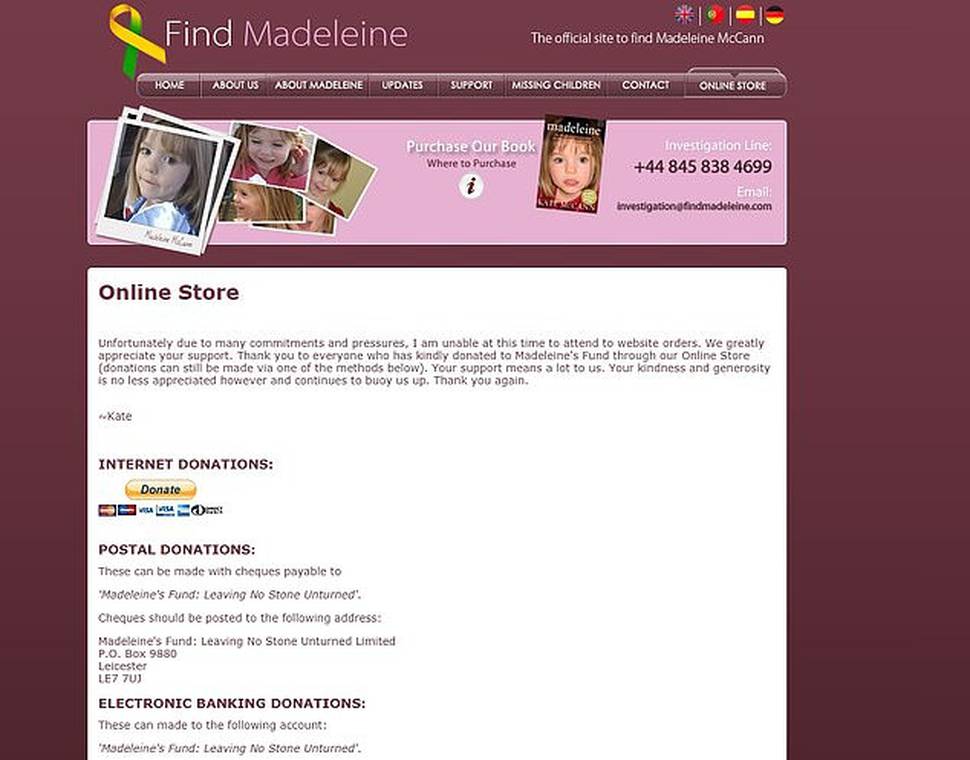 She added: "Your kindness and generosity is no less appreciated however and continues to buoy us up."
In the first months of Maddie's disappearance from the Algarve £1.8million poured into the fund including more than £64,000 from sales of T-shirts, wristbands and "holiday packs" — posters and car stickers holidaymakers could paste up when they went abroad.
The following year generous supporters donated more than £600,000, with merchandise again a s large part of the fund. But over the years is has dwindled to a few thousands pounds and now virtually nothing.
Kate's 2011 best-selling book "Madeleine", with serialisation rights, netted her £1million which she ploughed into the Fund.
Together with serialisation deals, it is understood the book — which became a best-seller — has raised nearly £1million for the fund, which has six trustees including Kate and Gerry, both 50.
Kate and gerry are now "keeping fingers crossed" the search for Maddie will carry on for another six months
Their pal said: "The funding is down to the Home Office and the police. Kate and Gerry have no say in the matter. They have been here before. They simply have no idea if the search will come to an end or will carry on. It is a daunting prospect they face once more and time is running out for a decision to be made."
The last handout of around £150,000 was given at the start of April which runs out at the end of September.
A Home Office spokesperson said today: "To date no request has been received from the Metropolitan Police Service to extend funding for Operation Grange beyond the end of September 2018. Before we would even consider an application from the Met Police to continue its Operation Grange inquiry we need to know what work is left to be done and how much is would cost."
Next Saturday Maddie's eminent cardiologist dad will be giving a rare and powerful radio interview discussing his heartache and mental health issues over the loss of his daughter. In a bid to raise awareness and help others open he will speak candidly in "honest, personal and sometimes painful terms" in BBC's Radio 4 programme "Pearl: Two fathers Two Daughters."
It will be broadcast on September 29, coincidentally just one day before the search for Maddie could continue or be axed.