Pointing into the camera, Scott Morrison had one message for the public: "We are on your side."
"There has been a lot of talk this week about whose side people are on in this building," he said. "And what Josh (Frydenberg) and I are here to tell you, as the new generation of Liberal leadership, is that we are on your side. That's what matters."
Addressing the media for the first time since his party voted him into the top job, Morrison acknowledged the Liberal party had been "bruised and battered this week", but said Australians are a "resilient bunch".
On outgoing prime minister Malcolm Turnbull, he said: "I have known Malcolm for a long time, as you know. He has been a dear friend. He has served his country in a noble, and professional way.
"Josh and I have watched and worked with him as he has led our cabinets and the achievements we have been proud to serve with him as a government, whether it is in the economy, whether it is in all the other areas that Malcolm has outlined today at his earlier press conference."
He also thanked Julie Bishop and Peter Dutton, noting that he "looks forward" to them playing a role in his government if they choose to.
Morrison said his immediate priority would be the drought, without elaborating.
TURNBULL FRONTS THE MEDIA
Earlier this afternoon, outgoing prime minister Malcolm Turnbull fronted the media addressing the "insurgency" from a number of people in the party to bring down the government, or at least his prime ministership.
The speech marked Turnbull's first comments since losing the Liberal Party leadership to Scott Morrison, and his last as Prime Minister.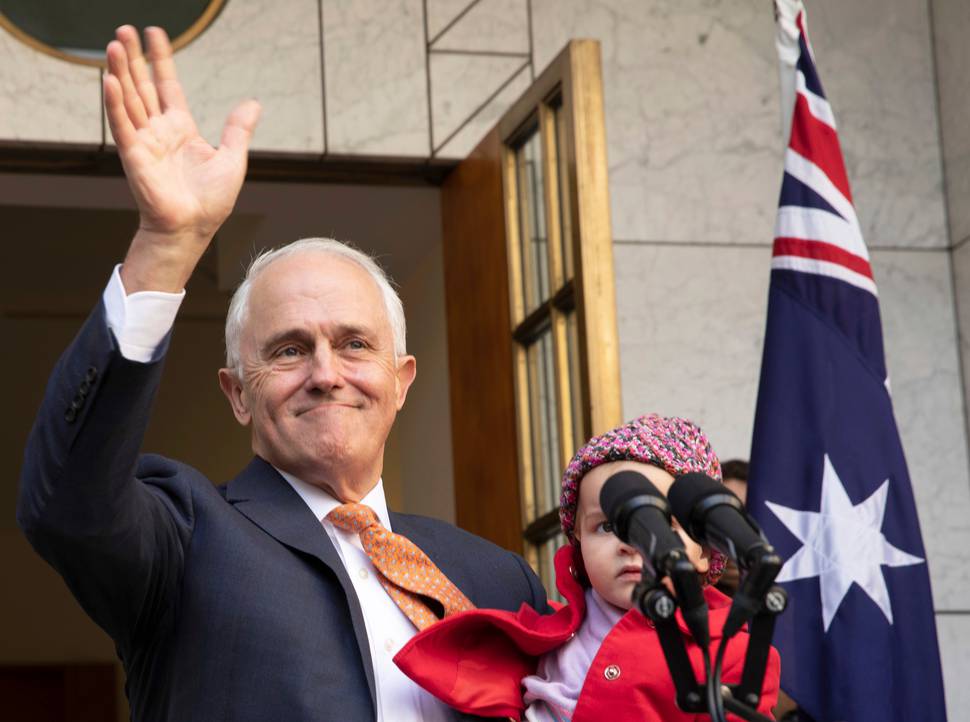 "It was extraordinary," Turnbull said.
"It was described as madness by many, and I think it's difficult to describe it in any other way. In the party room meeting today I was impressed by how many of my colleagues spoke or voted for loyalty above disloyalty.
"How the insurgents were not rewarded by electing Dutton but instead my successor, who I wish the very best, of course, Scott Morrison, a very loyal and effective Treasurer."
He said Australians would be "dumbstruck and so appalled" by the chaotic conduct of the last week.
"Many Australians will be shaking their head in disbelief at what's been done," he said.
"To imagine that a government would be rocked by this sort of disloyalty and deliberate disloyalty, deliberate destructive action.
"Peter Dutton, Tony Abbott and others who chose to deliberately attack the government from within, they did so because they wanted to bring the government, to bring my prime ministership down.
"If people are determined to wreck, they will continue to do so."
Turnbull said although it might surprise people he remained very optimistic and positive about the nation's future.
"I want to thank the Australian people for the support they've given me and my Government over the last nearly three years," he said.
"It has been such a privilege to be the leader of this great nation. I love Australia. I love Australians. We are the most successful multicultural society in the world, and I have always defended that and advanced that as one of our greatest assets."
He said while it had been a challenging time as PM, he was very proud of his record.
Labor Leader Bill Shorten gave a generous statement to his outgoing opponent, noting "politics can be a brutal business".
"In 2016, Malcolm and I led our two parties in the longest election campaign in fifty years and in some respects, I suppose we have been engaged in that same contest in the two years since.
"But for all our verbal conflict... I hope Malcolm knows that I have always respected him as a formidable opponent, as an advocate of great intellect and eloquence and as someone who came to parliament, relativelyu late in life, because he was driven by the desire to serve."
Mr Morrison won the vote in the party room meeting 45 to 40 after days of tense meetings and panicked phone calls among party members as the country watched its government fall into disarray.
Morrison will become Australia's sixth prime minister in 11 years.
His deputy leader will be Environment and Energy Minister Josh Frydenberg who won the vote with an "overwhelming" vote.
A defeated Malcolm Turnbull stood down from the leadership following a vote of no confidence in his ability to lead the party to the next election after he called the long-awaited meeting to finalise the challenge for the top job that started on Tuesday.
Challenger Peter Dutton hoped he had the numbers to pull off the move he attempted to make earlier this week, gathering the 43 signatures he needed to force Mr Turnbull to call the meeting.
But those who signed the document sent their votes elsewhere in the secret ballot, with many who put their name to the paper understood to be supporters of Mr Turnbull's.
Morrison had pledged his support for Turnbull all week.
Upon leaving the party room, Dutton stopped to speak to waiting media and congratulate Morrison.
"My course from here is to provide absolute loyalty to Scott Morrison to make sure we win the election," he said.
Dutton's backer, former prime minister Tony Abbott, said they would now do their best to save the government.
"We've lost a prime minister but there is still a government to save," Abbott said. "That is what we will all try our best to do now."
Julie Bishop alsowent head-to-head with the pair but was eliminated when she received the lowest vote from the party.
Earlier today Mr Dutton personally delivered the petition to Mr Turnbull which prompted him to stonewall until the last minute in calling the meeting.
Turnbull tweeted this morning that he had asked the party whips to verify all 43 signatures before calling the meeting.
Bishop and Morrison had spent the past 24 hours hitting the phones to gather the support needed to pip Dutton at the finish line.
Former health minister Greg Hunt, who this week resigned from cabinet, said Morrison and Frydenberg were the next generation of leadership and two incredible people with extraordinary capability and credibility.
"They'll do a tremendous job," he said.