Imran Khan, a onetime international cricket star and tabloid playboy who reinvented himself as a crusading anti-establishment politician, declared victory Thursday for his party in parliamentary elections, even as his rivals charged that the polls had been rigged and the official results remained unclear.
In a statesmanlike address, Khan set out a grand vision for a new government that would end corruption in high places, protect the weak and ensure equal rights for all. But the taint of a questionable victory, and the contentious aftermath of an election that toppled the ruling party, seemed more likely to usher in a period of political turmoil than a smooth transition.
Pakistan, a nuclear-armed state and a longtime security ally of the United States, has a history of the military pushing out or overthrowing elected leaders. Until 2008, no elected head of state had finished a full term. Wednesday's election has been seen as a critical test of the democratic institutions in a country with a strong, influential military.
Although security officials vowed to remain neutral, the military was accused of interfering in the election on Khan's behalf, including reports that some promising candidates from the ruling Pakistan Muslim League-N were covertly induced to leave the party. On election day, opponents from several major parties alleged fraud at the polls.
Khan has often publicly praised the military but has denied any collusion. Some critics, especially the family of former prime minister Nawaz Sharif, have called the election a "soft coup." Even if unproven, the association could harm Khan's relations with other parties as he tries to form a coalition government or rule on his own.
In his speech Thursday, Khan tried to placate the election critics, offering to help probe any wrongdoing at the polls.
"I feel this election has been the fairest in Pakistan's history," he said, "and still if any party has any doubt, we will open up the result of those constituencies for investigation."
Khan also briefly described his foreign policy plans, saying he wanted to have "mutually beneficial" relations with the United States. In the past, he has strongly condemned the U.S. deployment of drones to kill suspected Taliban extremists in the border areas of Pakistan.
Both Khan's acolytes and adversaries acknowledged that his sudden ascent as the dominant force in Pakistani politics could potentially bring enormous change to a country where power has long resided in a feudal elite and its military allies.
Yet some analysts pointed out that Khan's ambitious agenda - massive job creation, economic reforms - could easily become sidetracked by such intractable problems as high illiteracy and birthrates, violent religious extremism, a fast-falling currency and dangerous shortages of water and power in the impoverished Muslim-majority nation of nearly 208 million.
"Although this is a dream that has devoured him for two decades, he may well find it a poisoned chalice," columnist Irfan Husain wrote in Dawn newspaper.
Above all, Khan seems to be counting on his personal charisma and passion - qualities that once wowed cricket fans and made him a magnet for women, then drove him to succeed in politics and energized his winning campaign - to carry over into the messy business of governing.
Although still Mick Jagger-lean and craggily handsome in his mid-60s, Khan bears little resemblance to the sports celebrity who burned up the London tabloids in the 1990s with his hard-partying exploits and storybook marriage to Jemima Goldsmith, a beautiful British socialite. (Divorced with two children, the two are still close, and she tweeted him congratulations on his election win.)
These days, he has been cultivating his image as a pious Muslim, often wearing a traditional tunic and pajamas, fingering prayer beads and huddling with religious party leaders. In February, as the campaign was getting underway, he married a woman named Bushra Maneka, whom he described as his "spiritual adviser," then published photos of their nuptial ceremony with her face and body fully hidden beneath scarves.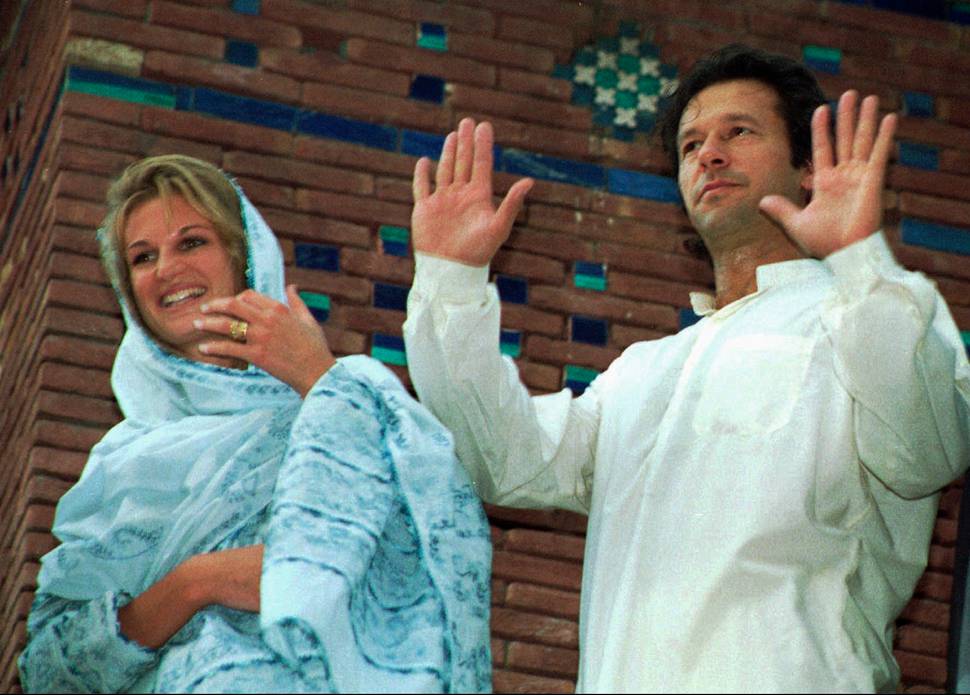 Soon after that, though, Reham Khan, another woman Khan had married briefly in 2015 and divorced, was reported to be writing a tell-all book about his scandalous personal behavior. She told the Times newspaper that the book was not ready to be published but that issues such as "sexual harassment, sexual perversion, sexual favors" are "in the public interest" when they are "connected to someone's ability to govern."
For two decades, Khan has waged a one-man crusade against the Pakistani establishment. He started out giving anti-corruption speeches on sidewalks, then began staging mass rallies that were more like festivals. He ran for Parliament in 2013, winning 13 percent of the vote and building an energized young following. He challenged then-Prime Minister Sharif in court, accusing him of hiding wealth abroad, in a case that led Sharif to be barred from political office and sentenced to 10 years in prison.
This year, Khan again challenged the Sharif dynasty at the polls, running for an unprecedented five seats in Parliament from districts across the country. He won them all, even defeating former prime minister Shahid Khaqan Abbasi, a former top aide to Sharif, by a 2-to-1 margin. He has played down his own considerable wealth and often draws attention to a cancer hospital he built in London through his private charity.
In his victory speech from his sprawling home above the capital, Khan spoke and acted like a self-confident leader, in full command and ready to rule, with a detailed list of plans, policies and promises to raise Pakistan's struggling "masses" and end the corrupt ways of an entrenched elite.
He pledged to create a government and an "Islamic welfare state" that would fulfill the unrealized democratic dream of Pakistan's founder, Mohammad Ali Jinnah, and he vowed to set an example by living "humbly" and eschewing the luxuries of political power. He laid out a range of proposed reforms, including better public education and tax collection.
Yet the election was not yet over, and the shocks continued Thursday as more results were reported throughout the day, with numerous veteran politicians losing seats they had held for years. People in scattered communities were still mourning more than 225 victims of multiple suicide bombings in the past month, several at campaign rallies and one on election day.
And Khan, whose party needs to win 141 seats to form its own government and guarantee he becomes prime minister, is more likely going to have to navigate the complex waters of compromising and dealmaking with his erstwhile election rivals - possibly even some of those whom the spellbinding orator insulted as "donkeys" in an unguarded moment on the campaign trail.