A mother who refused to take the blame when her 5-year-old son accidentally destroyed an expensive piece of art has been slammed by This Morning viewers.
Sarah Goodman was hit with a US$132,000 (NZ$190,000) fine when Troy knocked over a sculpture called Aphrodite di Kansas City, which was on display at Overland Park community centre in Kansas City, Kansas.
Speaking on ITV's This Morning, Goodman said that other artworks were kept secure and it was only that sculpture that wasn't behind glass or rope, according to the Daily Mail.
However, viewers didn't accept her arguments, and said she should have kept control of her son better.
Surveillance footage showed Troy toddling up towards the statue and wrap his arms around it while his mother Shannon Goodman and other adults chatted on sofas nearby.
Goodman, who appeared on the ITV show over video link, said that her family shouldn't foot the bill because Troy hadn't intended to cause damage.
She explained: "As his mother and as my husband as his father, I know we're ultimately responsible for damages that our children cause.
"If my child intentionally defaced property we would absolutely figure out a way to put ourselves out there to be responsible and pay for the damages to make sure the lesson was reinforced without any question.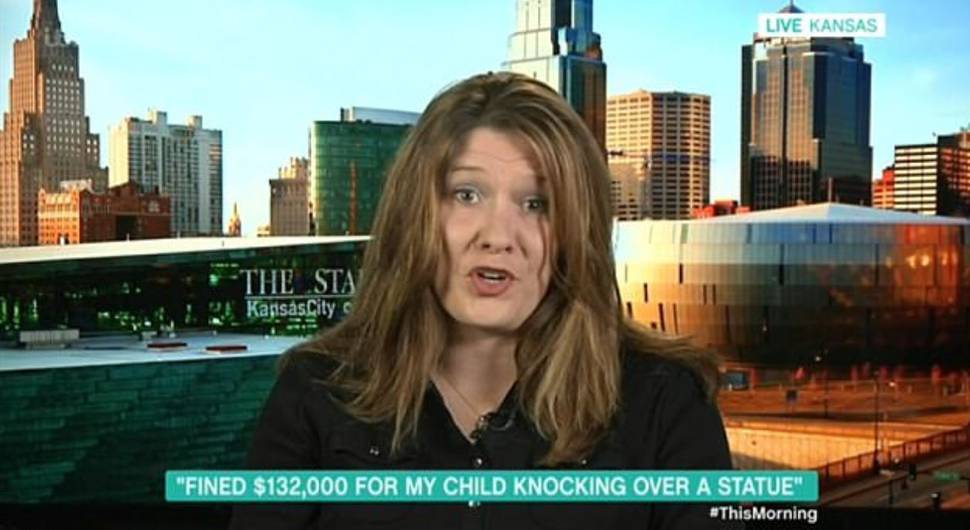 "In this particular situation our 5-year-old was just being a little kid and there was no malice or intention to damage any property."
Viewers said that Goodman was to blame for the accident for not keeping an eye on her son.
One tweeted: "100% she should pay the fine, should be keeping control of her kid."
"Supervise your OWN child at all times!!" another posted.
A third wrote: "This mug should have been watching that kid. She's trying to make out like they [aren't] at fault."
A fourth agreed: "Sorry but she should of had eyes on her small child. How did she not notice him touching that! Always someone else's fault."
Goodman revealed that she was now looking at using her homeowner's insurance to pay the fine, but still thought it was too high a price to pay.
She said she had received death threats as a result of the video's release, as well as experiencing cyberbullying.
During the incident, Troy accidentally pulled the sculpture towards him and it toppled over on to him, causing damage to the back of the figure's head and arms.
It left him with scratches on his face. In the video, he sheepishly looked towards his mother after the accident.
Parents have been left in a tough spot after their 5/yo son dropped a $132,000 sculpture. Source - KSHB-TV
Now, the artist Bill Lyons wants to be reimbursed for the money he says he has lost because he can't sell it. He estimated its worth to be US$132,000 (NZ$190,000).
Lyons had loaned the sculpture to the city of Overland Park to put on display. It was the city's representatives who contacted Goodman asking for her to pay.
She had expected the sculpture to be much less valuable and was stunned when she received a letter from the city's insurance company.
"It's clear accidents happen and this was an accident. I don't want to diminish the value of their art. But I can't pay for that," she told the Kansas City Star.
She explained that she was saying goodbye to the bride's father when her son wandered off towards the statue but insisted he and his three siblings, who were also there, are always well behaved.