Donald Trump has trumpeted his achievement after a historic summit with Kim Jong-un resulted in what he called a "pretty comprehensive" agreement and a revitalised relationship for the US and North Korea.
But many saw the deal as a disappointing case of "deja vu", and were concerned by the concessions and overtures he made towards a totalitarian dictator.
The document signed by the leaders with great ceremony was little more than a page long, and lacked almost any specifics.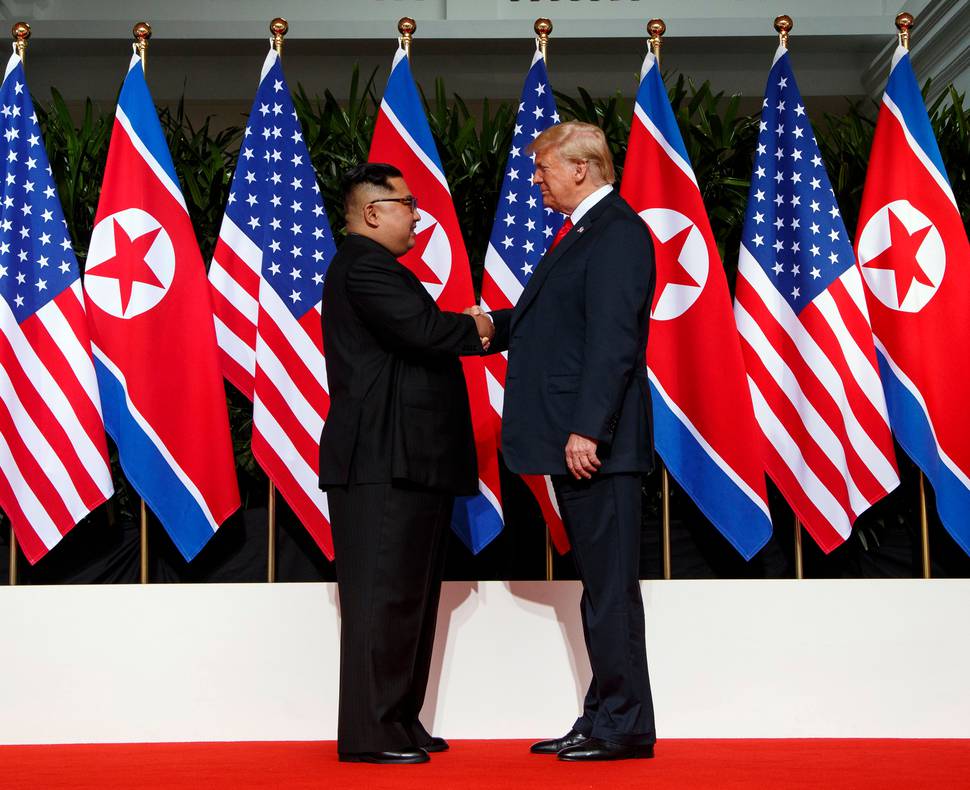 North Korea's promises to denuclearise came with no detail, and did not even go as far as previous commitments it has made and broken, including one from 2005. Kim made no explicit undertakings to give up his nuclear programme and gave no timeline for dismantling it.
Meanwhile, the US President made a massive concession in promising to suspend military exercises with South Korea in the region.
Kim's appalling human rights abuses and use of prison camps were skimmed over, and critics called Trump "naive" and "outfoxed" following his excited rhetoric about what had been achieved.
While there was no mention of when the US might lift sanctions against the hermit kingdom, the Singapore meeting looked like a step forward for Kim in gaining the world's trust.
The unprecedented meeting between a sitting US President and North Korean leader may have broken new symbolic ground — but it didn't achieve anything tangible on its most vital aims:
Denuclearisation
The primary goal of the meeting was to persuade Kim to stop the nation's nuclear development and give up his nukes and ballistic missiles.
The 34-year-old did none of this, simply vowing in the document to adhere to the promise he made to South Korea's president Moon Jae-in at their April meeting.
He "reaffirmed" the same commitment North Korea has been making since 1992, in a pledge that appeared weaker than 2005's commitment to "abandoning all nuclear weapons and existing nuclear programmes".
The regime tested its first nuclear device the following year, has conducted five underground tests since and is thought to have assembled at least two dozen warheads.
The US wanted complete verifiable irreversible denuclearisation (CVID), which would require North Korea to allow international inspections and monitoring of sites — but there was no mention of Pyongyang welcoming United Nations nuclear inspectors back.
Experts on the region have long voiced doubts Kim will ever give up his weapons, suspecting he may simply try to prolong negotiations and gain a relaxation of international sanctions.
Trump said in his press briefing after the summit that he was particularly pleased Kim had verbally agreed to destroy a nuclear missile testing site. "It was really the engine-testing site in addition to all of the other things that they've agreed to do," he said.
The 71-year-old seemed to be referring to a test stand crucial to developing mid-range, solid-fuel missiles, which North Korea razed in the country's northwest, as reported by 38 North last week.
Jeffrey Lewis from the Middlebury Institute of International Studies emphasised that denuclearisation didn't mean disarmament in North Korea's eyes, but an initial step towards improving the relationship.
"I didn't lower my expectations quite far enough," Lewis told CNN. "I think the two parties are as far apart as they've ever been."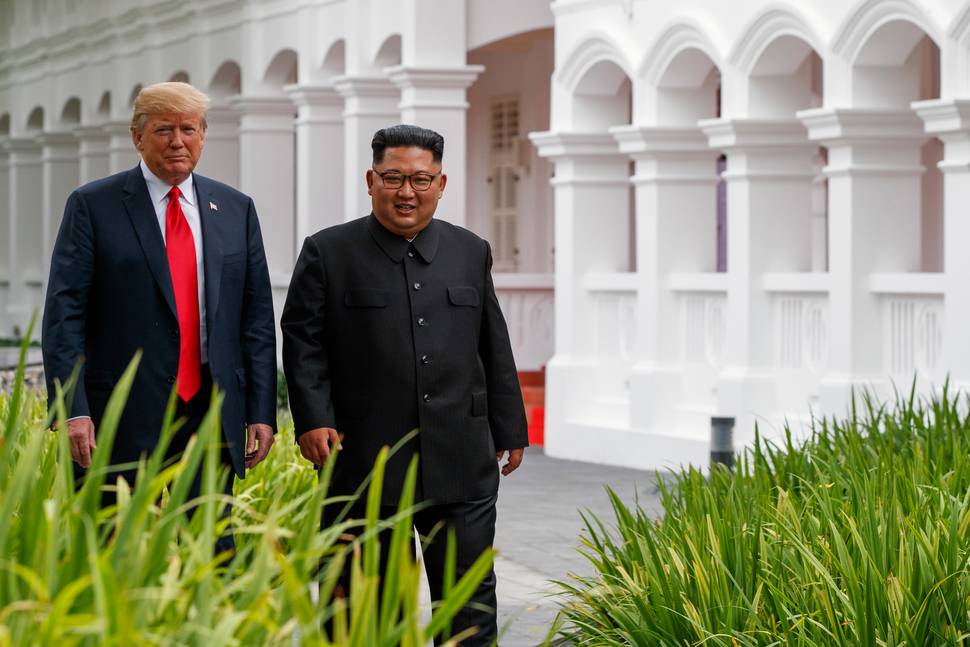 Olivia Enos, policy analyst at conservative Washington think tank the Heritage Foundation, told the Wall Street Journal the "incredibly vague" agreement did not bridge the gap between the two nations' understanding of denuclearisation. "This seems like just another feel-good statement similar to the one signed at the inter-Korean dialogue with little to no meat on the bones of where we go from here," she said.
The South's defence ministry said it was trying to determine the meaning of Trump's words, while a national security official said "nothing has changed."
A spokesman for US Forces Korea said it had received no new guidance on joint military manoeuvres, including drills planned for the autumn.
US military officers in South Korea were reportedly confused about what would happen next, and whether training would be cancelled, while other Asian allies of the US were also said to be nonplussed.
"The North Koreans did not come with anything new," former CIA director Michael Hayden told CNN. "The new element is that we agreed to stop our annual exercise cycle with our South Korean allies. That's actually a pretty significant concession."
Ian Bremmer, from the Eurasia Group, told CBS: "What we have is a freeze for freeze. The North Koreans are freezing their intercontinental ballistic missiles and nuclear tests and the Americans are freezing our military exercises with the South Koreans. That's exactly the formation the Chinese asked for over the past year and we said absolutely not."
Friendship
Some suggested the greatest achievement of the summit was its symbolic step towards easing the stand-off between North Korea and the world.
But others noted that it was Trump himself who stoked tensions by calling Kim a "little rocket man" and swearing to "totally destroy" the reclusive state last year.
When he showed his counterpart a mock movie trailer heralding "two men, two leaders, one destiny," he flattered "Chairman Kim's" ego and pandered to his desire to transform his image on the global stage.
Trump called the North Korean leader a "talented" man who "loves his country very much."
Asked how he squared this with Kim murdering family members, kidnapping civilians and abusing his own people, Trump replied: "I believe it's a rough situation over there, there's no question about it. It's rough in a lot of places, by the way."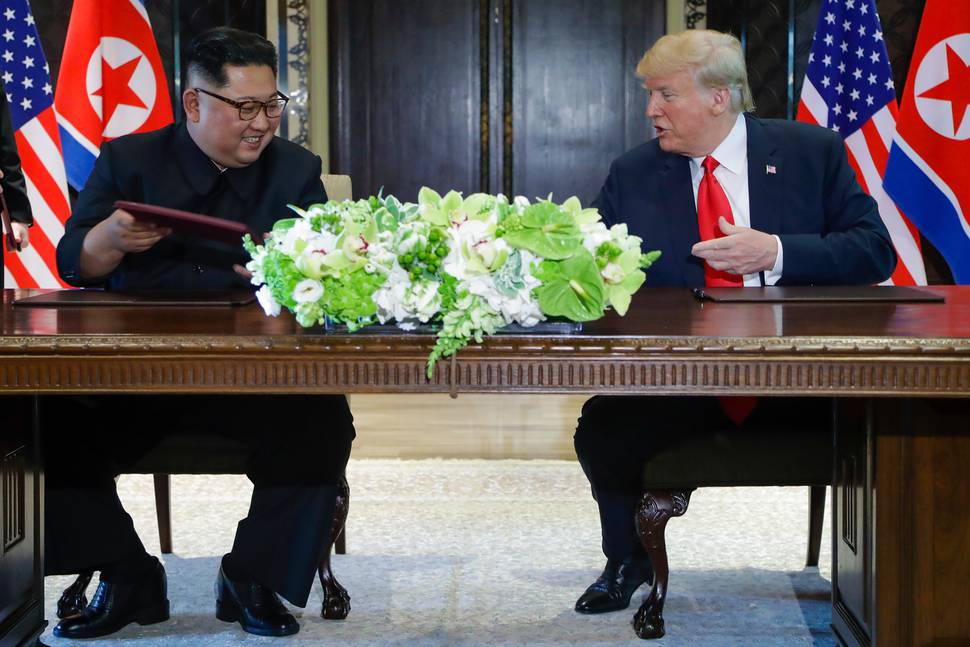 He added: "Anybody that takes over a situation like he did at 26 years of age and is able to run it and run it tough, I don't say it was nice, he ran it — very few people at that age, you can take one out of 10,000 probably who couldn't do it."
The US President said former prisoner Otto Warmbier "had not died in vain", but added that the leaders had only discussed human rights "relatively briefly" because their talks focused on nuclear weapons.
North Korea did commit to the "immediate repatriation" of any remains it had identified of US soldiers and prisoners of war — a not insignificant goodwill gesture — but not enough for many.
The bottom line
For Trump, the meeting was "fantastic", "very positive", "top of the line" and "really good."
Kim said the two leaders had overcome the "old prejudices and practices" that had been obstacles to moving forward.
The US President said he was confident North Korea would start dismantling its nuclear arsenal "very quickly," adding that economic sanctions would remain in place until it did.
He told reporters in Singapore after the summit that talks would continue, and he would possibly invite Kim to the White House and visit Pyongyang "at the appropriate time."
"I do trust him, yeah," the President told George Stephanopoulos on Good Morning America few hours after the meeting. "He really wants to do a great job for North Korea. He's de-nuking the whole place, and I think he's going to start very quickly. He really wants to do something I think terrific for their country."
However, while he said Kim would begin the process soon, Trump simultaneously played down the possibility of rapid progress.
"We will do it as fast as it can mechanically and physically be done," he said. "It does take a long time to pull off complete denuclearisation. It takes a long time.
"Scientifically, you have to wait certain periods of time, and a lot of things happen. But despite that, once you start the process, it means it's pretty much over. Can't use them, that's the good news. That's going to start very soon."
As Trump said earlier: "I think he's going to do these things. I may be wrong. I may stand before you in six months and say, 'Hey, I was.'"
But, he added: "I don't know that I'll ever admit that. I'll find some kind of excuse."