Stormy Daniels, the adult-film star who alleged an affair with Donald Trump years before he took office, sharply defended her credibility today while releasing a sketch of a man she says threatened her not to speak out about Trump years earlier.
Daniels' story about a man threatening her in a Las Vegas parking lot in 2011, which she first disclosed during a widely seen 60 Minutes interview, prompted quick pushback from the President and Michael Cohen, his personal lawyer, who in 2016 negotiated the US$130,000 settlement with Daniels requiring her silence.
During an appearance today on ABC's The View, Daniels and her lawyer, Michael Avenatti, made public a sketch of the man she said approached her shortly after she sought to sell her story about a brief affair with Trump to a tabloid magazine.
Avenatti said he is offering a US$100,000 reward for information leading to the man's apprehension. After Daniels's 60 Minutes interview, representatives for Trump and Cohen said both men do not believe there was any threat.
Daniels, whose real name is Stephanie Clifford, described her overall campaign to speak out about Trump as being necessary to vouch for her integrity.
"It is my chance to defend myself and to make people realise how and why this happened so I can tell my side," Daniels said. She also pushed back at the suggestion that people might question her story about Trump because of her profession, saying: "I think that what I do for a living should not matter. What I do for a job doesn't impact my ability to know right from wrong or tell the truth."
Daniels' television interview and release of the sketch marked the latest developments in the still-expanding drama surrounding Trump, Cohen and women who have been paid for their silence.
A day before appearing on The View, Daniels attended a Manhattan court hearing focusing on materials the FBI seized from Cohen in a raid last week. Federal authorities are investigating Cohen for possible bank fraud, wire fraud and campaign finance violations, and they have sought records relating to his involvement in settlements with women.
During her television appearance, Daniels recounted in greater detail the story she first shared on 60 Minutes about a man approaching her as she was preparing to go into a fitness class with her baby daughter.
According to Daniels, while she was still standing in a Las Vegas parking lot, the man walked up and said: "That's a beautiful little girl. It'd be a shame if something happened to her mom." She also said he told her to leave Trump alone.
Daniels said she never took the claim to police, and she has not provided any public evidence or corroboration.
On The View, Daniels said that after being threatened, she took her daughter toward the "mommy and me" fitness class. When she appeared shaken, Daniels said, she lied to an instructor who checked on her, saying the child's nappy was full and leaking.
She defended not telling the police, saying that if she had, her story about Trump would've emerged "and then the whole world would've known." Daniels also said she did not want to tell her husband about the threat.

"I was just afraid, and I didn't want everyone to know," she said today. "I didn't want my family to find out that way. I didn't want my life turned upside down."
Daniels said she did tell other people about the threat, including family members, friends and people with whom she worked, but she did not identify any of them.
Randy Spears, a former porn star who met Daniels on the set of a pornographic movie more than 15 years ago, said he helped Daniels when she was trying to sell her story of her alleged affair with Trump to Bauer Publishing in 2011.
He said Daniels didn't tell him about the threat at the time, but he wasn't surprised.
"After the story was quashed, if she had an encounter in Vegas," said Spears, whose real name is Greg Deuschle, "I doubt she would have picked the phone and up said, 'Guess what, Greg . . . ' "

The sketch released by Daniels and Avenatti showed a man described as being in his 30s or 40s with sharp cheekbones and wavy hair. Spears said the sketch Daniels showed on The View was unfamiliar to him.
Louise Sunshine, a longtime family friend of Trump who helped him build his real estate business in Manhattan, said in an email that she had "no idea" of the identity of the man in the sketch.
Avenatti had built up suspense around the release of the sketch, though he delayed making it public after the FBI raided Cohen last week.
Among the records FBI officials sought from Cohen were any relating to efforts to silence women who had alleged affairs with Trump.
In the most prominent example, Cohen reached a deal with Daniels just days before Trump won the presidency in 2016. Cohen has said the US$130,000 paid to Daniels came from his own funds, and Trump has denied knowing anything about the payment.

When a clip of Trump's denial was played on The View, Daniels commented: "Let me just say, I work in the adult business and I'm a better actress than he is."
During her television appearance, Daniels also discussed the "intense" ways her life has changed since becoming a household name.
Daniels acknowledged making more money and said she was being booked more, though she admitted to not liking the "Make America Horny Again" name attached to her strip club appearances, calling it "cheesy."
She also said the increased notoriety also means spending more money, pointing to the cost of bodyguards she now needs.
According to Daniels and Avenatti, she receives a mix of praise and virulent anger from people, both in person and through emails.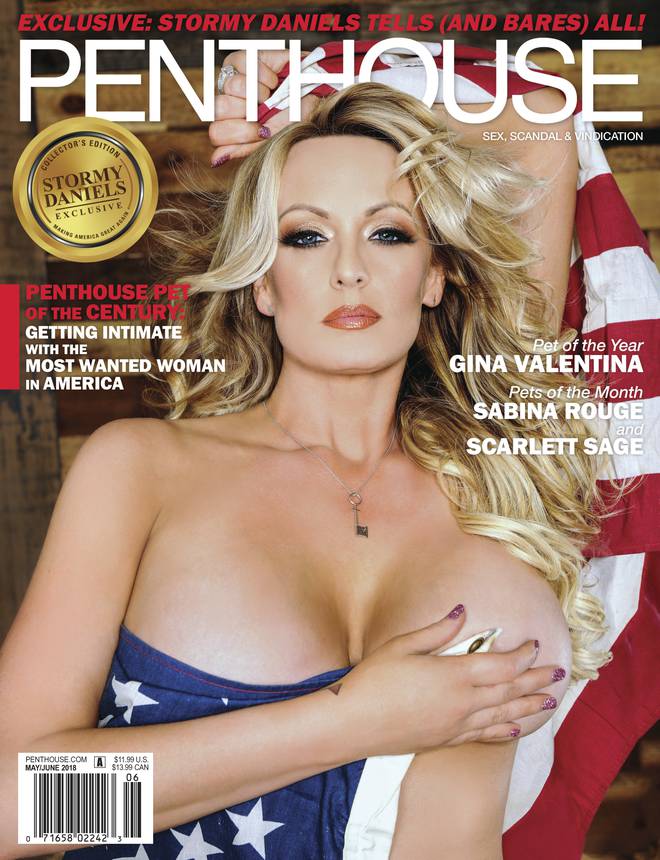 When asked whether she had thought about the impact of her story on Trump and his relatives, Daniels said "I've literally thought of everything," noting that she is averaging two hours of sleep a night these days. Ultimately, she said: "That's between him and his family."
Trump's history with women continues to attract new attention. Barbara Moore, a former Playboy playmate who is named in another woman's lawsuit, told her story of an alleged consensual affair with Trump in the early 1990s this week to a British tabloid.
Avenatti and Daniels both attended the hearing in the case involving whether Cohen's seized materials would be reviewed by Trump before federal investigators. Avenatti told the Washington Post he wants to ensure materials relevant to Daniels's own suit to void her hush agreement are preserved.
"We want to ensure the documents do not disappear or that there's a control set that's maintained regardless of who reviews the documents," he said.
Daniels, who attracted a media mob, also took the opportunity to speak from the court steps, pushing her case in the court of public opinion.
"For years, Mr Cohen has acted like he is above the law," Daniels said yesterday. "He has played by a different set of rules or, shall we say, no rules at all. He has never thought that the little man or especially women and even more women like me mattered. That ends now."