Chilling footage has emerged of the moment two hooded gunmen stormed a Melbourne tattoo parlour and gunned down a Comanchero bikie in a brazen, daylight execution attempt.
The video, obtained by the Herald Sun, shows two hooded men climbing out of a car and rushing inside the Nitro Ink tattoo parlour, in Melbourne's southeast, while onlooking pedestrians scramble in terror, the Daily Mail reports.
Moments later, the two men rush back outside and into the waiting getaway vehicle, which was found burned out in a nearby street after the shooting.
The Comanchero bikie gunned down inside the tattoo parlour was revealed as high-profile member Robert Ale, the right-hand man of the gang's jailed national president.
Ale, known as the ''Cry Baby Comanchero'', was fighting for life in hospital after he was shot nine times during the attempted execution.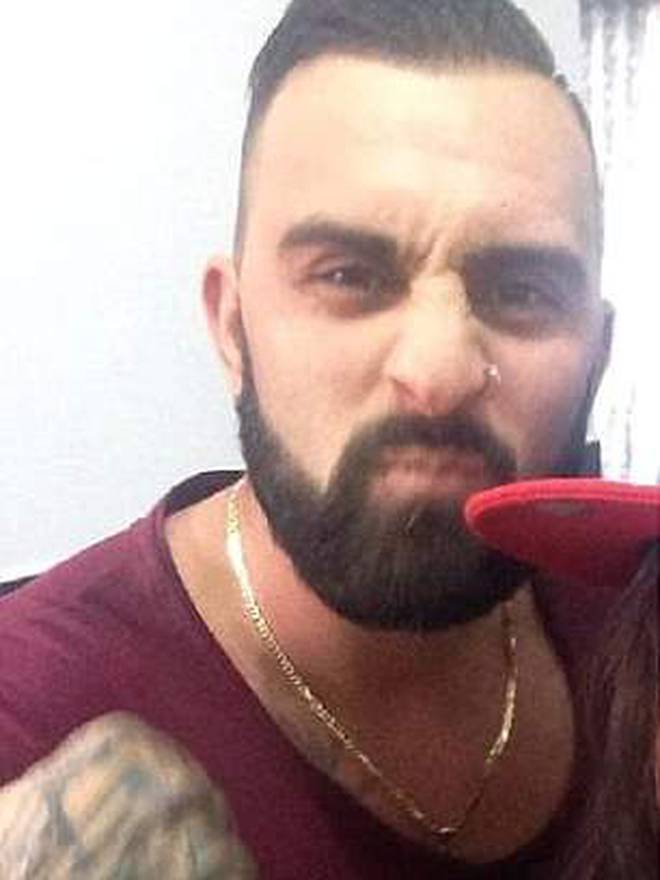 Police believe the shooting may be linked to the murder of former Comanchero boss Mick Hawi, who was killed outside a Sydney gym on February 15.
Ale, 35, was shot at the same time Hawi's family and friends gathered for his funeral at a Sydney mosque on February 22.
Ale is a close associate of Mick Murray, current Comanchero boss and former owner of Nitro Ink, who was secretly jailed about a month ago.
Police are probing whether rival gangs the Rebels or Bandidos are behind the assassination attempt.
But it is understood an internal dispute between Victoria and New South Wales Comanchero factions may be fuelling the violence, the Age reported.
The internal squabble was sparked after a wild brawl at a Canberra strip club in August last year.
CCTV footage showed bikies, who later refused to cooperate with police, smashing glasses on their own heads and ripping off their shirts.
Meanwhile, anti-gang police in Melbourne have said Ale's shooting is being treated as a targeted hit.
Ale was allegedly a major player in a crime syndicate that trafficked drugs and plotted arson attacks on a strip club, a court heard last year, Herald Sun reported.
During a bail hearing at the time, Con Heliotis, QC, said his client was not coping with his first stint in custody.
Mr Heliotis said when Ale was visited by another lawyer in jail, ''he broke down and cried like a baby'', according to the paper.
''If left in there, he'll break down,'' Mr Heliotis said at the time.
Ale was charged with threatening to kill, drug trafficking, conspiring to commit arson and possession of an unregistered handgun. He was on bail when he was shot.
Inspector Michael Daly, who called Ale's shooting ''very concerning'', said police were investigating whether it was gang-related.
The gunmen's bullets went through to neighbouring buildings, but no one else was hurt.
Daly said detectives for the anti-biker Echo taskforce were probing the possibility the shooting was linked to Hawi's murder.
Hawi rose to infamy in 2009 for his involvement in the Sydney Airport brawl that resulted in the death of Hells Angel associate Anthony Zervas.
The crime led to a nationwide crackdown on motorcycle gangs.
Hawi was jailed over Zervas' death but was eventually freed on parole after his charge was downgraded to manslaughter.
About three years after his release, Hawi was shot dead outside the Fitness First gym in Rockdale in Sydney's south.
A week later, two masked men stormed into Nitro Ink and opened fire on Ale.
One witness said there were so many gunshots he couldn't count them.
When questioned at the scene, one man who appeared to work at the parlour told a Herald Sun reporter to "f*** off".
Daily Mail Australia's calls to the parlour went unanswered on Thursday evening.
There is no suggestion the parlour is still linked to Murray or the Comancheros and police said they were not aware of any bikie link.