President Donald Trump is reportedly angry at his daughter for slamming embattled Senate candidate Roy Moore.
Moore, who is now 70, was recently accused by several women that he molested or harassed teenage girls as young as 14, while in his 30s, according to the Daily Mail.
"There's a special place in hell for people who prey on children," Ivanka said earlier this month.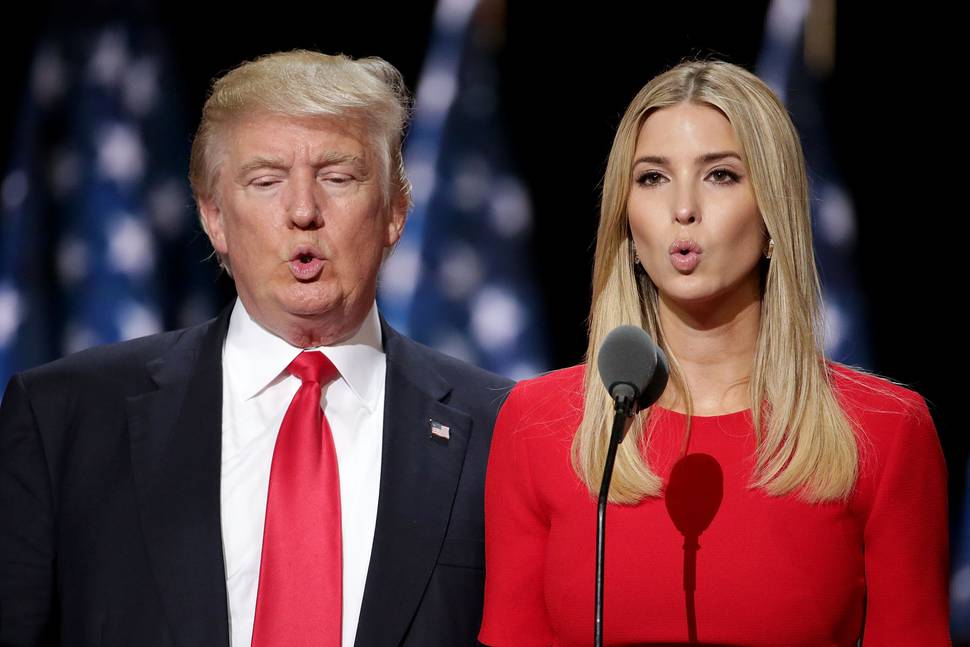 "I've yet to see a valid explanation and I have no reason to doubt the victims' accounts."
She did not call for Moore to exit the race.
In response to the first-daughter's comment, Trump asked several aides in the Oval Office, "Do you believe this?" according to the New York Times.
On Sunday, Trump redoubled his support for Moore, ignoring the allegations of sexual harassment plaguing the politician's Alabama campaign and branding his opponent as weak on crime, the military and immigration.
In an early-morning tweet, Trump added that for Alabamians to elect Moore's Democratic rival, Doug Jones, in a special election next month "would be a disaster!"
Many members of Trump's Republican Party have withdrawn support for Moore, with some Republicans suggesting that Moore is elected to the US Senate, he should be removed.
Mitch McConnell, the Senate Republican leader, has called for Moore to drop out, saying: "I believe the women."
McConnell has reportedly pleaded with Trump to stay out of the Alabama race, lest Moore's election sully the party's name ahead of next year's mid-term elections.
One Republican senator and sometime Trump critic, Lindsey Graham of South Carolina, said on Sunday that having Moore on the ballot was a lose-lose proposition for the party.
"If he wins ... it becomes a story every day about whether or not you believe the women or Roy Moore. If you lose, you give the Senate seat" to a Democrat, he said on CNN.
But Trump - himself the object of allegations of sexual misconduct by several women during his presidential campaign - on Sunday shrugged off such appeals.
He tweeted that "the last thing" Republicans need in the closely divided Senate is a Democratic "puppet who is WEAK on Crime, WEAK on the Border. Bad for our Military and our great Vets. Bad for our 2nd Amendment. AND WANTS TO RAISES (sic) TAXES TO THE SKY."
Despite the multiple allegations against Moore - he reportedly was banned from an Alabama mall for repeatedly bothering teen girls - Trump has defended him.
"Forty years is a long time," the president told reporters Tuesday on the White House lawn. "He says it didn't happen. You have to listen to him, also."
Moore has denied any wrongdoing and insisted he will contest the December special election.
Last week, when Trump was asked about the torrent of accusations of sexual impropriety facing Moore, he said flatly: "Roy Moore denies it ... And by the way, he totally denies it."
And in speaking of Moore's female constituents, Trump insisted that the women "are Trump voters. Most of them are Trump voters."
The president also told DailyMail.com amid a scrum of cameras that he isn't ready to announce whether he'll campaign for Moore as the December 12 special election looms.
"I will be letting you know next week. But I can tell you we don't need somebody who's soft on crime like Jones," Trump said.
Jones is a former US attorney and is known for prosecuting two Ku Klux Klan members behind the bombing of the 16th Street Baptist Church.
Trump also insisted that "women are very special" to him and expressed enthusiasm for the recent series of revelations about sexually predatory men in Washington.
"A lot of things are coming out, and I think that's good for our society and I think it's very very good for women,' he said. 'I'm very happy that a lot of these things are coming out."
"The women are Trump voters. Most of them are Trump voters," Trump said.
Trump also hedged on the cases of Senator Al Franken and Representative John Conyers, two powerful congressional Democrats who have been snared in the national dragnet of sex abuse claims.
"I don't want to speak for Al Franken. ... He's going to have to speak for himself," he said.
And he punted on Conyers, whose case has been in the public eye for nearly 24 hours.
"I just heard about Conyers two minutes ago," Trump claimed.