Investigators are looking into the possibility the Las Vegas shooter planned more attacks, including a car bombing, says a US official.
The official stressed the information was preliminary and investigators haven't uncovered any solid evidence yet.
The official, who was briefed by federal law enforcement officials, wasn't authorised to discuss the matter publicly and spoke to The Associated Press on condition of anonymity.
Clark County Sheriff Joe Lombardo says it appeared Stephen Paddock had planned to survive Sunday's attack and had an escape plan.
Lombardo declined to reveal why he believed that Paddock had an exit planned, but said he was confident in the claim - and said that his scheme was so elaborate that he would have to be a "super hero" to pull it off alone, according to the Daily Mail.
Several law enforcement sources told NBC that investigators are looking to speak with a woman who was seen with Paddock in his last days, when his girlfriend was out of the country. They don't know if she's connected to the attack but want to speak with her to fill in their timeline of the lead-up to the attack.
Lombardo said Paddock lived a "secret life" and "meticulously planned on the worst domestic attack in United States history."
"Stephen Paddock is a man who spent decades acquiring weapons and ammo and lived a secret life, much of which will never be fully understood," Lombardo said.
He also announced that the count of people injured in the attack was lower than initially stated - 489, not 527 - due to confusion at hospitals.
It wasn't clear why Lombardo thought that Paddock had expected to survive his insane assault, which is the worst mass shooting in US history.
But he said that he believed the killer had ceased firing on the terrified civilians in order to figure out how he could escape, as SWAT teams closed in on his room.
He also noted that Paddock's car contained two 50lbs of the explosive Tannerite - in two 20lb tins and 10 1lb tins - as well as 1,600 rounds of ammunition.
A journalist in the press pool asked whether Paddock had planned to use the vehicle to escape, but Lombardo declined to answer.
Lombardo also said he thought it was likely that Paddock had an accomplice, given the 23 rifles and piles of magazines in the room, the additional firearms in Paddock's homes, and the electronic devices recovered from his Mesquite house.
Paddock would have had to have been a "super hero':to pull it off, Lombardo said, before catching himself for using the word "hero" to refer to a mass murderer.
"Look at the weapon obtaining, the amounts of Tannerite available - do you think this was accomplished all on his own, face value?" he said.
"You gotta make the assumption he had to have help at some point, and we want to ensure that's the answer."
He continued: "Put two and two together: another residence in Reno with several firearms, okay, electronics, and everything else associated with it, large amounts of ammo, a place in Mesquite.
"We know that he had a girlfriend. Do you think this is all self-facing, individuals are just, without talking to somebody, sequestered amongst themselves? Come on, folks."
Marilou Danley, Paddock's 62-year-old girlfriend, landed back in the US from the Philippines on Tuesday and has spoken to the FBI.
She said in a statement today through her lawyer that she had no idea of Paddock's deranged plans. She also thought that the US$100,000 her boyfriend wired her in the Philippines was a way of breaking up with her.
Aaron Rouse, FBI special agent in charge of the investigation, said that she was not in FBI custody and that she had been helping with their inquiries.
He also said there was no evidence "to this point" that suggests terrorism, but that "this is an ongoing investigation... we're not going to close down any doors."
If Paddock did have an accomplice, then it might make sense of the claim made on Wednesday that Paddock had ordered room service for two guests days before the massacre - as shown by a receipt.
Lombardo also said that SWAT teams spotted two cameras on a room service cart outside Paddock's suite, and one in the peephole of a door.
There was also a baby monitor camera in the family area of the hotel room, he said. None of them were recording.
However, it's believed that they may have provided Paddock with a live view of the police as they advanced on his position.
He said that Paddock's attempts to flee had probably begun when he spotted security guard Jesus Campos - who had been investigating the gunfire separate from the police - approaching his room on one of the cameras.
Paddock then fired 'well over 200 rounds' through the door into the hallway - miraculously only injuring, not killing, the courageous guard, he said.
Even more incredibly, when police arrived 60 seconds later, Lombardo said, Campos not only gave them his master key and information, he also helped clear nearby rooms of bystanders.
Campos only sought medical attention when ordered to leave by the police, Lombardo claimed.
But the sheriff said that while the security guard did distract Paddock from his spree, police were just seconds behind him - and would have done the same if he weren't there.
Like Undersheriff Kevin McMahill on Tuesday night, Lombardo stressed that although it took more than 70 minutes between the first shot fired and SWAT breaching the room, police were not sitting on their hands.
Instead, he said, they were on Paddock's case from the very start, and once the killer stopped firing - after 10 minutes, according to bodycam footage - they focused on evacuating the floor, since he was barricaded in his room.
Unfortunately, Lombardo said, they are no closer to knowing what Paddock's motives might be for his killing spree - but he said that police were looking into why Paddock bought 33 rifles in October 2016.
He confirmed that they were looking into the possibility that something may have triggered a mental issue around that time that caused him to buy the guns.
Lombardo also confirmed that Paddock had rented a room in Downtown Las Vegas during the Life is Beautiful Festival, which was held on September 22-24.
He had booked out a suite at the Ogden, a condo building that was advertised for its views over the festival, including the main stage, where Gorillaz, Chance the Rapper, Muse and Lorde all played this year.
It's not known why Paddock hired the room - if he intended to attack that festival, or to give himself a better idea of what to expect on Sunday are two possibilities.
But if he'd opened fire during the event, and been able to fire the same distances that he did on Sunday, he could have hit 11 of the 15 blocks that the festival covered. It had 45,000 visitors per day this year.
Lombardo said that the rooms were not rented directly from the Ogden, but through an Airbnb account run by someone living there.
He said that the Ogden and the festival's organisers had both helped with the investigation.
He said that some "items" had been taken from the property, along with video footage - but said he didn't know if they counted as "evidence" yet.
Also on Thursday, it emerged that the crowds at the Route 91 festival were not Paddock's only targets on Sunday: He'd also attempted to detonate tanks of jet fuel close to the event.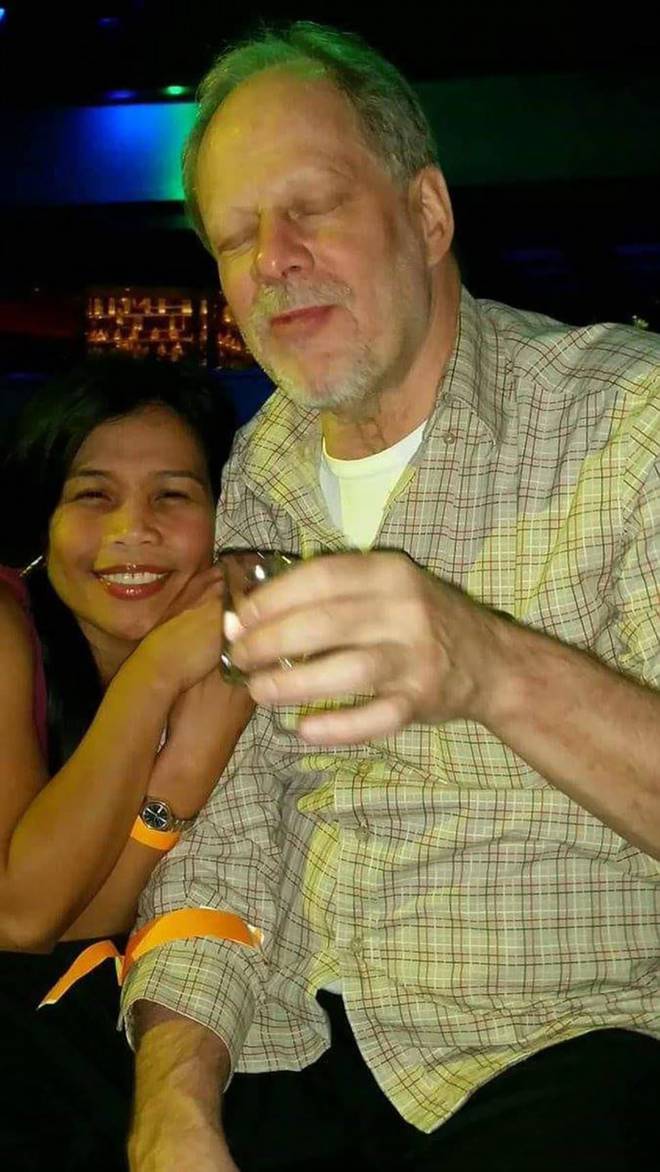 The tanks are roughly two blocks away from the Mandalay Bay Resort and 1,100 feet from the concert site, and contain jet fuel for the nearby Los Angeles International Airport, The Las Vegas Review-Journal reported.
They are perfectly in line with the second window that Paddock broke in a suite adjoining his main sniper's nest, around 2,000 feet away.
Paddock had successfully managed to hit the tanks, but had failed to penetrate them, a source with knowledge of the investigation said.
The FBI had inspected the tanks and made measurements, and they have since been repaired.
- AP, Daily Mail