By Kevin Sullivan, Sandhya Somashekhar, Mark Berman
The remnants of deadly Hurricane Harvey spun towards Louisiana bringing more potentially disastrous flooding and emergency evacuations, and a reservoir west of downtown Houston spilled over for the first time in its history because of record-shattering rainfall.
President Donald Trump headed to Texas to survey the ongoing devastation, while storm clouds continued to drench the region with an unprecedented deluge that has already dropped more than 90cm of rain on parts of the city. Trump's visit, following his pledge of swift action by the federal government to provide relief to states affected by Harvey, comes on the 12th anniversary of Hurricane Katrina making landfall in Louisiana.
Trump arrives in a state still determining the extent of its tragedy. The death toll in Texas had reached at least 12, officials said, but they warned it could rise as authorities follow up reports of people apparently lost in the torrential downpours Harvey unleashed.
Houston Police Chief Art Acevedo said officers in the city have rescued more than 3500 people but the full scope of the disaster remained unclear, as the Houston mayor said officials are "still trying to assess" how many people are missing.
Lashing rain continued to pound Houston, falling on people who desperately sought groceries or trudged through water in search of shelter. The streets downtown were littered with abandoned cars, and almost no stores appeared to be open, though people said they needed to restock food and supplies since the city effectively shut down on Saturday (local time).
Outside a Kroger grocery store in southwest Houston, dozens of people gathered in a line before 8am, more than three hours ahead of the store's scheduled opening.
Dozens of people had also lined up at Fiesta, another nearby grocery store, where crowds grew so large that store officials were limiting how many people they let inside.
"Meat," said Morgan Lewis, 23, who was first in line at Kroger at 7.30am. "I need some meat. I'm tired of eating sandwiches."
The National Weather Service reported that more than 1m of rain has already fallen in Houston. Some parts of Louisiana have also had more than 30cm of rain, and flash-flood warnings and watches were in effect for much of the Lake Charles region as the rain is expected to continue. New Orleans was under a tornado and flash flood watch until Thursday.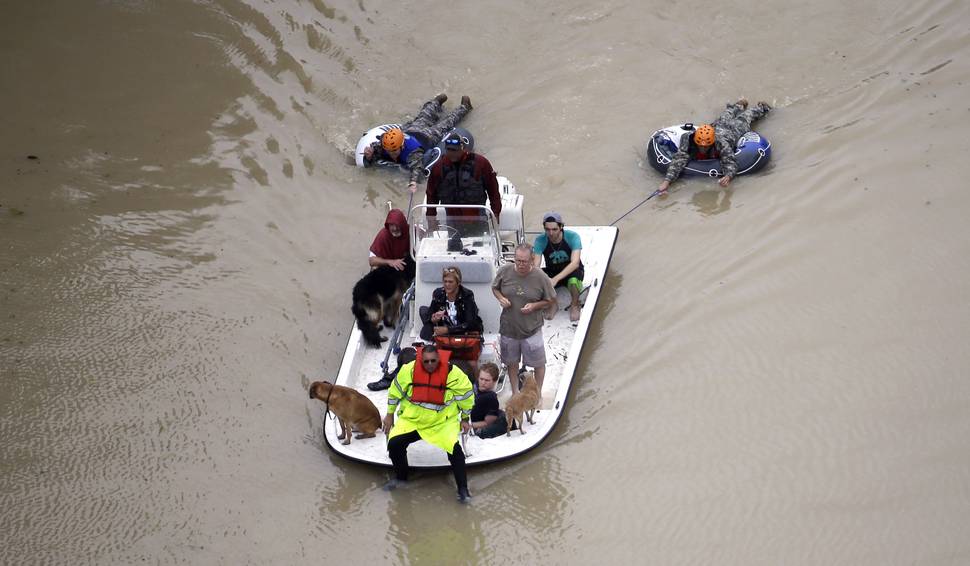 In Texas, one of the two massive stormwater reservoirs in Houston began spilling over, despite US Army Corps of Engineers efforts to release water as levels in the reservoirs swelled to record highs.
Officials in Brazoria County, south of Houston, also warned that a levee there had breached.
Harvey continued grinding northeast, and its centre is expected to be just off the upper Texas coast, the National Hurricane Centre said. After that, the storm is forecast to move inland on the northwestern Gulf Coast on Wednesday. Forecasters say more than 30cm of rain is still expected to fall through Friday over parts of the Texas coast and Louisiana, and the weather service warned of potential flooding in southern Mississippi and southeastern Louisiana.
Trump arrived in Corpus Christi, Texas, and intends to visit Austin, the state capital, later in the day. His spokeswoman told reporters on Air Force Once that Trump will visit "a different part of the state", and he has also discussed visiting Louisiana the same day.
The Department of Labor announced that it had approved an initial US$10 million ($13.8m) grant to help cleanup efforts in Texas. Trump declared "emergency conditions" in Louisiana, and not long before that, federal authorities had warned Harvey could force more than 30,000 people from their homes by the time skies are expected to clear later this week.
Life across Texas has abruptly shifted as floodwater turned streets into rivers. Hundreds of schools are shut down and thousands of people have piled into shelters in Houston and beyond, seeking safety from the storm without a clear idea of when, or if, they could return home.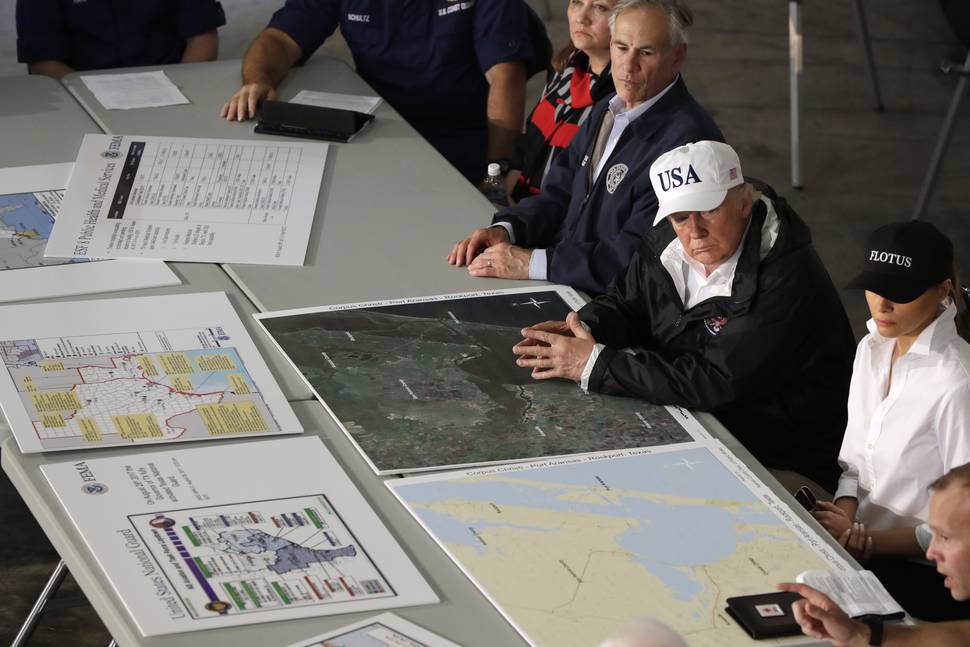 The George R. Brown Convention Centre in downtown Houston had taken in 9200 people as of Tuesday morning, said Charles Maltbie, a regional disaster officer for the Red Cross who is at the centre. That number is nearly double the centre's anticipated capacity of 5000.
The convention centre is the site for all air evacuations, Maltbie said, and bus evacuations are being diverted to other shelters around the city. When asked what the centre's top capacity is, Maltbie said: "We will meet the need."
Houston Mayor Sylvester Turner that city officials have identified other "mega shelter locations" that will be set up to house people, though he did not name the facilities.
The immediate focus for many is on Houston, the country's fourth-largest city and a sprawling metropolitan area that is facing a deluge without precedent. Even neighbourhoods far from creeks or bayous flooded. The hardest-hit areas were in the south and southeast, the downstream end of the waterways.
Of those confirmed dead as of Tuesday, eight were in Harris County, which includes Houston. Officials also said some of the other people were killed in the South Texas town of Rockport, near where Harvey made landfall; and in Porter, a town north of Houston, where a woman in her 60s was napping when a large oak tree landed on her mobile home.
But the southwest sections of the Houston area may be the next venue for catastrophe. The Brazos River, which runs through Fort Bend County, home to more than 716,000 people, has been swelling as the runoff from the storm collects in its banks. National Weather Service models showed the river rising to 17.9m, topping the previous record of 16.6m.
Earlier Tuesday, evacuation orders were given for two prisons with thousands of inmates near the Brazos.
Fort Bend County Judge John Hebert warned Monday night that more than 100sq km along the river could flood overnight and as the river swells to unprecedented heights.
"They can guarantee we'll have a record flood in for Fort Bend County," he said. "In areas under mandatory evacuation, the danger is very real."
Authorities issued mandatory and voluntary evacuation orders for parts of that area and warned that anyone who ignores mandatory evacuation orders will not be aided by first responders when the waters rise. But with virtually all the main thoroughfares already closed because of high water, many of the affected residents saw no way out.
Kim Adoubeif, 60, was among about a dozen residents of the Greatwood subdivision who stood in the rain atop a levee on the Brazos River to gaze at the water and ponder their fate. She said she checked online traffic maps and couldn't find a route to safety.
"Every way out, there are roads that are flooded," she said, holding an umbrella against the rain. "So we might not even find a way out."
In the River Park subdivision, Byron Golden, 60, and his wife planned to stay put in their home. Other neighbours had tried to leave, only to meet flooded roads separating them from Interstate 10, a main artery out of town.
"We did plan an escape route, but it may be too late to leave," Golden said. He figured it would be better to get caught in a flood in his two-storey house than in his car on the road.
Golden and his wife spent the day putting important documents and sentimental possessions into plastic bags and carrying their important things upstairs.
Some who did evacuate ran into difficulties as they tried to reach shelters. In north Houston, for example, rescuers who picked up people forced out of their drenched homes brought them to a fire station to be transported to the M.O. Campbell Centre, a school gym and activity centre that had been converted to a shelter.
But at least 300 people were stranded at the fire station when the shelter reached capacity and its doors were shut.
The horror stories led authorities to urge patience and persistence on the part of residents needing help.
"Please don't give up on us. None of us are going to give up," Acevedo said at a news conference.
Among those helping with the rescue efforts alongside first responders were volunteers with boats. Dozens from both groups crowded near the Grand Vista subdivision on Harlem Rd in the Brazos River area, on the edge of the water that stretched from the road to the rainy horizon.
Boats were unloading evacuees - among them elderly and children - onto the road, then turning back into the flood.
"It messed me up seeing the kids and babies," said Jorge Ramirez, 28, who brought his Alumacraft flat-bottom boat after seeing on Facebook that folks were stuck in this neighbourhood. "That's who we're trying to get out first."
He said he'd made about five trips in four hours.
Authorities also faced new questions about whether they should have evacuated Houston. Asked about the decision to recommend that people shelter in place rather than leave the city, Texas Governor Greg Abbott said there was no point in thinking about past decisions.
"We are where we are now," he said.