Warning: This article is about youth suicide and may be distressing for some readers.
The woman who bullied her boyfriend into committing suicide asked to take his ashes home after the funeral, it has emerged.
Michelle Carter, who last week was jailed for two and a half years for involuntary manslaughter, reportedly asked the family for the boyfriend's ashes.
The 20-year-old from Massachusetts, US, was found guilty of sending a string of text messages urging her boyfriend Conrad Roy III to commit suicide in 2014.
Roy was later found dead in his car.
Police found hundreds of text messages from Carter to Roy, with the then 17-year-old urging him to kill himself.
After Carter was found guilty last week, Roy's aunt told ABC News that the girlfriend wanted to "go through his room and take some of his belongings".
The aunt adds that Carter asked the family to take some of the boy's ashes.
"That's when things started to get a little weird. Yeah, you don't do that," she added.
The aunt claims Carter has "a damaged moral code" and says she did not "help" him kill himself but rather "forced him" to do it.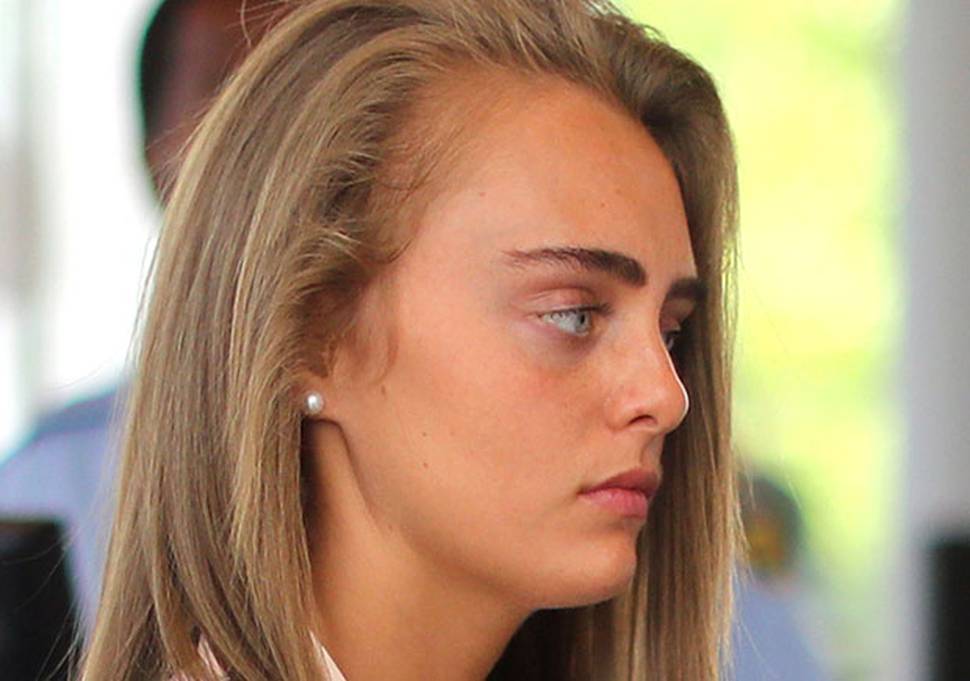 "I think she was responsible for his death. I think if it wasn't for her, he'd still be here.
"She has to live as one of the most hated people in the country."
Prosecutors believe Carter wanted Roy to kill himself so she could get people's sympathy as the "grieving girlfriend".
In the lead up to Roy's suicide, Carter sent him a dozens of text messages encouraging him to do it.
CARTER: "You're gonna have to prove me wrong because I just don't think you really want this. You just keeps pushing it off to another night and say you'll do it but you never do."
CARTER: "SEE THAT'S WHAT I MEAN. YOU KEEP PUSHING IT OFF! You just said you were gonna do it tonight and now you're saying eventually ..."
CARTER: "But I bet you're gonna be like 'Oh, it didn't work' ... I bet you're gonna say an excuse like that"
When he expressed second thoughts about his plan, she encouraged him further.
CARTER: "Don't be scared. You already made this decision and if you don't do it tonight you're gonna be thinking about it all the time and stuff all the rest of your life and be miserable"
CARTER: "You're finally going to be happy in heaven. No more pain. No more bad thought and worries. You'll be free."
CARTER: "It's OK to be scared and it's normal. I mean, you're about to die."
CARTER: "I would be concerned if you weren't scared, but I know how bad you want this and how bad you want to be happy. You have to face your fears for what you want."
She pleaded not guilty.
WHERE TO GET HELP:
If you are worried about your or someone else's mental health, the best place to get help is your GP or local mental health provider. However, if you or someone else is in danger or endangering others, call police immediately on 111.
OR IF YOU NEED TO TALK TO SOMEONE ELSE:
• LIFELINE: 0800 543 354 (available 24/7)
• SUICIDE CRISIS HELPLINE: 0508 828 865 (0508 TAUTOKO) (available 24/7)
• YOUTHLINE: 0800 376 633
• NEED TO TALK? Free call or text 1737 (available 24/7)
• KIDSLINE: 0800 543 754 (available 24/7)
• WHATSUP: 0800 942 8787 (1pm to 11pm)
• DEPRESSION HELPLINE: 0800 111 757