An Adelaide judge said sleep deprivation coupled with depression made a New Zealand man act "out of character" when he murdered his partner.
Former Upper Hutt man Toby Awatere, 37, who fatally throttled his fiancee, and left her body for their children to find, was jailed yesterday for at least 20 years.
Yesterday, the Supreme Court in Adelaide ordered Toby Awatere serve the minimum non-parole period available at law, noting the many "unusual" aspects of his case, the Advertiser reported.
Justice David Lovell said Awatere deliberately and intentionally murdered Jackline "Mimi" Ohide, 27, but was "undoubtedly" suffering from poor mental health at the time.
He said that in no way excused Awatere's crime but, combined with his prior good character, contrition and excellent prospects for rehabilitation, warranted a 20-year term.
Outside court yesterday, Ohide's mother, Christine Achola, said the sentence was "not enough" and "will never bring my daughter back".
However Ohide's sister, Sunday Ohide, said it was an appropriate penalty.
"My sister and Toby never really had an abusive relationship. He was a nice person as we knew him," she said.
"For me, 20 years is enough because it's a long time and, if he's remorseful, he will have enough punishment in his head anyway."
Jurors found Awatere guilty of murdering Ohide in their Hackham West home in March 2015 and dumped her body in the front passenger seat of a friend's car.
The couple's children, aged 4 ½ and almost 2, were asleep in the vehicle. Awatere fled the scene, leaving the distressed boys to discover their mother's body.
After his arrest, he wrote a letter to his in-laws from jail admitting he "lost it".
"The f***ed thing was ... when I was choking Mimi I was saying to her 'I love you' but her kicking and struggling to breathe made me squeeze her throat even more'," it read.
At trial, he claimed exhaustion, coupled with a "cocktail" of depression, insomnia, stress, jealousy and trust issues meant he did not realise the consequences of his actions.
Jurors rejected that, agreeing with prosecutors that Awatere's actions amounted to a "deliberate, sustained and violent overpowering" of Ohide, and that he "wilfully murdered" her.
On Thursday, Justice Lovell said the relationship between Awatere and Ohide had been a loving one, without violence or aggression.
He said the murder was sparked by Awatere's insistence the family move to Melbourne, where he was working to ease their financial pressures.
Ohide, he said, did not want to relocate.
"What occurred on that night is a depressingly familiar story of behaviour that is controlling and is domestic violence," he said.
"You decided, albeit on the spur of the moment, to kill her because she was not going to Melbourne with you.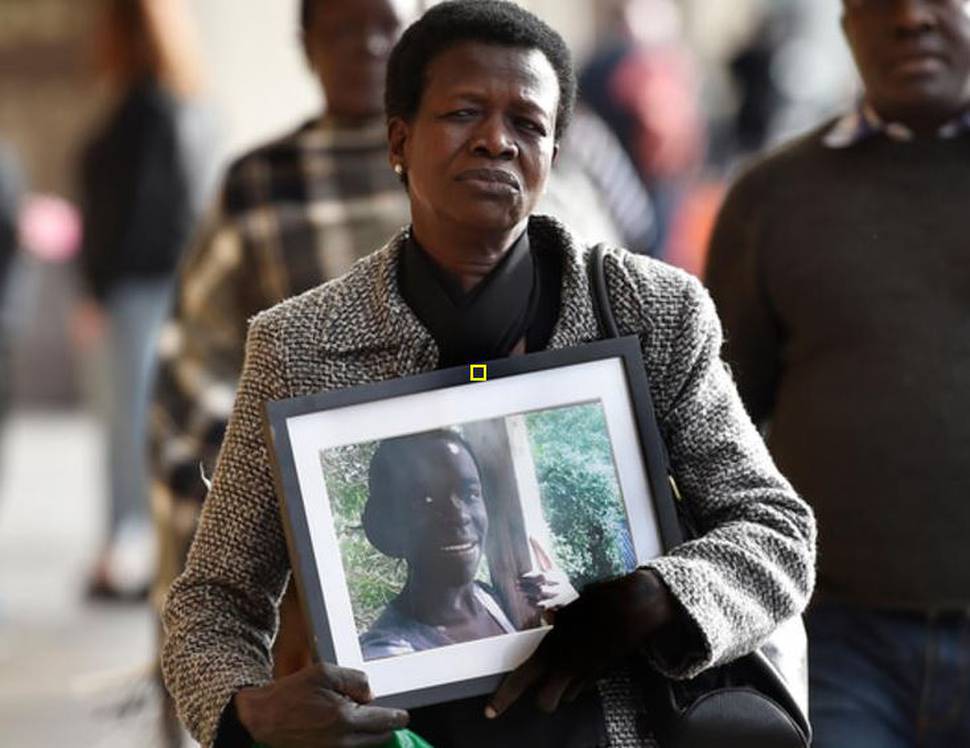 "She expressed a view contrary to what you wanted and that caused you to lose control of your temper."
He said dumping Ohide's body with the children further aggravated Awatere's crime, and intensified the suffering of her still-grieving family.
However, he said Awatere had never sought to blame Ohide, had apologised and never sought to argue he deserved less than 20 years' jail.
"I agree, with prosecution and defence, that the unusual subjective features of this crime can counterbalance, to an extent, the seriousness of the offending," he said.
Justice Lovell jailed Awatere for life with a 20-year non-parole period, making him eligible to apply for release in March 2035.
Outside court, Sunday Ohide said her family remained "shaken" but hoped to now move forward and "start to heal".
"My sister was a very quiet, friendly person who loved being a mum and being with her family," she said.
"We miss her a lot."
Achola agreed.
"She was a gentle girl, she studied at Flinders Uni, working, looking after her kids, taught them how to plant a tree," she said.
"A very good girl but she's gone - the 20 years will never bring her back."
She said her family would work towards coping with their loss.
"I've got the two boys and I'm happy looking after them," she said.
- The Advertiser