London Bridge has been placed on lockdown amid reports of three men carrying knives attacking people and up to 20 have reportedly been struck by a van.
Armed police are at the scene in what is being described as a "major incident", possibly a terrorist attack.
A white van mounting the curb and hitting as many as up to 20 people on the bridge.
• Follow our Live Blog on the London Bridge attack here.
Witnesses share their accounts as the horrific scene unfolded.
One woman told the Sun: "We had to run there was loads of shooting".
Holly Jones, a BBC reporter who was on London Bridge at the time of the incident, said she had seen a man in handcuffs being taken away from the scene.
She said a white transit van had knocked several pedestrians over, estimating five or six casualties injured or seriously injured.
"A white van driver came speeding - probably about 50mph - veered of the road into the crowds of people who were walking along the pavement," she told BBC News.
"He swerved right round me and then hit about five or six people. He hit about two people in front of me and then three behind.
I'd say there are about four severely injured people. They all have paramedics assisting them at the moment."
Chris Wimpress, who works for the BBC, described the aftermath as "pandemonium".
He went to the bridge after being told of an unfolding incident.
"I was told there was something major happening," he said. "As I walked down Southwark Street heading east, I started to see dozens of people running away, clearly distraught. Mostly young people, many of them in tears.
"Men walking in an almost zombified state, looking shocked
"It appears a van came down from the city into the London Bridge area."
He added that witnesses had told him there was a stabbing in the Southwark Tavern, while others heard at least 12 gunshots in the area.
Two people, he said, had told him there were "men dressed in black"
Daily Telegraph's reporter Eleanor Steafel is in Southwark Street where people have been told by police to run.
People in the area are are hysterical, she reports, with one girl on the phone screaming, "It's happening!"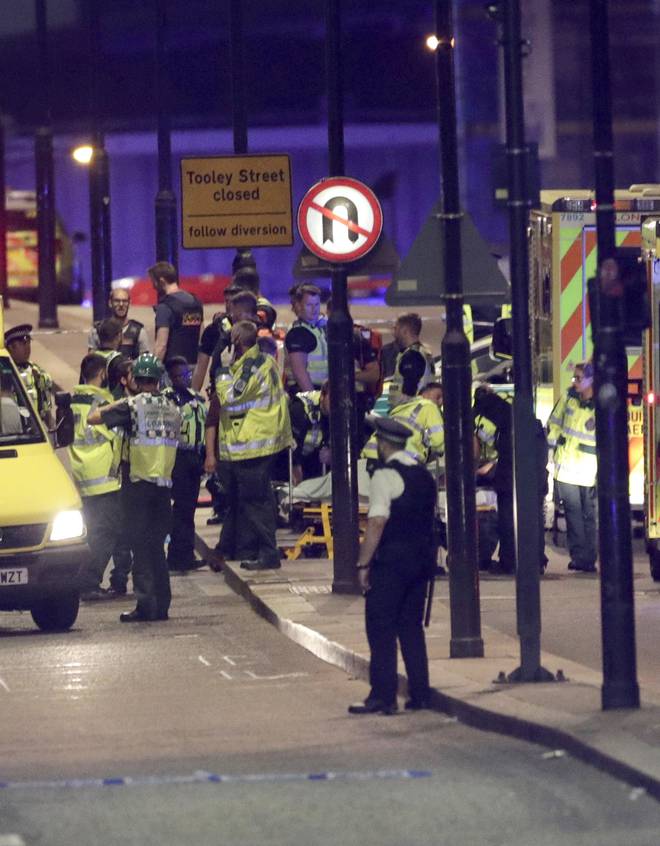 Armed police are walking horses of people away from the area and a lot buildings between the Globe and the bridge seem to be in the process of being evacuated.
Telegraph reporter Patrick Sawer spoke to bar manager Taylan Bonadie who told how he suddenly saw dozens of people fleeing away from London Bridge past his pub, the Trinity, in Borough High St.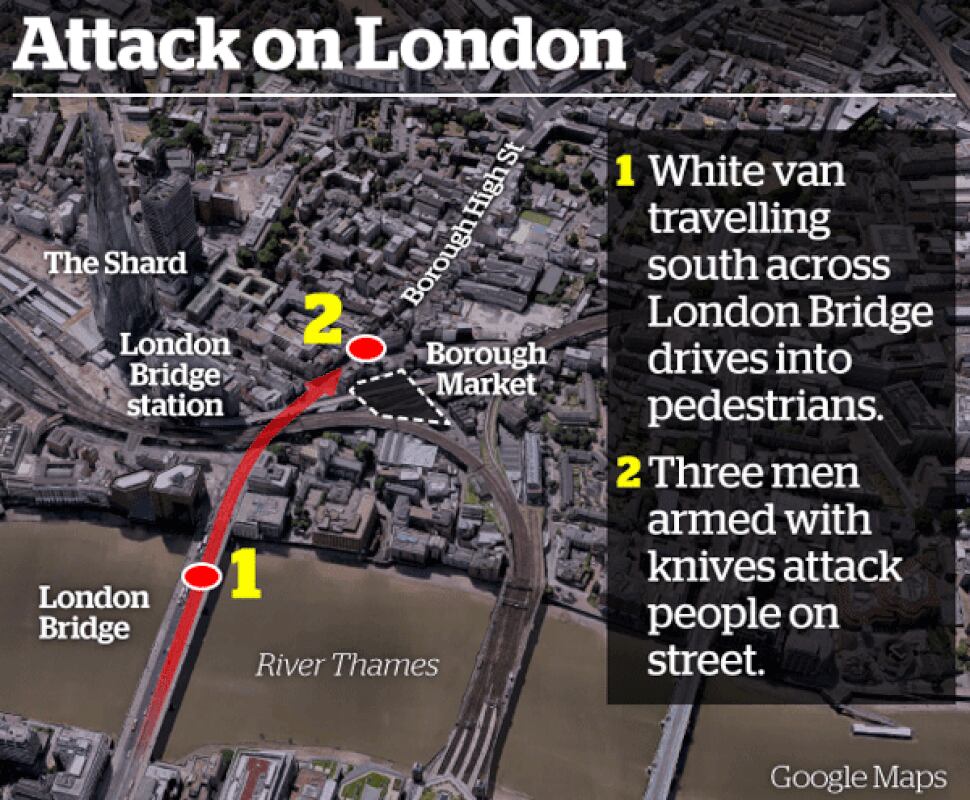 He said: "People looked scared. They were running and police were telling everyone to leave. Somebody said there was another incident in Borough Market.
"We locked the doors to keep the customers safe until police advised them to leave and make their way home."
One drinker, Emma, who had been in a pub close to a London Bridge with friends, said they had been forced to abandon their night out as police cleared the area.
"We were having a drink when suddenly I saw people outside running and the next thing police told us to leave the area quickly. It was terrifying," she said.
Nick Archer was swiftly on the scene.
"We had been drinking and came out on to the road and looked and looked to my left and there as a guy, I thought he was just drinking but he was lying on the floor," he told Sky News
"And then a couple of seconds later, about three police vans flew past. The guys who were with the guy on the floor flagged the car down."
One woman said: "We were in London Bridge station. An announcement came on which said that due to an emergency the station was closing and to leave via the nearest exit.
"We left the station and crossed the road. There were lots of blue lights to our left on the bridge and to our right. "We crossed over to tooley street and then saw crowds of people running which created a sense of panic.
"We ended up walking towards the river with a crowd of people. A few people jumped the fence.
"We got to the river and walked down to Hayes galleria. There were helicopters and police boats on the river. We went into cote.
"There was a woman and her husband crying. They said a van had mowed people down on London Bridge and were stabbing and shooting people. They were both very upset."
Will Heaven, the managing editor of the Spectator was in a cab on London Bridge minutes after the incident began.
"It was ten past ten, quarter past 10, quarter past ten. I was in an Uber going over London Bridge.
"I saw there was somebody on the ground with a small crowd around them. It looked as if somebody had collapsed.
"Then there was another person, not on the pavement but on the ground. Then the penny dropped that something had happened," he said.
"Police got out of a BMW 4x4, they were carrying a machine guns," he added. "I saw one person getting into an ambulance, they were clearly in a bad way, they were being comforted by first responders.
Tony Murphy, a former serviceman, heard the incident unfold from his nearby flat on Upper Thames Street. "There was tremendous gunfire. At first I thought it was fireworks, then I recognised it was significant gunfire"