Britain's terror threat level has been raised to its highest possible level amid fears the Manchester suicide bomber had accomplices who are now preparing further attacks.
Theresa May announced that armed soldiers would be deployed on the streets as she raised the terror threat level from severe to critical - putting the UK on warning that an attack is "expected imminently".
Investigators fear British-born bomber Salman Abedi, a 22-year-old of Libyan descent, was part of a wider network of Isil-inspired terrorists, including a bomb-maker who may still be at large.
Read more:
• Live: Another attack may be 'imminent'
• Police swoop on bomber's home
• What you need to know about attack
• Who are the victims of the terror attack?
The SAS has been deployed to Manchester ready to engage in the hunt for accomplices of Abedi, who killed 22 concert-goers in Britain's worst terrorist atrocity for 12 years.
A 23-year-old man was arrested in Manchester on Tuesday in connection with the attack and is being questioned.
Intelligence experts believe the device detonated at the Manchester Arena on Monday night was so sophisticated that Abedi had either been given specialist training abroad or used a bomb made by a technician who has not yet been captured.
With the FA Cup final due to be played this weekend, Mrs May acted on the advice of the Joint Terrorism Analysis Centre after chairing two meetings of the Cobra emergency committee over the course of the day.
Security will be stepped up at major public events and terrorist targets such as major railway stations and airports.
It is the first time Britain has been on maximum terrorist alert since 2007, when a blazing car loaded with gas canisters was driven into Glasgow Airport.
It came as police confirmed that an eight-year-old girl was among those killed when Abedi targeted children by blowing himself up at a concert by the US singer Ariana Grande, who has a huge following among young girls.
Other children are understood to be among the dead, and 12 children were among 59 taken to hospital after the atrocity, for which Isil has claimed responsibility.
Mrs May described the bombing as "one of the worst terrorist incidents we have ever experienced in the United Kingdom" and said it "stands out for its appalling, sickening cowardice - deliberately targeting innocent, defenceless children and young people who should have been enjoying one of the most memorable nights of their lives".
In other developments:
The first victims of the attack were named as Saffie Rose Roussos, eight, Georgina Callander, 18, and John Atkinson, 26
Saffie's mother Lisa is reportedly among those seriously injured in hospital and does not yet know her daughter is among the dead
Vigils for the dead and wounded were held in Manchester and other cities across the UK
The Queen described the attack as "barbaric" in a message of support to the people of Manchester
Campaigning for the general election was suspended "until further notice".
Abedi is known to have visited Libya, where he has close relatives, and MI5 are trying to establish whether he had terrorist links in the country his family fled before his birth to escape the Gaddafi regime.
Sources confirmed to The Daily Telegraph that special forces soldiers had been deployed to Manchester on standby to support the police in the urgent manhunt for other potential bombers.
Military bomb disposal experts were already involved in the operation yesterday when police stormed the house in the Fallowfield area of Manchester where Abedi is believed to have lived with relations.
He is the first terrorist to successfully detonate a suicide bomb in Britain since four al-Qaeda sympathisers killed 52 people in co-ordinated attacks on London in July 2005.
Abedi, the first terrorist to specifically target children on British soil, was brought up in Manchester, where he attended a local comprehensive school before studying at Salford University.
His family fled Libya to escape Muammar Gaddafi's murderous regime, but his father moved back there after the fall of Gaddafi during the Arab Spring in 2011.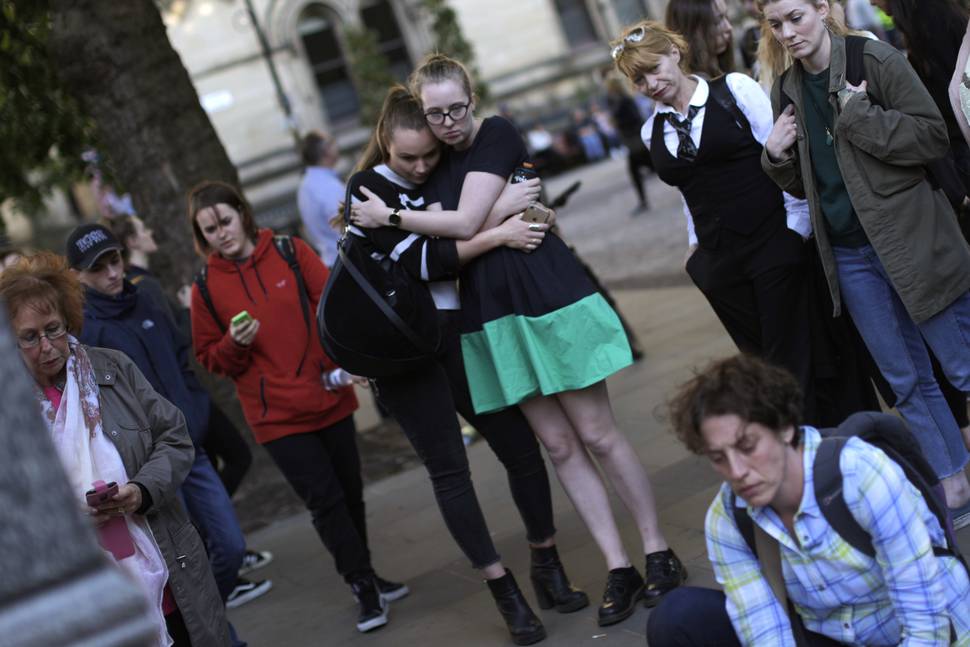 The intelligence services are urgently investigating whether Abedi had links to known extremists in Libya.
A number of Libyans who have spent time living in Manchester before moving back to north Africa are known to have connections with al-Qaeda and Islamic State of Iraq and the Levant (Isil).
They include bomb-maker Abd al Baset Azzouz, who left Manchester and returned to Libya to run a terrorist network overseen by Ayman al-Zawahiri, Osama bin Laden's successor as leader of al-Qaeda.
The Telegraph reported in 2014 that Azzouz had 200 to 300 militants under his control.
Azzouz was one of a group of Libyan dissidents who were members of the outlawed Libyan Islamic Fighting Group (LIFG) who had lived near Abedi.
Abedi is known to have attended Didsbury mosque, where another member of the Libyan community in Manchester, Salah Aboaoba, claimed in 2011 to have raised funds for LIFG. The mosque at the time vehemently denied the claim.
Abedi, the son of an airport security worker, used a "sophisticated" suicide device, according to security sources, suggesting he had expert tuition or help.
The bomb, laced with nuts and bolts to maximise death and injury, appears to have been of a similar design to those used in the 2005 attacks.
Air Marshal Sir Stuart Peach, the head of the UK's armed forces, told the Cobra committee he was ready to put armed soldiers on the streets if directed by the Prime Minister.
Mrs May said of the attack: "We struggle to comprehend the warped and twisted mind that sees a room packed with young children not as a scene to cherish, but as an opportunity for carnage.
"But we can continue to resolve to thwart such attacks in future, to take on and defeat the ideology that often fuels this violence, and if there turn out to be others responsible for this attack, to seek them out and bring them to justice."
World leaders were swift to send messages of condolence and condemnation. President Donald Trump said the bomber and any accomplices were "evil losers in life".
He said: "I won't call them monsters because they would like that term. I will call them losers."
The Russian president Vladimir Putin, China's President Xi Jinping and the German Chancellor Angela Merkel were also among those who sent messages to the Prime Minister.
Later this week Mrs May will travel to the G7 summit in Sicily where she will lead discussions on anti-terrorism measures with other world leaders.
A Downing Street spokesman confirmed the trip will go ahead and that Mrs May will play a major role in sessions about counter-terrorism cooperation, following the attack.