Riots could break out in cities across France after results are announced of the first round of the presidential election, intelligence services have warned, as the most unpredictable vote in decades goes ahead amid a heightened terror alert.
Trouble is almost certain if Marine Le Pen, the far-right leader, and Jean-Luc-Mlenchon, her far-left counterpart, are the two candidates who make it through to the second and final round on May 7, according to a report by intelligence services.
The confidential document, leaked to Le Parisien, said that at the top of the list of potential security problems as millions of people cast their ballots was the "jihadist threat".
The report came just days after a French jihadist claiming allegiance to Isis (Islamic State) shot dead a police officer on the Champs Elyses in Paris, bringing election campaigning to an early end and thrusting security issues back to the top of the political agenda.
Around 50,000 police officers and 7000 soldiers are being deployed to protect voters across France today for the first round of the election, which has turned into a four-way race between Le Pen, Mlenchon, Emmanuel Macron, the maverick centrist, and Franois Fillon, the scandal-scarred conservative.
An opinion poll showed Le Pen and Macron tied on 23 per cent, ahead of Mlenchon with 19.5 per cent, and Fillon on 19 per cent. But due to the margin of error pollsters factor in, there is no safe bet as to which two will make it to the second round of what has so far been the most unpredictable French presidential election in decades, coming in the wake of the UK's shock decision to leave the EU and Donald Trump's win in the US.
The French intelligence report leaked to Le Parisien said that spontaneous demonstrations - which might turn violent - could be held in cities and troubled banlieues after the results are announced this morning. The report spoke of "public disturbances in the case of the presence [in the second round] of parties which are said to be extremist," a reference to Le Pen and Mlenchon, the communist-backed firebrand. "In this case, protests are almost certainly to be expected," it said. The document warned of farmers, hospital staff and students taking to the streets to protest at the results.
Polls said the French are more worried about jobs and the economy than about terrorism. But analysts warned that Friday's shooting in Paris could change that.
The anti-EU and anti-immigrant Le Pen moved quickly to present herself as the strongest defender against Islamist radicals in a country under a state of emergency since a string of terror attacks that began in 2015 and have killed more than 230 people. "This war against us is ceaseless and merciless," she said, accusing President Franois Hollande's Government of a "cowardly" response to the threat. Macron and Fillon also vowed to protect the country.
Mlenchon was the only one of the four to stick to his schedule after the attack. "Several Europes are possible - it doesn't have to be just their Europe," said Mlenchon, a Eurosceptic who has pledged to renegotiate treaties with the bloc.
The four main contenders
FRANCOIS FILLON, 63, The Republicains
Fillon is making a bit of a comeback after being plagued for months by a fake jobs scandal. Seeking return to power for mainstream centre-right after five-year hiatus. Won the ticket on proposals to slash public spending and cut state sector jobs. Social conservative from region with strong Catholic roots.
MARINE LE PEN, 48, National Front
Seeking first presidential win for far-right party her father Jean-Marie Le Pen founded in 1972 but which she has rebranded as anti-establishment party that caters to working class voters of left-wing leaning as well as anti-immigrant, anti-EU and 'French-first' voters
EMMANUEL MACRON, 39, En Marche Movement
The favourite. Former investment banker and economy minister under . Created non-partisan political movement with stated goal of transcending the limits of left- and right-wing parties, with policies that would combine state protection and business freedom to innovate.
JEAN-LUC MELENCHON, 65, Left Party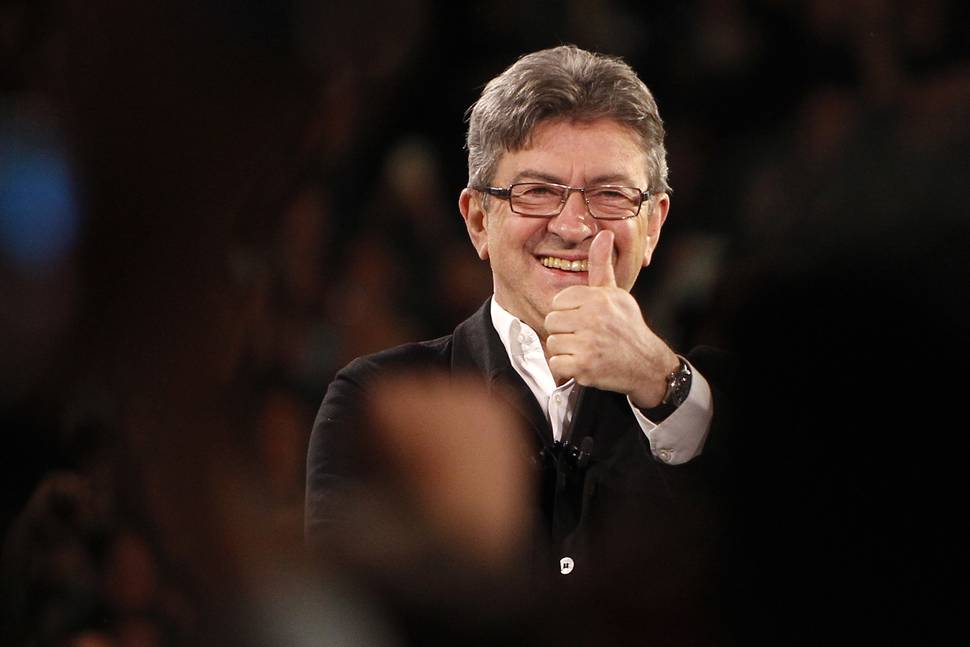 Melenchon's ratings have surged in recent weeks. He wants a total overhaul of political system, high tax, big spending on environmental transition, EU-hostile. 'Indomitable France' grouping is backed by the country's Communist Party.
Town that usually follows the winner in a spin this time
Surrounded by farms producing goat's cheese and foie gras, the medieval town of Donzy in deepest Burgundy is, in many ways, textbook "la France profonde". With a population of 1660, it boasts a church, two doctors, a butcher, two bakers, three cafes, three schools and a retirement home.
Donzy is seen as a political bellwether, having voted for the winning party at each general election since it became a constituency in 1974. Donzy has reflected the national vote in seven presidential elections. In 2002, Jean-Marie Le Pen, the then Front National candidate, won 16.86 per cent of the first-round vote in Donzy and 16.87 per cent nationwide.
There was a wobble in round one in 2012, but it was back on track in the run-off, plumping for Franois Hollande, the socialist winner. Yet Donzy's political weather vane is in a spin, as no fewer than four candidates stood a chance of reaching the run-off.
The consensus of locals was that the Marine Le Pen vote would be very high. Mickael, 30, an agricultural worker, said: "I want radical change. I choose Marine Le Pen. I juggle with two jobs to get by. I don't take my kids on holiday. I am the France that works, that people don't look at or listen to."
Sitting in a bar, Frdrique Charpin, 31, an accountant, was also tilting towards the FN candidate. "People have had enough of the way the French political system is organised."
But she held out little hope Le Pen would win the run-off. "In the first round, it will be Le Pen-Macron but after that, [Emmanuel] Macron will win as the French are scaredy cats. The Le Pens never win. But I'd like it to be her turn."
Vincent Chavouet, 33, a care worker, was mulling backing Jean-Luc Mlenchon, who he felt had interesting ideas on ecology and was not as extreme as some claim.
Preparing ballot boxes in his town hall, Jean-Paul Jacob, Donzy's Mayor, envisaged a big protest vote. Jacob, who is plumping for Fillon, brushed aside charges that he illicitly paid his British wife a fortune in public funds for a "fake job", calling it a left-wing plot. As for Macron, "he's cuckoo who has made his nest in the left and the right but doesn't have his own".
At his farm, Frdric Coudray, 49, insisted that was precisely why he backed Macron. "It's good to bring together the best ideas of the right and left. It's good to question, to have doubts, to weigh up the for and against."
- addtional reporting: Reuters