A Chinese envoy to Seoul was to discuss North Korea's increasingly defiant weapons programme as a US Navy strike group heads to the region amid concerns Pyongyang may be readying a fresh nuclear test.
North Korea has several major anniversaries this month and often marks the occasions with major tests of military hardware.
The possibility of US military action against North Korea in response to such a test emerged as an option following last week's US strikes against Syria. It was further fuelled by comments from US President Donald Trump's top aides.
In Tokyo, the feasibility of US military action was downplayed, while South Korea said the focus remained on deterrence and readiness.
"It probably is not realistic for the US to attack North Korea," a Japanese Defence Ministry source said. "If America says it is going to attack, both Japan and South Korea will probably put a stop to it."
US Secretary of State Rex Tillerson said the US military strike against Syria over its alleged use of chemical weapons was a warning to other countries including North Korea that "a response is likely" if they pose a danger.
"(Chinese) President Xi (Jinping) clearly understands, and I think agrees, that the situation has intensified and has reached a certain level of threat that action has to be taken," Tillerson said on American TV.
Asked about reports that Trump was presented with a plan including the assassination of North Korean leader Kim Jong Un, Tillerson replied: "I am aware of no such plan".
He said the meeting at Mar-a-Lago, Trump's Florida estate, had helped convince the Chinese to take action.
"President Xi expressed agreement that the regime has reached new levels of concern," said Tillerson.
China's Special Representative for Korean Peninsula Affairs Wu Dawei is expected to discuss the North's nuclear issue with his South Korean counterpart, according to the South Korean Foreign Ministry.
The US Navy strike group Carl Vinson cancelled a planned trip to Australia and is moving towards the western Pacific Ocean near the Korean Peninsula as a show of force, a US official told Reuters over the weekend. "We feel the increased presence is necessary."
South Korean and US forces are also involved in annual joint military drills that run until the end of April.
America's decision to move the Navy strike group towards the Korean Peninsula is a "prudent" reaction to a pattern of provocative behaviour from North Korea, the White House National Security Adviser said.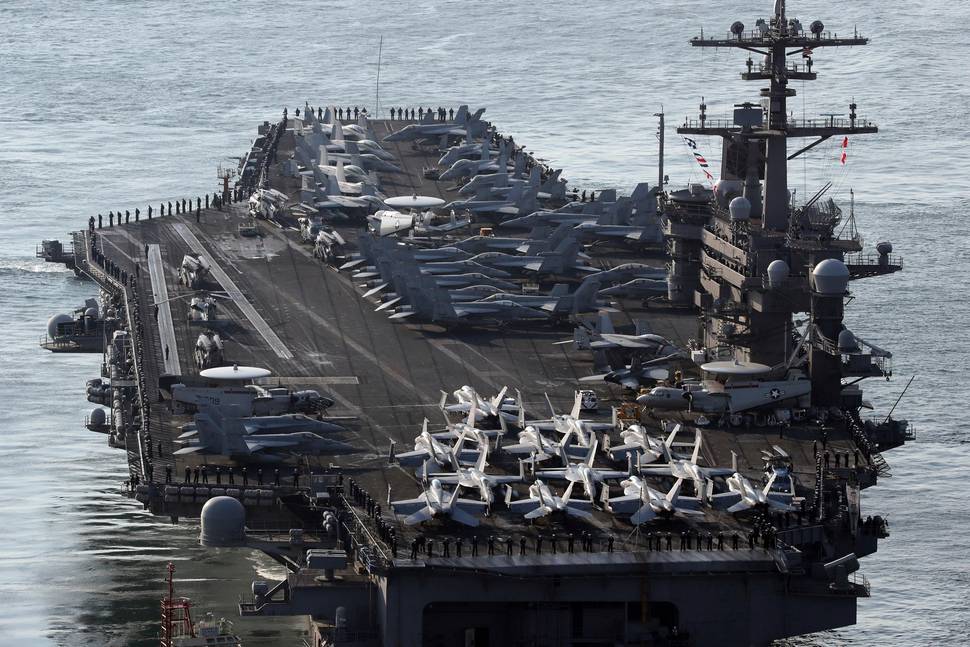 The carrier group includes the aircraft carrier USS Carl Vinson, with support from several missile destroyers and missile cruisers.
"It's prudent to do it, isn't it?" said H.R. McMaster, National Security Adviser.
"This is a rogue regime that is now a nuclear-capable regime, and President Xi and President Trump agreed that that is unacceptable, that what must happen is the denuclearisation of the Korean Peninsula."
North Korean officials, including Kim, have repeatedly indicated an intercontinental ballistic missile test or something similar could be coming - possibly as soon as Saturday, the 105th birthday of North Korea's founding president and celebrated annually as "the Day of the Sun". Last month North Korea released a propaganda video showing a US aircraft carrier being blown up, as it warned the US against carrying out military action.
The clip was released during a ground test of a new type of high-thrust rocket engine that Kim called a revolutionary breakthrough for the country's space programme.
Displaying images taken from its own recent ballistic missile launches and US/South Korean military exercises, it then shows a superimposed image of the USS Carl Vinson on fire, with the warning: "A knife will be stabbed into the throat of the carrier".
At the weekend, Trump and South Korea's leader, acting President Hwang Kyo Ahn, spoke by phone. The White House said the two agreed to stay in close contact about North Korea and other issues.
Yesterday the White House confirmed a conversation between Trump and Shinzo Abe, the Japanese leader, which reiterated US support for Japan in the region and their desire to work together on the problem of North Korea.
Tillerson said the US was concerned about advances in North Korean technology - but did not give any suggestion as to what the US would do about it.
"The assessments are obviously somewhat difficult. Clearly he (Kim) has made significant advancements in delivery programmes. We have been quite clear with the regime in Pyongyang. That's what we have asked for - to cease the testing. If we judge that they have reached that level, that becomes a significant problem."
- Telegraph Group Ltd, Reuters