Donald Trump has made an implicit threat to Syrian President Bashar al-Assad after the shocking gas attack in the country that killed 72, including 11 children.
Speaking at a White House press conference after the emergence of harrowing pictures that showed children doused in chemicals struggling to breathe, the US President said the attack was an "affront to humanity" that "cannot be tolerated".
Trump said the attack in the rebel-held town of Khan Sheikhun was "so horrific" because it involved "innocent people, small children and even beautiful little babies".
"That crosses many, many lines," Trump told reporters alongside Jordan's King Abdullah II on Wednesday.
"These heinous actions by the Assad regime cannot be tolerated."
He said the crisis in Syria was now his "responsibility".
Trump has previously advocated against a US military attack on the Assad regime.
He tweeted on the subject many times in 2013, urging then-President Barack Obama not to intervene in Syria because there was "no upside and tremendous downside".
At the press conference, he repeated the cryptic comment that he was a "very flexible person", implying his views had changed.
"That attack on children yesterday had a big impact on me. Big impact ... It's very, very possible that my attitude to Syria and Assad has changed very much," Trump said.
When asked whether he planned to use force against Syria, he said he would not follow the lead of previous administrations and discuss military plans publicly.
"I'm not saying I'm doing anything one way or another, but I'm certainly not going to be telling you," Trump said.
"The world is a mess. I inherited a mess: the Middle East, North Korea, horrible trade deals ... We're going to fix it."
Trump slammed Obama for drawing a "red line" against the use of chemical weapons in 2012 but failing to solve the problem.
"That set us back a long ways, not only in Syria, because it was a blank threat," Trump said.
During the press conference, Trump made no mention of Russia, which has been accused of propping up the Assad regime.
Trump's comments come on the back of strong language from the US ambassador to the United Nations, Nikki Haley, who has warned that the Trump administration would take action against the chemical attacks in Syria if the Security Council failed to act.
"There are times at the United Nations when we are compelled to take collective action," she said.
"When the United Nations consistently fails in its duty to act collectively, there are times in the life of states that we are compelled to take our own action."
Meanwhile, White House spokesman Sean Spicer said the deadly attack was "reprehensible" and "cannot be ignored".
Mr Spicer said the "heinous actions ... are a consequence of the past administration's weakness and irresolution".
"President Obama said in 2012 that he would establish a 'red line against the use of chemical weapons, and then did nothing. The United States stands with our allies across the globe to condemn this intolerable act," he said.
If the use of chemical weapons is confirmed, this week's attack is the most deadly since one in Ghoutta in August 2013, which killed at least 280 people.
At the time, Obama failed to achieve Congressional approval for a vote to oust Assad by force.
British Foreign Secretary Boris Johnson said on Wednesday that the UK and US were wrong not to have pushed harder for the removal of Assad previously.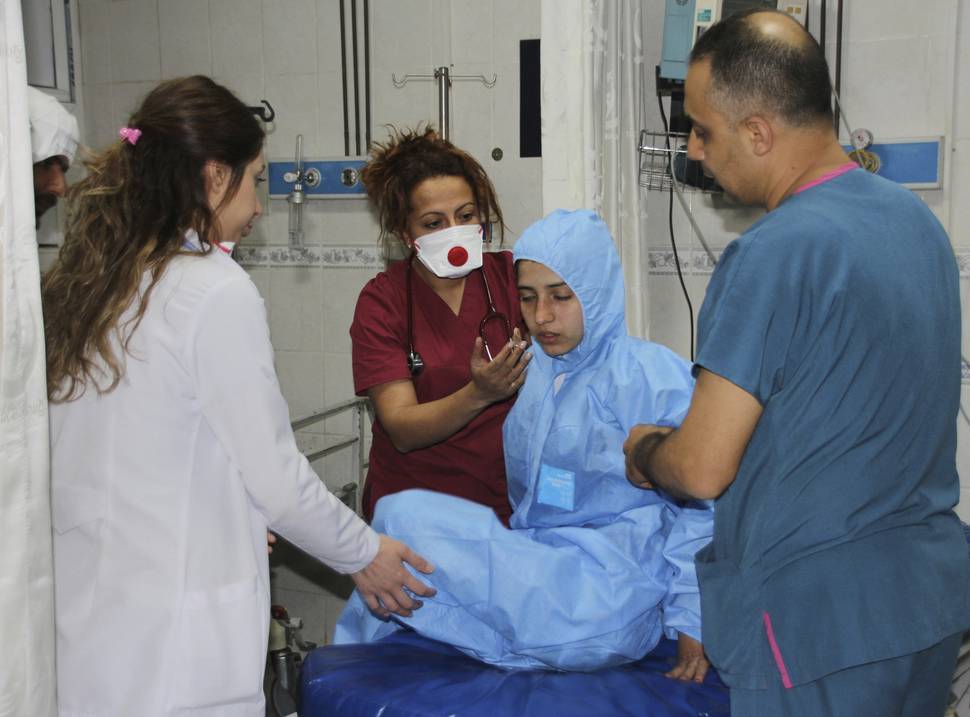 Speaking at a conference in Brussels, he described the attack as "barbaric" and said "the people of Syria are today paying a price for our collective inaction over the last five years".
"We are living today with the consequences, and I'm afraid the people of Syria are living today with the consequences, of that decision," he said.
He said Assad was "responsible for the vast majority of that butcher's bill, and you have to go back a long way in history to find a tyrant who has stayed in office in such circumstances".
Trump met with members of his national security team on Wednesday as the United Nations Security Council also convened on the issue.
Australia has joined the global chorus condemning the attack but is also among those who have backflipped on the removal of Assad as a precondition to peace in Syria. He is now seen as a tolerable part of transitional arrangements in the country, Foreign Minister Julie Bishop has said.
BANNON DUMPED FROM TOP SECURITY JOB
Meanwhile, President Trump has removed chief strategist Steve Bannon from the National Security Council.
Trump reorganised the council, removing Bannon and downgrading the role of his Homeland Security Adviser, Tom Bossert, Bloomberg reported, citing sources.
Bannon, the former executive chairman of Breitbart News and Trump's alt-right guru, was elevated to the National Security Council's principals committee at the beginning of Trump's presidency in a move drew criticism from some members of Congress and Washington's foreign policy establishment.
'EVERYBODY IS LOSING'
The war in Syria has killed an estimated 400,000 people in six years as the country is consumed by infighting between government and rebel forces.
It's estimated to have cost US$350 billion ($502b) in lost infrastructure and productivity and has left 80 per cent of the country living in poverty. Nearly half of the entire Syrian population has been displaced, with millions heading to neighbouring countries or Europe to flee the fighting.
UN Secretary-General Antonio Guterres said "everybody is losing" the war that was affecting the entire region.
"It is having a detrimental and destabilising effect on the entire region and it is providing a focus that is feeding the new threat of global terrorism," he said.
"Behind these figures lies a gradual draining of hope and a turn toward despair that we must reverse."
The United Nations Security Council has convened an urgent meeting to uncover what happened and formulate a response to the attack.
Draft text seen by Reuters reportedly demands Syria's government provide an explanation complete with flight plans and logs as well as access to air bases where the chemical attacks may have been launched from.
Ahead of the meeting, Russia, which along with Iran is a key Assad ally, said Syrian aircraft had hit a stockpile of "toxic substances" that were on the ground.
United Nations inspectors have found Syria's army guilty of using chemical weapons three times before in what amounts to a war crime.
Russia has also used its Security Council veto to block action on Syria that would weaken the Assad regimen.