The prospect of a total ban on laptop computers being carried in hand luggage on all flights to the UK cannot be ruled out, the Home Secretary has made clear.
Last week the British Government announced that laptops had to be put in hold baggage on flights to the UK from six predominantly Muslim countries.
The ban was imposed as a result of intelligence on terrorists developing "laptop bombs," the Daily Telegraph reports.
But Amber Rudd left no doubt that the ban could be extended to more countries when she was questioned on the subject by the BBC's Andrew Marr.
Marr suggested that to a lot of people it seemed "strange" that the ban only applied to certain countries, when the method for making laptop bombs could be shared with extremists anywhere in the world.
Asked whether there should eventually be a total ban on taking laptops in hand luggage, Rudd said: "It's difficult to see how far this will go, whether we may at some stage arrive at that place."
She added: "At the moment the Government has made the decision on where to have that ban in place based on the intelligence we have received."
The ban currently prevents passengers having laptops, iPads, Kindles and other gadgets larger than a mobile phone in their hand luggage if they are travelling from Turkey, Saudi Arabia, Jordan, Lebanon, Egypt and Tunisia.
Questions had already been asked about why the UK did not also extend the ban to Morocco, Kuwait, Qatar and the UAE, which are on a US list of banned countries drawn from similar intelligence.
Last year the Somali insurgent group al-Shabaab smuggled a bomb concealed in a laptop on board a flight out of Mogadishu, which punched a large hole in the side of the aircraft.
Luckily, on that occasion the terrorist detonated his device soon after take-off, and he was the only person killed as the pilot was able to land the aircraft safely. If he had waited until it was at a higher altitude the results could have been catastrophic.
Rudd also accused the messaging service WhatsApp of giving terrorists "a place to hide" as she revealed the US firm has failed to hand over the content of the last message sent by Westminster attacker Adrian Ajao.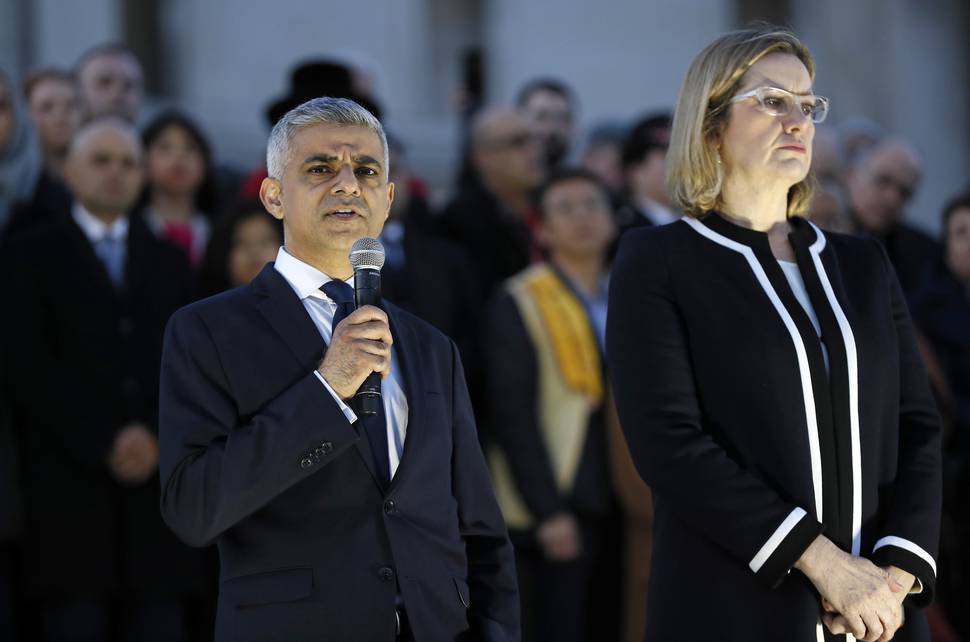 Scotland Yard and the security services cannot access encrypted messages sent on Whatsapp, meaning they have no idea what Ajao said - or to whom - in his final communication three minutes before he began theattack last week.
Rudd said: "This terrorist sent a Whatsapp message and it can't be accessed," the Daily Telegraph reported.
In a scathing attack on Whatsapp, as well as Google and social media platforms which have failed to take down extremist material, she said: "They should be on our side."
Referring to Whatsapp's system of end-to-end encryption, she said: "It is completely unacceptable. There should be no place for terrorists to hide.
"We need to make sure that organisations like Whatsapp - and there are plenty of others like that - don't provide a secret place for terrorists to communicate with each other.
"It used to be that people would steam open envelopes or listen in on phones when they wanted to find out what people were doing - legally, through warrantry - but in this situation we need to make sure that our intelligence services have the ability to get into situations like encrypted Whatsapp."
Speaking to Marr, she said of companies like Apple, Google and Whatsapp: "We do want them to recognise that they have a responsibility to engage with government, to engage with law enforcement agencies when there is a terrorist situation.
"We would do it all through the carefully thought-through legally covered arrangements but they cannot get away with saying 'we are a different situation'. They are not."
She added: "We have to have a situation where we can have our security services get into the terrorists' communications. That's absolutely the case.
"That's why I've called them in this Thursday, I'm seeing a group of them, to work with them to try and set up an industry board to make sure that we really stop this happening. I'm calling time on terrorists using social media as their platform."
Whatsapp was blocked three times last year in Brazil for failing to hand over information relating to criminal investigations. Judges ordered telecoms providers to block the service.