A truck driver who stopped to give a baby elephant some water on a scorching day was condemned for smoking during the encounter.
Footage uploaded on to Facebook by Chantelle En Rudi Beyleveld shows the truck driver squatting on a road behind his vehicle while feeding the elephant some water from a plastic bottle.
The driver, who has a cigarette in his mouth throughout the good deed, is seen trying to help the baby elephant while it waves its trunk around.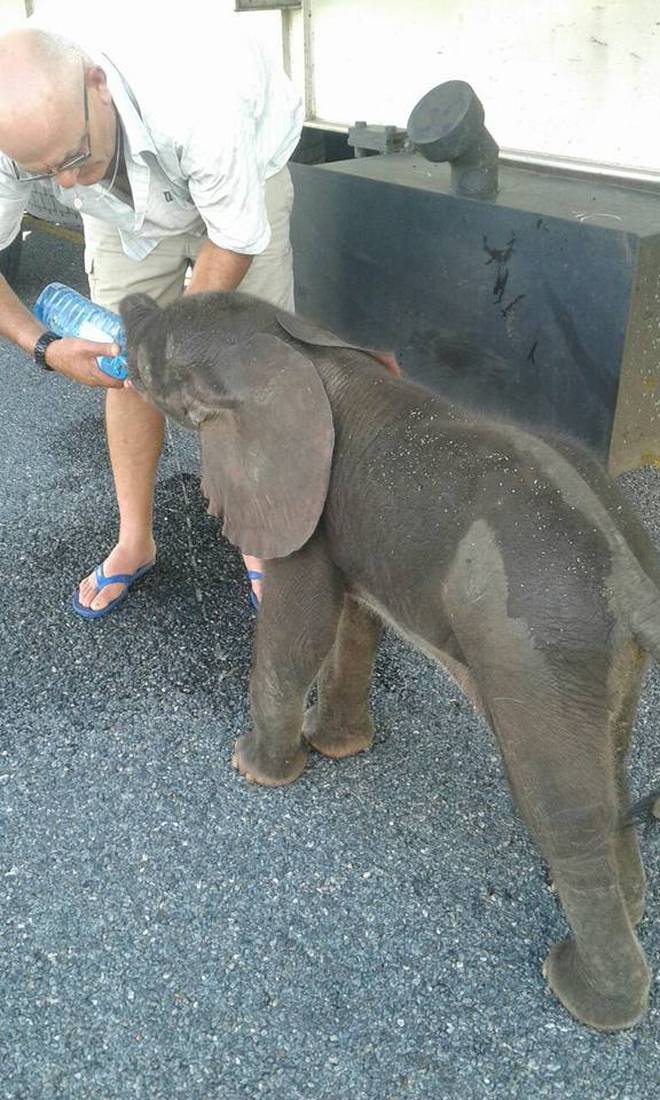 The man then carefully cups the animal's chin as it sucks the water bottle dry.
Photos and video of the rescue were uploaded a couple of days ago by Chantelle Beyleveld who wrote: "Afriag manne hou naam hoog. Red 3 weke oue olifant sonder ma. Hy gaan veilig na Sands op Nata vir Rescue diere. Well done..Carlos and Johan Groenewald and Dave.. " (Afriag men hold their name high. They saved a 3-week-old elephant without its mother. He will be safe at the Elephant Sands Animal Rescue in Nata.)
The baby elephant had been separated or abandoned by her herd and was found by the trio of South African truckers who were on their way through Botswana.
Carlos Santos, Johan Groenewald and Pieter Roussow where en route to Nata, a village located in the northern part of the Central District of Botswana, around 900km from Johannesburg.
The truckers from AfriAg South Africa were forced to stop temporarily around 100km north of their destination as a bridge had washed away due to recent heavy rains in the region.
It was then that they saw the little elephant in the bushes and cautiously approached it.
They gave the little one water and spent time searching for the herd but unfortunately found nothing in the area and made a call to contact the nearest animal sanctuary.
Once the bridge was made passable, the drivers loaded their new passenger in the truck and made their way to Elephant Sands Bush Lodge, who looked after the elephant before transferring her to Elephants without Borders at the beginning of March. It is unknown how the elephant is doing now.
On Facebook, the video had mixed responses.
Some viewers praised the man for his good deed, while others objected to the man smoking near the animal.
Claire El-Jabi Verdonk wrote a comment under the video which said: 'Thank god they stopped and helped. The water was obviously very much appreciated.'
Jeannette Jorre added that she too was concerned for the elephant, and said: "Hope it ended up at rescue centre soon to be feed properly."
But Judith Lamb said she was worried about the man smoking, and wrote: "Put the cigarette out near the baby please," which was supported by Akrivi Argyri, who said: "Agree!"