The remains of two apparent murder victims were discovered in a Northern Virginia park, and police are exploring whether the deaths are related to a resurgent MS-13, a gang that has ties to a wave of violence the county police chief called "out of control."
The grim discovery, announced last week, comes as several suburban counties outside the nation's capital are grappling with an increase in bloodshed linked to the street gang.
In recent weeks, two young people, a 16-year-old Maryland girl and a 21-year-old man she had dated, were slain in Virginia, allegedly by gang members. In all, 16 people, many of them teenagers, have been arrested in those two cases.
Fairfax County Police Chief Edwin Roessler jnr pleaded with parents to look for signs that young people are involved with gangs as he discussed the discovery of the two as yet unidentified bodies buried in Holmes Run Park, where two people killed by the gang were found in 2014.
"This problem is horrible," Roessler said. "This is four murders in this park. Obviously, we've had other murders in the region in the past few weeks. This is getting out of control."
Timothy Slater, special agent in charge of the criminal division for the FBI's Washington field office, said the District of Columbia region is one of a number of MS-13 "hot spots" across the country. Others are in New York and Texas.
Local gang experts said MS-13 leaders in El Salvador have been pushing for changes in the leadership of the gang in the United States, prompting more violence. They also said the record numbers of unaccompanied minors coming across the border with Mexico helped swell recruitment.
Authorities said they have been surprised by the young age of some MS-13 members carrying out attacks and reprisals against their own members.
"The gang starts them on lesser crimes before moving them on to more violent activities," said Douglas Keen, the chairman of the Northern Virginia Regional Gang Task Force. "Their attitude is, 'Once we get you in, you're ours.' Everyone is disposable to them."
Roessler said the bodies found in the Lincolnia-area park on Wednesday were transferred to the state medical examiner for autopsy and identification. Police began searching Holmes Run and another park in Falls Church, Virginia, for human remains Tuesday after the county's gang unit received a tip.
Police believe the bodies had been in the park for less than a year and asked for the public's help in locating those responsible in what are believed to be slayings. Police say they are still exploring whether the individuals were killed in Holmes Run or somewhere else. They also do not yet know whether the case is connected to ongoing MS-13 cases in the area.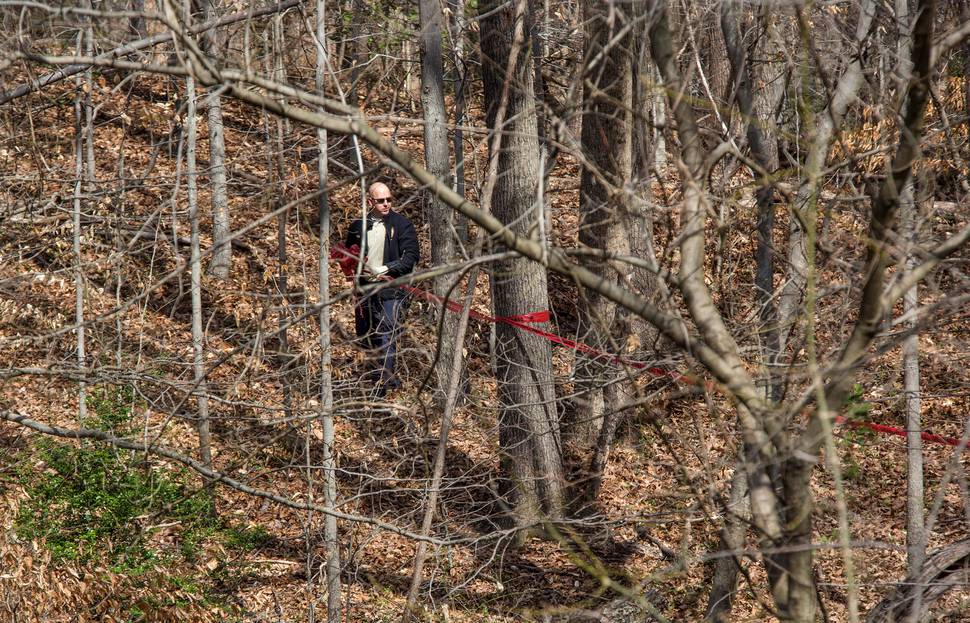 As police investigated the new case, fresh details also emerged Thursday in two earlier slayings linked to MS-13 that authorities believe are linked, the killing of Gaithersburg, Maryland, 15-year-old Damaris Reyes Rivas and Fairfax, Virginia, 21-year-old Christian Alexander Sosa Rivas.
Ten people, including six juveniles, have been arrested in the abduction and slaying of Damaris, whose body was discovered near an industrial area in Springfield in mid-February. Damaris had left home in mid-December, and her mother said she had fallen in with an MS-13 clique.
People familiar with the prosecution's case said the teen was lured to a nearby park on or around January 8 on the pretext of smoking pot but that when Damaris arrived she was removed from a car by alleged MS-13 members and walked into the woods. Damaris grew alarmed and blurted out at one point, "I have been set up," people familiar with the case said.
Damaris was taken to an MS-13 hangout near a set of train tracks, the people said. At that point, a juvenile charged with murder in Damaris' case allegedly walked her down an embankment and interrogated her. The Washington Post generally names juveniles charged in crimes.
The teen asked Damaris whether she had a relationship with Sosa Rivas, people familiar with the case said the prosecution's account shows. Damaris' mother has said her daughter dated Sosa Rivas. The teen who confronted Damaris also knew Sosa Rivas and had a relationship with him at one point, authorities have said.
Damaris asked for forgiveness, but the other teen allegedly slashed her with a bowie knife, people familiar with the case said. Fairfax County police later determined that Damaris died of multiple forms of trauma to the upper body. Video evidence is among the clues in the slaying.
Every attorney for those charged in Damaris' killing, except one, declined to comment. Vernida Chaney is representing one of the juveniles. "I think the evidence will show that not all of them are involved in the crime," Chaney said.
Last week, Prince William County police announced the arrest of six people in connection with the slaying of Sosa Rivas, whose body was found along the Potomac River in Dumfries on January 12.
Court documents in the case claim that two women charged used social media to lure Sosa Rivas to the Dumfries area where he was killed by MS-13 members.
Citing a search warrant that has since been sealed, NBC 4 reported that Sosa Rivas may have been targeted by fellow MS-13 members because he was claiming to be the leader of a local clique. The search warrant said Damaris was one of the last people to see him alive.
Two men charged in Sosa Rivas' case were arraigned in Prince William County General District Court on Thursday and were held without bail. Attorneys for defendants in the Sosa Rivas case declined to comment or did not respond to requests.
MS-13 violence has flared across the country. In Houston this past week, two alleged gang members were charged with killing a 15-year-old girl and holding her 14-year-old friend captive.
In Brentwood, New York, where MS-13 activity has likewise spiked, prosecutors last week charged 13 alleged gang members in seven slayings.
"As the MS-13 continues its efforts to expand and entrench itself in our communities, both by sending gang members to illegally enter the United States from Central America, and by recruiting new members from our schools and neighbourhoods, [we] will continue our mission to dismantle the MS-13 and free our neighbourhoods from the terror they cause," US Attorney Robert Capers of the Eastern District of New York said.