The house, if you can call it that, is nearly impossible to find. Unless you happen to be a migrant - then you probably know the place. And, by word of mouth, its owner.
A self-ascribed "extreme leftist" with the requisite beard and unruly ponytail, Cedric Herrou - once a motor mechanic, then a steeplejack - is now technically an olive farmer, living out of a crumbling, 19th-century cottage in the middle of nowhere, on a rocky incline high above a riverbed. But Herrou's focus is no longer the picholines that grow on his trees. These days, what matters are the migrants.
For the past two years, Herrou, 37, has continually defied French authorities by shepherding undocumented migrants across the Italian border and on to his hillside farm: as many as 60, he says, have stayed on his land at one time, some after knocking on his door in the dead of night. Herrou, like other good samaritans in Britain and Scandinavia, is now on trial accused of "helping undocumented foreigners enter, move about and reside" in France - and facing a possible sentence of five years in prison as well as a fine of 30,000 ($44,420) if convicted. He was set to learn his fate today.
As France struggles to navigate the tidal wave of migration that has crashed on to European shores in recent years, the case of this obscure mechanic-turned-farmer has electrified a nation that has remained comparatively inhospitable to refugees. At its core is an uncomfortable question about the moral obligations of French citizenship. In times like these, does being French mean following the letter of the law, which indeed prohibits undocumented foreigners? Or does it mean upholding the lofty, humanitarian values of the French republic in spite of its laws?
Herrou - and the thousands who have rallied to his defence across the country - insist on the latter.
As was widely reported in French media during his trial last month, he responded to a judge who asked him in court why he had helped migrants across the border with a simple phrase. "I am a Frenchman," Herrou said.
"There's much to criticise about it today, but France is a country with values that are beautiful - the rights of man, the protection of children, and the social welfare we have," Herrou said in an interview on Thursday, sitting on the terrace of his cottage, sipping coffee he made in his alfresco kitchen. "All of which we are in the process of losing."
He was brandishing a sizzling skillet in front of the last of the migrants staying on his land: Mohamed, 19, from Sudan, who made his way into Libya and across the central Mediterranean to Lampedusa and then on to the Italian mainland. Herrou found Mohamed wandering in the valley earlier in the week and had quickly taken him in.
"I worry about this one," Herrou said. "He doesn't eat much."
Typically, Herrou said, he collects migrants from a church in nearby Ventimiglia, Italy, where many - most often from sub-Saharan Africa - live in a squalid camp along a set of abandoned train tracks outside of town. Then he drives them across the French border in the same beat-up blue van he uses on the farm.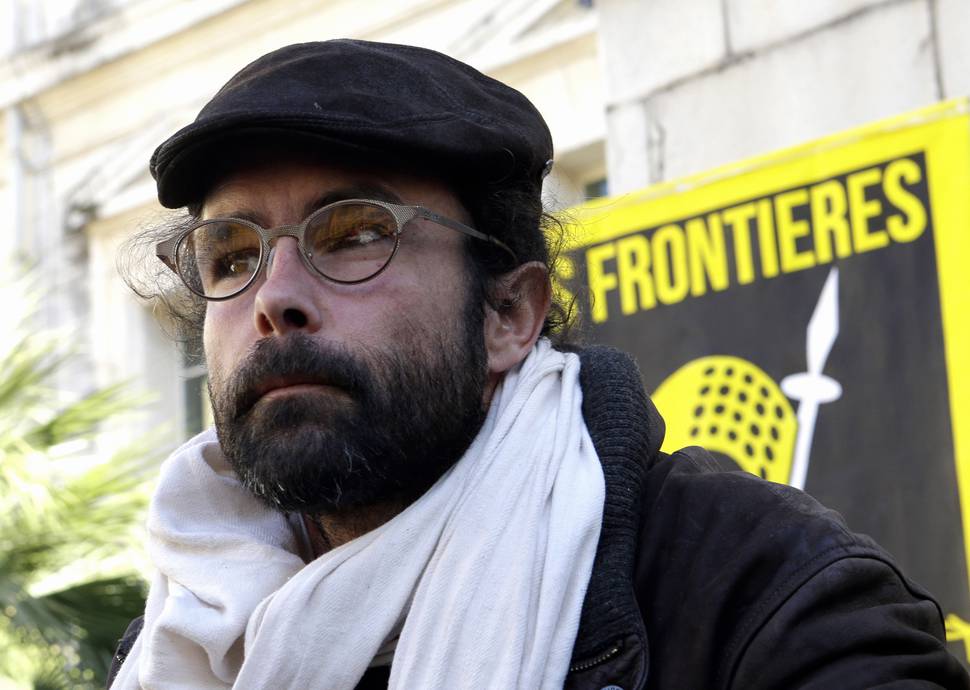 Entry into France tends to be safer on the back roads than through the railway stations, where - in spectacles eerily reminiscent of the hunts for Jewish stowaways during World War II - French police repeatedly stop and comb trains for migrants without the right papers.
This is precisely what happened on Wednesday at the Menton-Garavan station, the last stop in France before the Italian border. A squadron of the French National Police flanked Cheick Isaac Binate, 21, from Ivory Coast, on the platform and deposited him on a train for Ventimiglia.
"Don't you worry!" Binate screamed as the officers shoved him on the train and waited for it to pull out of the station.
All of the officers involved declined to comment.
Once on the Italian side, Binate - who had also arrived in Europe via Libya and Lampedusa - said he crossed the French border on Monday, with hopes of making it to the Paris suburb of Saint-Denis, to find his aunt. The French police had caught him in Nice earlier on Tuesday, attempting to board a Paris-bound train with papers that had expired in mid-November.
When he struggled with the officers, Binate said, one of them struck him over the head, leaving a bloody gash, which he bent over to show.
"I had a positive idea of France, the country of human rights, of legality," he said. "But there's nothing to see of that here."
Even so, he vowed to try again.
Back on the French side of the border, Herrou scoffed at the notion that many now consider him a hero.
"I'm not doing this for the money or the material benefit. When you don't live for that, the notion of 'your house' and 'my house' being somehow separate doesn't apply," he said.
Herrou sees the problem on the border as less about a society shutting its doors on foreigners than about people willing to tolerate indecency beyond the scope of their immediate concerns.
"Everyone should go out in the streets and try to solve whatever problems they see," he said. "That's what democracy is. It's not staying at home and sharing things on Facebook. It's positioning ourselves to live better together.
"And if we have to fight against the state to do it, then we have an obligation to do so."