A woman has been caught on camera repeatedly banging on car windows after noticing a Muslim woman inside wearing a face covering.
The aggressor was filmed accusing a woman, wearing a niqab, of being a terrorist, as she sat in a car with her husband at Macquarie University in Sydney's northwest.
Ramzy Alamudi posted to Facebook last week's encounter, which occurred as his wife wore a veil covering her face except for her eyes, Daily Mail reports.
The footage, which runs for one minute and 37 seconds, was taken as Mr Alamudi and his wife sat in their parked Toyota Yaris discussing her exam results on Friday afternoon.
"This lady has told my wife to take off her scarf," he said to the camera.
The woman, wearing a small backpack, was filmed banging on the passenger side window of the car with her right hand, next to where the veiled woman was sitting.
She then walks around to the driver's side and bangs on the window before repeatedly pulling at the locked door handle and making a gesture with her index finger, along her eyes, to indicate her disapproval at the niqab.
Mr Alamudi can be heard saying, "Call security."
His wife, who filmed the confrontation, replies: "Just drive, just drive."
Mr Alamudi asks the woman banging on the window what's wrong, causing her to point aggressively at his wife and say, "Get out."
The Muslim woman replies: "Who are you? Who are you?"
The aggressor replies: "F*** off."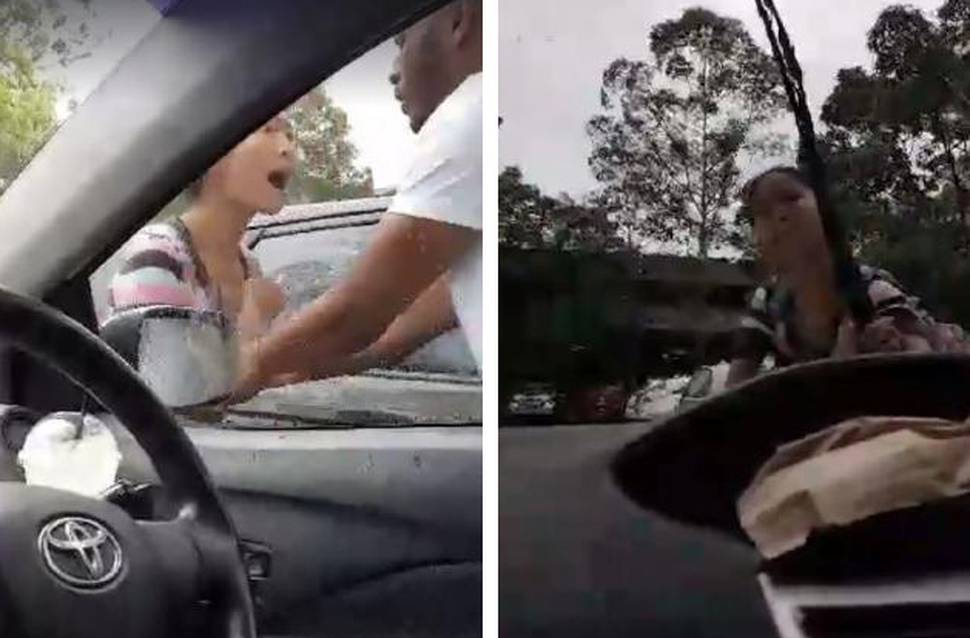 The aggression continues, with the woman walking back to the passenger side and pulling at the door handle and banging on the window.
Mr Alamudi said: "She deserves something."
His wife then calls security as the woman lifts up the windscreen wipers.
As Mr Alamudi opens the driver's door of the car, the woman points at his wife.
"Who are you? Why have you got a mask? Terrorist. You have gun?," she said.
Mr Alamudi then restrains the aggressor.
He told his Facebook followers he had posted the video to demonstrate racist discrimination.
He explained he was in the car with his wife minding his own business as they discussed her exam success.
The video of the woman, who was not a student at Macquarie University, has been viewed more than 300,000 times and was shared by Islamophobia Register Australia on their Facebook page.
One Facebook follower Haj Qahtan praised the couple.
"Well handled, guys," he said.
Afterwards, the woman demanded the Muslim couple provide ID.
Witness Emily Grace Guff told her Facebook followers the woman had been ranting at the Muslim couple as her baby was sitting in her unlocked car, metres away.
"This deranged woman had the nerve to attack his wife because of the burqa she was dressed in, claiming she 'didn't feel safe"around people like her,'" she said.
"It makes me sick to know we co-exist in a world where this happens so frequently, people thinking they have the right to belittle someone else because of their race or religion."
In a follow-up video, this woman told Mr Alamudi she found his wife "scary" before a security guard arrived.