The mother and sister of a 10-year-old schoolgirl killed in Melbourne's CBD tragedy were last night fighting for their lives in hospital.
It emerged yesterday that three members of one family were among those struck down by the car allegedly driver by Dimitrious 'Jimmy' Gargasoulas which ploughed into pedestrians on Friday afternoon.
The death toll stood at four last night, with police warning it could rise further.
A 9-year-old girl and her mum - family of the dead 10-year-old - are in a critical condition in hospital. Loved ones were at their bedside last night.
"Today we found out the identity of this family and realised with a sick feeling in my gut that these little girls were students who we know personally", a close family friend told the Herald Sun.
Friends have launched a crowd-funding campaign to raise funds for the Hakins.
"This is a family like any of ours," a friend said. "The public space where they were so terrorised, is a space which belongs to every single one of us.
"We all feel helpless and hopeless at times like this as there is so little we can do.
"I feel like starting a campaign isn't enough but it is what I am personally able to do."
A 25-year-old man, a 32-year-old woman and a 33-year-old man were also killed. The latter, a young dad, was struck by the car while taking a lunchtime walk.
He leaves behind a baby boy.
Nine people were last night in Royal Melbourne Hospital, including three in a critical condition, two serious and four stable.
Three people with life-threatening injuries were in a critical condition at The Alfred Hospital.
Among those fighting for their lives is a 3-month-old baby.
Five other people were in a stable condition at St Vincent's Hospital.
Victoria Police Commissioner Graham Ashton said yesterday that there were fears the death toll could rise further.
"Obviously, the hospitals are still working on those critically injured people, but we do have fears - grave fears - for the health of at least two or three of those that are in that critical condition," Ashton said.
"It may be the death toll ... may still increase beyond four."
As Australians battle to comprehend the shocking incident, the Royal Melbourne Hospital's director of emergency medicine praised the dedication of medical staff who treated victims in what he called a "senseless" loss of life.
Eleven people, including three in a critical condition, were rushed to the hospital's emergency department between 2.15pm and 3.30pm on Friday.
Professor George Braitberg, who heads the busy emergency department, said he was approached by so many doctors and nurses wanting to help the patients, that he had to turn some away.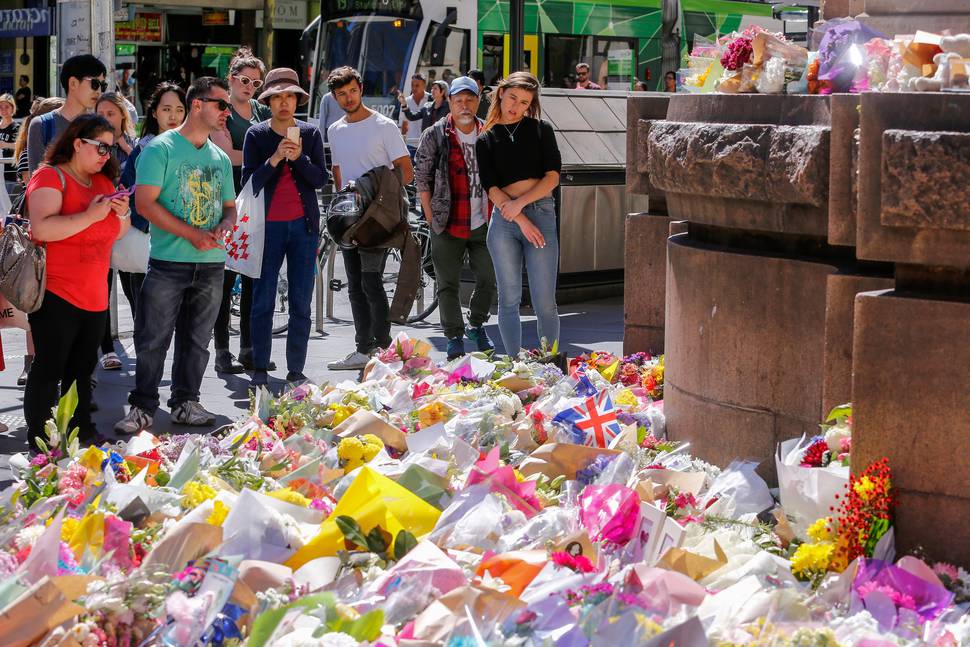 "Watching it with trained eyes, although it was really busy and looked chaotic, it was absolutely beautifully performed. It was almost like an orchestra," he told The Age.
"You work on that adrenaline. Your energy is so focused and you have so much adrenaline that there has to be a deflation afterwards. So, once it was all over, we've had what we call a 'hot debrief' so everybody could talk about it."
Braitberg returned to the hospital yesterday to speak to with staff who had treated victims.
"You start to think about the human loss, and the senseless human loss that occurred, and that's partly because we get more information and partly because all that adrenaline is gone," he said.
Bourke St yesterday reopened to the public and a memorial has been set up at the mall, where members of the public are laying flowers and tributes to those killed.
Meanwhile, Gargasoulas' mother has spoken of her sorrow.
In an interview with the Herald Sun, Emily Gargasoulas said: "I'm so sorry to the families he's hurt.
"When I found out about what he did, how he killed a child, I felt sick; so sick in my stomach."