They're good-looking, charming, rich and well-connected.
Jared Kushner and Ivanka Trump are poised to become one of the most powerful couples in the world, but the clouds of controversy around them will not be going anywhere.
Donald Trump yesterday announced that son-in-law Kushner, 36, as White House special adviser, with his daughter revealing hours later that she will step down from her positions at the helm of the Trump Organization and her label.
Ms Trump, 35, will "divest and restructure her holdings" in the hope of silencing the ongoing commentary on possible conflicts of interest in her influential positions as first daughter and businesswoman. Such ethics questions have dogged her father to an even greater extent as the incoming president continues to hobnob with business contacts closely linked to his empire, and he will now be under extra pressure to address them at his first press conference since the election on Wednesday.
Kushner, a real estate investor for whom his wife converted to Judaism, will resign as CEO of his wealthy family's property development firm, Kushner Companies, and "divest substantial assets in accordance with federal guidelines," according to his lawyer Jamie Gorelick.
Ms Gorelick told the Washington Post she was confident the nepotism law banning presidents from hiring relatives did not apply to this case. Trump aides have previously made a point of drawing a distinction between cabinet-level jobs and positions within the White House, suggesting the President has more flexibility with appointments to the latter.
JARED 'COULD BRING PEACE TO MIDDLE EAST'
The couple will soon move from New York to Washington, where they have reportedly bought home in a desirable neighbourhood, but Ms Trump is not expected to take on a formal job in the Trump administration.
With her husband now taking that role, however, they still risk facing issues around nepotism and conflicts of interest, with Ms Trump planning to use her new platform pursue her own passions for women's rights issues.
But the magnetic pair are accustomed to scrutiny, criticism and personal attacks. Ms Trump has been fending off reporters since she was asked about her father's sex life outside primary school, after he cheated on his then-wife, her mother Ivana, with his subsequent spouse and mother to 23-year-old Tiffany, Marla Marples.
"You build up a certain callousness, and that's good," she told GQ in 2007. "If I didn't have that lesson, I don't know that I'd be tough. It taught me not to trust anyone. You can never let your guard down."
Kushner, who has also endured family scandal, says "there's not a lot of bulls*** in Ivanka's life", telling Vogue: "Living through everything that she saw as a kid, she has a very good filter on what's real, what's not, what's worthwhile, and what's not. We both work very hard to not allow things that aren't meaningful into our lives."
His billionaire father Charles was jailed for tax evasion, witness tampering, and offering illegal campaign donations in 2005. He was accepted to Harvard after his father donated $2.5 million and has an MBA from New York University. His brother Josh dates Victoria's Secret model Karlie Kloss.
Trump has claimed his son-in-law could help bring peace to the Middle East, the New York Times reported in November. The "soft-spoken" younger man also owns the New York Observer, a newspaper he bought in 2006, according to Town and Country magazine.
IVANKA 'WILL BE A POSITIVE FORCE FOR CHANGE'
Kushner and Ms Trump married in 2009 in a lavish ceremony at Trump's New Jersey golf club, attended by celebrities including Russell Crowe and Natalie Portman.
The couple joined Trump when he met with Japanese Prime Minister Shinzo Abe shortly after he was elected and the President-elect's daughter has also accompanied him to see tech execs from Facebook and Apple and facilitated talks between her dad and Al Gore on climate change.
Ms Trump has often been described as a cannier operator than her father. Unlike him, she had the advantages of the best possible education and networking opportunities, attending an exclusive Manhattan school that counts John Fitzgerald Kennedy and Michael Douglas among its high-profile alumni.
The savvy entrepreneur and elegant former model is far less prone to gaffes, and has built successful clothing and jewellery lines as well as lifestyle website Women Who Work, in addition to her role as vice president of development and acquisitions for the family business.
As Ms Trump makes her departure, brothers Eric, 33, and Donald Jr, 39, will continue in their positions as vice-presidents of the company. She has long been considered the most impressive of Trump's children, with younger sister Tiffany brushed off in her father's praise of his offspring and the two brothers lacking her media-friendly image.
In November, her team revealed that her @IvankaTrump Twitter and Instagram accounts - which have 2.7 million and 2.1 million followers respectively - will now be for "personal" use, while updates related to her product lines will appear on @IvankaTrumpHQ. Her clothing brand generated $US100 million in revenue last year.
"As a private citizen, with full awareness of her heightened visibility, she will broaden her efforts to take a stance on issues of critical importance to American women and families," the statement said. "Our company's mission is not political - it never was and it never will be - however, Ivanka, personally, has an increased opportunity to advocate for women and be a positive force for change."
'I'M PASSIONATE AND I WANT TO FIGHT'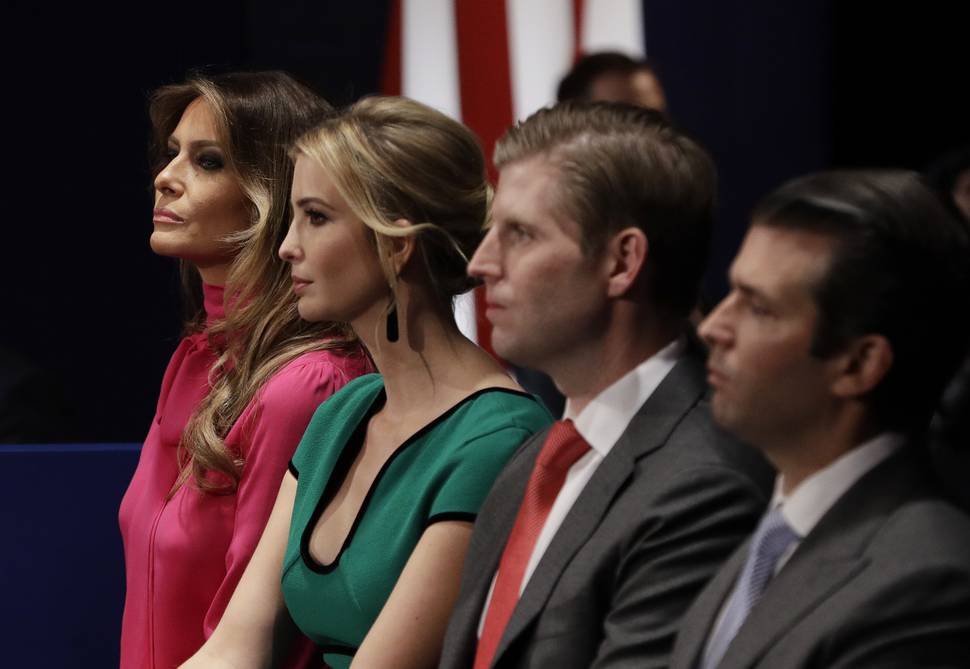 Despite her talents, Ms Trump has endured plenty of negative attention as the daughter of the polarising President-elect, about whom Russian operatives today claimed to have compromising information. Social media users have called for a boycott of her products with hashtag #BoycottIvanka, she was publicly heckled by a man on a plane and her feminist agenda has been dismissed as caring only for wealthy white women.
The doting mother was mocked when she celebrated son Theodore's eight-month "birthday" on Twitter, and was heavily criticised after her website plugged a $10,000 gold bracelet she wore during the first family television interview after the election.
The mother-of-three was a vital asset for her father on the campaign trail, giving a passionate speech at the Republican National Convention and speaking of her hope of lobbying her father for increased parental leave. She and her husband were both part of the President-elect's transition team.
The smart, personable young woman - who is even friends with Chelsea Clinton, the daughter of her father's arch-nemesis - gave birth during the campaign, taking just a short time off to deliver her youngest child with Kushner, Theodore, baby brother to Arabella, 5, and Joseph, 3.
Some have tipped her to be her father's "de facto First Lady", in place of stepmother Melania, who has spoken of staying in New York until her son Barron - the President-elect's youngest child at 10 - finishes his final year at a prestigious primary school. Mrs Trump also bungled one of her few public speeches by borrowing heavily from Michelle Obama.
Ivanka Trump has branded claims she is a "proxy wife" to her father "deeply offensive" and "sexist", although others have had the same to say about her dad's "grab them by the p***y" comments. Ms Trump held her head high through the scandal, calling her father's recorded lewd remarks "clearly inappropriate and offensive" and saying she was glad he had offered an immediate apology to her family and the public.
"The greatest comfort I have is the fact that I know my father," she has said. "Most of the people who write about him don't." To those who question how she can support him while advocating for women, Ms Trump calls her father "an equal opportunity offender" who has "said plenty of rough things about men over the years."
He has also made disturbing remarks about his eldest daughter, claiming she had "the best body" in a 2003 Howard Stern interview, and telling ABC's The View in 2006 that if she wasn't his daughter he would be dating her.
She has made it clear she intends to make the most of her position during her father's White House tenure. "I'm going to be a daughter," she told 60 Minutes during the family's first interview after the election at the Trump Tower penthouse. "But I've said throughout the campaign that I am very passionate about certain issues. And that I want to fight for them.
"Wage equality, childcare. These are things that are very important for me. I'm very passionate about education. Really promoting more opportunities for women. So you know, there're a lot of things that I feel deeply, strongly about. But not in a formal administrative capacity."
Others say she could one day be president herself.