In the span of 15 hours, standing separately in the cities that have come to define them, US President Barack Obama and his soon-to-be successor spoke to the historic, clashing movements each has inspired and continues to lead.
One era in America's long political history was ending, and another very different one was just getting started.
Obama returned in his speech yesterday to the struggling South Side of Chicago, where he once worked as a community organiser "in the shadows of closed steel mills".
"It was on these streets where I witnessed the power of faith," he said, "and the quiet dignity of working people in the face of struggle and loss."
US President-elect Donald Trump appeared today in the pink-marbled lobby of his Manhattan skyscraper, standing next to a table stacked high with file folders representing dozens of business deals and assets worth a fortune. He rattled off the boldfaced names of billionaires and touted "fantastic" and "brilliant" Cabinet selections that would fix a nation that had lost its way.
These two fiercely competitive, confident and combative men were each defining what's wrong with America and how to fix it. Obama, whose party lost in the election, called for a great movement fueled by a sense of common purpose - "the imperative to strive together . . . to achieve a common good, a greater good".
Trump, who celebrated his victory and spoke of himself in the third person, promised that great business leaders would be the country's salvation. His was a great-man theory of history.
"I want to bring the greatest people into government, because we're way behind," Trump said. "I say it all the time in speeches. We don't make good deals anymore." In Trump's America, he is the greatest leader and the savviest dealmaker of them all.
Each was on stage for nearly an hour, during which each dominated the nation's attention and was carried on nearly every major network. For Obama, it was a prime-time goodbye before a crowd of 20,000 cheering supporters, and an attempt to give some hope to the dispirited America he led.
For Trump, it was a formal introduction at his first news conference as President-elect and an attempt to define the America he is inheriting.
Despite their political and personal differences, the two men share traits. Both draw energy from big, rowdy crowds. "Nobody has ever had crowds like Trump has had. You know that, " the President-elect chided the 250 reporters who had come to ask him questions. "You don't like to report that, but that's okay." Obama broke with the tradition of an Oval Office farewell address so that he could speak to an adoring crowd of true believers.
Both like to remind opponents of their victories. Obama never tires of telling Republicans that he defeated them twice. Trump batted away a question about releasing his taxes by insisting that only the media cared about the returns. How could he be so sure? "I won. . . . I became president," he said to applause from his staffers.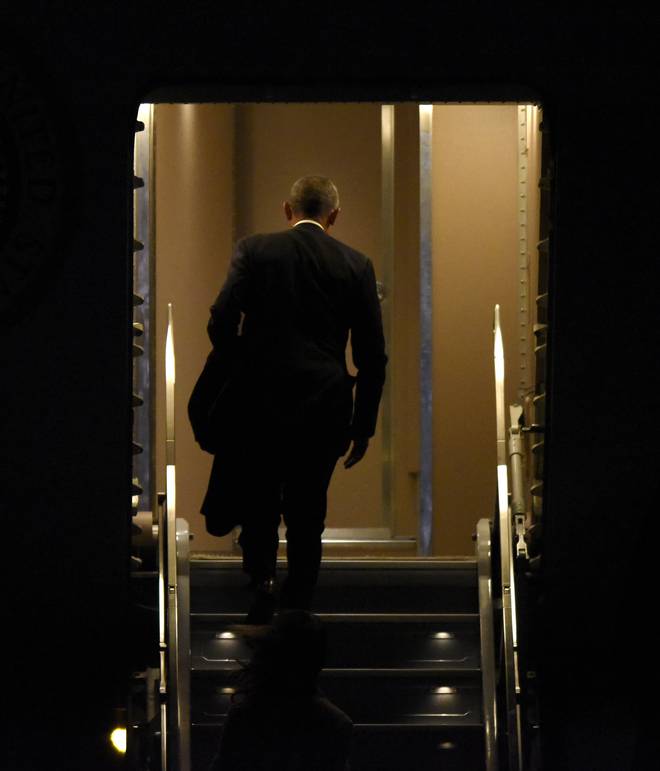 Both used their appearances to decry the decline of facts and the rise of fake news in the public discourse. "Without a willingness to admit new information . . . and that science and reason matter, we're going to keep talking past each other," Obama warned.
Just hours later Trump decried a different kind of "fake news" in the form of uncorroborated allegations that Russian intelligence services had damaging information that could be used to blackmail him.
"The American people are sick and tired of it," Trump told reporters.
But the similarities ended there. Much more striking were the differences between the two leaders' visions.
Obama returned again and again to the idea that America did not need a saviour. Instead he preached the power of collective action and common purpose. "Grab a clipboard, get some signatures," he said to applause. "Show up. Dive in. Stay at it."
He called on his supporters, fearful of a Trump presidency, to become "anxious, jealous guardians" of the country's ideals. And he pressed for more empathy and understanding, urging Americans to heed the example of Atticus Finch, the fictional hero of To Kill a Mockingbird, who said "You never really understand a person until you consider things from his point of view . . . until you climb into his skin and walk around in it."
The next morning Trump offered up a different roster of heroes, casually dropping the names of billionaires such as US oil tycoon Harold Hamm, Chinese business magnate Jack Ma, Marvel Entertainment's Isaac Perlmutter and Middle Eastern developer Hussain Sajwani, who Trump claimed recently offered the President-elect "US$2 billion to do a deal in Dubai".
"We had so many incredible people coming here," Trump said. "And I will say, if the election didn't turn out the way it turned out, they would not be here. They would not be in my office. . . . They'd be building and doing things in other countries. So, there's a great spirit going on right now. A spirit that many people have told me they've never seen before, ever."
Both men, of course, were seeking to rally a devoted and passionate base. Obama whipped up supporters by recounting his presidency's high points: 20 million Americans insured, unemployment at a 10-year low, incomes rising and Osama bin Laden dead.
His preferred successor had been defeated by Trump, but a new generation of young progressives - "unselfish, altruistic, creative, patriotic" - were by Obama's accounting ascendant.
"You'll soon outnumber all of us," he said, relegating Trump's victory to a historical blip.
Trump vowed to repeal the Affordable Care Act and said he would stand up to American car manufacturers who tried to ship jobs overseas. He vowed to bring down the costs of the Pentagon's massive F-35 fighter jet program and do battle with a "disastrous" drug industry.
"They are getting away with murder," Trump insisted.
Trump insisted his followers were desperate for strong, smart and tough leaders. To prove his toughness, he repeatedly attacked the media. He called BuzzFeed, the Internet publication, "a failing pile of garbage" and refused to entertain a question from CNN.
"Your organisation is terrible," Trump told the network's Jim Acosta. "You are fake news."
Obama ended his speech by promising his defeated and downcast coalition that he was not really leaving the national stage. "In fact, I will be right there with you as citizen for all my remaining days," he said.
Trump made a different promise. He was assembling "one of the great Cabinets ever put together."
"We've been hearing that from so many people," Trump said. "People are so happy."
Soon those people - along with throngs of celebrities - were going to be converging on Washington.
"We're going to have a very, very elegant day," the president-elect promised. "And I think we're going to have massive crowds, because we have a movement."