Ivanka Trump made it very clear on yesterday that she has no problem at all staying cool and calm under pressure.
The 35-year-old mother-of-three was travelling with her children to Palm Beach, Florida, from New York City on a Jet Blue flight when a man began to accost her.
"Your father is ruining the country," said Dan Goldstein, a lawyer from Brooklyn, who had a child in his arms, according to TMZ.
Goldstein then began screaming: "Why is she on our flight? She should be flying private."
Ivanka paid as little attention as possible and tried to preoccupy her children with crayons to defuse the situation.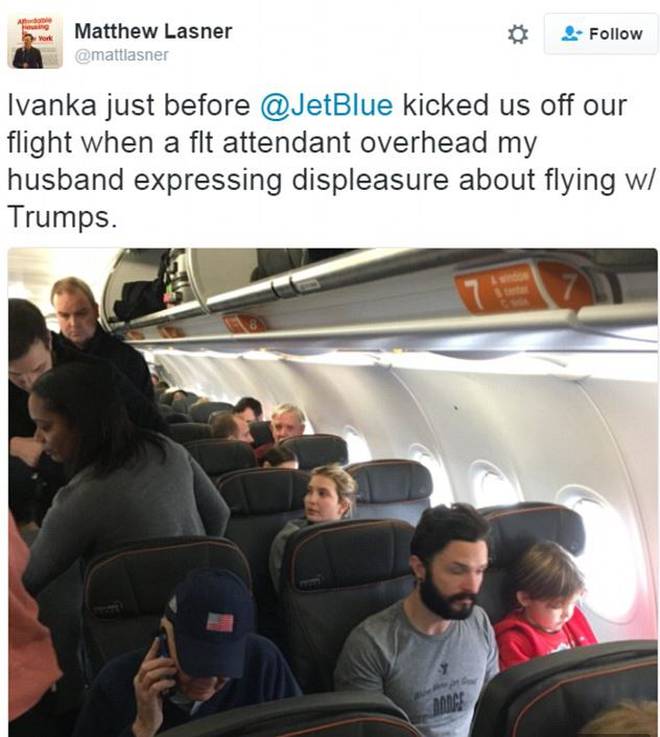 The man's husband, Matthew Lasner, said that was not what happened, writing on Twitter: "My husband expressed his displeasure in a calm tone, JetBlue staff overheard, and they kicked us off the plane."
But just an hour before that Lasner wrote on Twitter: "Ivanka and Jared at JFK T5, flying commercial. My husband chasing them down to harass them. #banalityofevil"
Lassner also took a photo of Ivanka sitting on the plane, writing that they were kicked off for "expressing displeasure about flying w/ Trumps".
He then quickly deleted the tweets.
The plane was still boarding when the confrontation happened, so the crew were able to get the two men and their child off the flight.
Goldstein began saying to the crew as they escorted him off the plane: "You're kicking me off for expressing my opinion?!!"
After they were off the plane, Lasner posted his tweets defending his husband, and the photo of Ivanka sitting in her seat.
They were deleted in less than an hour.
And although Goldstein was happy to go after Ivanka, and Lasner was eager to defend his actions, neither of the men confronted Ivanka's husband Jared Kushner, who was standing in the aisle right next to her the entire time.
Ivanka had been seen leaving her Park Ave apartment building early that morning dressed down in skinny jeans and a varsity jacket.
Because of the number of people who visit Palm Beach in winter and the small size of the airport, most people leaving from New York City have to fly JetBlue out of JFK to get to the popular destination.
Ivanka and her family will be spending the holiday with her father, the President-elect, at Mar-a-Lago.