A year after Nick Alexander died in the Bataclan massacre, the friend who held him in her arms to the end braved her demons to attend an emotional concert to reopen the Paris venue.
Helen Wilson was with the 35-year old merchandising manager from Colchester, Essex, on November 13 when three Isis gunmen burst in during a concert by Eagles of Death Metal, firing indiscriminately and killing 90.
They were both hit - she in the legs, with one bullet missing her femoral artery by an inch, he in the stomach. The pair held hands lying among the dead. "Then he couldn't breathe any more and I held him in my arms and told him I loved him. He was the love of my life," she said the day after the massacre.
One year on, Wilson, 50, who runs a catering business that has served rock groups including The Rolling Stones and U2, is struggling to get over the terrible events. "I still have dreams all the time where my role is always to save everyone. And I always fail," she said beforehand.
But she somehow summoned the courage to turn up to yesterday's concert by British pop legend Sting. "I'm trying not to think about it," she said outside the venue beforehand. "I'm really proud of myself that I'm strong enough to do it, and I know I've got to show that I'm strong. When I actually get inside the concert, that's when it will become an emotional moment for me"
Kelly Le Guen, 22, who barricaded herself inside a room with 25 others during the attacks, said she "couldn't wait" to get back inside the hall. "I can't wait to see life and joy fill the room and not just carnage," she said. "Music and culture must restage their claim."
Today's ceremonies were to be low-key out of respect for the victims with almost no political speeches. Instead, people have been urged to place candles in their windows in remembrance of the dead.
Security was very tight at the hall. "After a few weeks it was clear. We had to go on after such horror and not leave a mausoleum, a tomb," said Jules Frutos, the Bataclan's co-director.
Hundreds of metres of barricades, extensive body searches and scores of armed police greeted those lucky enough to get a ticket. The Bataclan said all 1000 Sting tickets sold out quickly and other tickets were given to the families of the 90 revellers slain.
Sting, in a T-shirt with a guitar slung over his shoulder, asked concert-goers in fluent French to observe a minute of silence as he opened the show.
"We've got two important things to do tonight," the singer said. "First, to remember and honour those who lost their lives in the attacks a year ago ... and to celebrate the life and the music of this historic venue. ... We shall not forget them." He then strummed out a string of hits, including Fragile and Message in a Bottle.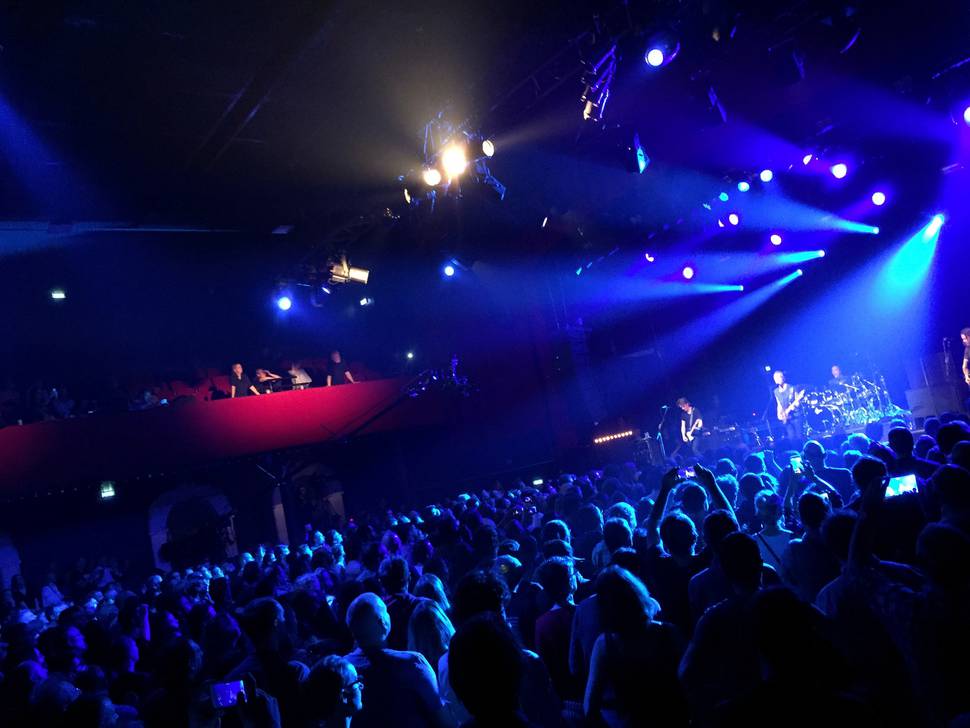 Elodie Suigo, who lost six friends in the attack, said that it was a hard night, even though she loved the music.
"It was difficult going through that door. I don't think I was the only one ... We cannot say it was a magical moment because of everything that changed in our lives. But (Sting) is a really great man," she said.
The coordinated attacks in Paris targeted bars, restaurants and the sports stadium, leaving 130 people dead in total and hundreds more injured.
Aurelien Perrin, 25, survived the Bataclan massacre but his friend Nicolas Berthier did not.
"I came alone tonight. It's very emotional, as I keep getting flashbacks of that night. Tonight is the first time I've been back here since." Perrin added that he had not been to any bar or even the cinema since that fateful night.
"I'm here because it's important to finally finish a concert that was never allowed to end. It's for the memory of my friend and for all the 90 people who died."
Another survivor, Mariesha Jack Payne, waited across the road from the Bataclan in The Barometer bar, where she was rushed to after the attack. She travelled from Scotland. "Even if I'm not inside, it's symbolic for me to be here nearby. I come back to this bar every time I'm in Paris now."
- AP, Telegraph Group Ltd