Donald Trump may be the man in the spotlight, but real luminary of this new era in the White House is set to be the President-elect's poised and unfailingly elegant eldest daughter.
Ivanka Trump was the Republican candidate's secret weapon from the very beginning of this campaign. She was beside him for his nomination campaign while heavily pregnant with her third child, fought to burnish his image in the face of a potentially fatal scandal and claimed victory for her father in rousing terms on her popular social media accounts.
She's a woman that even Mr Trump's most virulent opponents find it hard to tear apart: intelligent, beautiful and successful, and able to hold her own in America's most elite social circles.
On election night, she took the stage with her victorious father and his wife Melania, their 10-year-old son Barron, her brothers Donald Jr, 38, and Eric ,32, and half-sister Tiffany, 23, wearing an almost matching baby-blue dress to the younger blonde. Still, of all of the family, it was Ivanka who drew the eye.
YOU CAN NEVER LET YOUR GUARD DOWN
The 35-year-old mother of three has almost been training for this moment her entire life. Overnight, she shared a photo of the New York Times on Twitter with the words, "Thank you America!", followed by a stars and stripes emoji.
Headlines on the left-leaning newspaper read, "Democrats, students and foreign allies face the reality of a Trump presidency", "Populist fury may backfire" and "A very uncomfortable night."
It sparked debate over whether the fashionista and self-proclaimed feminist was tone-deaf to the criticism, or making a sardonic dig at a newspaper that crossed traditional boundaries of objectivity during the campaign to run an anti-Trump editorial on its front page.
She may be impervious to the attacks, but Ivanka is no fool.
The daughter of Mr Trump's first wife, Czech-American model and professional skiier Ivana, she became hardened to media scrutiny during her father's highly publicised affair with Marla Marples, mother of her sister Tiffany.
Photographers would wait for her outside the gates of her exclusive Manhattan primary school, one reporter even asking the nine-year-old whether it was true that Ms Marples had said her father was the "best sex" she'd ever had.
"I'd be like, 'Marla? Who?' she told GQ in 2007. "You build up a certain callousness, and that's good. If I didn't have that lesson, I don't know that I'd be tough. It taught me not to trust anyone. You can never let your guard down."
She went on to board at John Frederick Kennedy's old school in Connecticut, her association with New York's upper classes giving her an "urbane self-assurance that her father never mastered," according to Politico.
After working as a model as a teenager, she became an entrepreneur, wrote a book, appeared alongside her father as an Apprentice judge and took the helm of the family's business empire as well as building her eponymous fashion and accessories line. Her website, IvankaTrump.com, is billed as "the ultimate destination for #WomenWhoWork."
Recent calls on Twitter to #BoycottIvanka and her products were described as a "crisis" for the brand, with searches for her products taking a dip, but they are unlikely to end her popularity. Her clothing line generated $US100 million in revenue last year, and sales were up $US29.4 million from the previous fiscal year, Forbes reported.
On Instagram, she is a marketer's dream, combining stylish outfits, endearing family photos and snaps of work projects - lately, her appearances on the campaign trail.
Her election day post looked straight out of a magazine, showing her heading to the polls with her photogenic husband and daughter in a chic ensemble of white belted trench over black pants, turtle neck and pumps.
PROXY WIFE
Ivanka has been described as taking the role of a "proxy wife" and "de facto First Lady" in Mr Trump's campaign, over the less conventional campaign spouse, former Slovenian model Melania.
But she's quick to refute that characterisation, telling Fast Company she found it "deeply offensive, I feel that that's a very sexist thing to say."
The strong-minded young woman has no compunction in calling out patriarchal attitudes and has repeatedly denied the widespread accusation that her father is a misogynist.
"The greatest comfort I have is the fact that I know my father," she said. "Most of the people who write about him don't. I do."
Ivanka calls her dad "an equal opportunity offender" who has "said plenty of rough things about men over the years."
She previously defended his views on women by using her own success as proof, saying he "100 per cent believes in equality of gender."
In his darkest days on the campaign trail, when Mr Trump faced the greatest threat to his chances of the presidency from the leaked recordings of his lewd comments, Ivanka held her head high. She called the remarks "clearly inappropriate and offensive" and said she was glad he had offered "an immediate apology to my family and the American people."
Footage from Instagram: @markruffalo, @missjuliastiles, @madonna Footage from Twitter: @jamieleecurtis Celebrities have taken to social media to support anti-Trump protests.
It wasn't the first time her dad had caused her embarrassment, with his affection for his daughter occasionally coming across as creepy, notably in a 2003 Howard Stern interview when he claimed she had "the best body" and on ABC'S The View in 2006, when he infamously said that if she wasn't his daughter he would be dating her.
In an interview with Rolling Stone last year, he made a similar comment: "She's really something, and what a beauty, that one. If I weren't happily married and, ya know, her father..."
THE PRESIDENT'S MOST TRUSTED CONFIDANT
Ivanka is tipped to be one of Mr Trump's closest advisers. He has already toyed with the idea of giving his daughter a role in his Cabinet, although she would reportedly prefer to stay with the Trump empire.
Whether her role is official or not, she's a woman primed for power, impervious to gossip and with a confidence that comes from years at the helm of one of America's most recognisable brands.
She received rave reviews for her appearances on the campaign trail and is credited with showing Mr Trump's softer side. At the Republican National Convention in Ohio, she told the delighted crowd: "American families need relief. Policies that allow women with children to thrive should not be novelties, they should be the norm."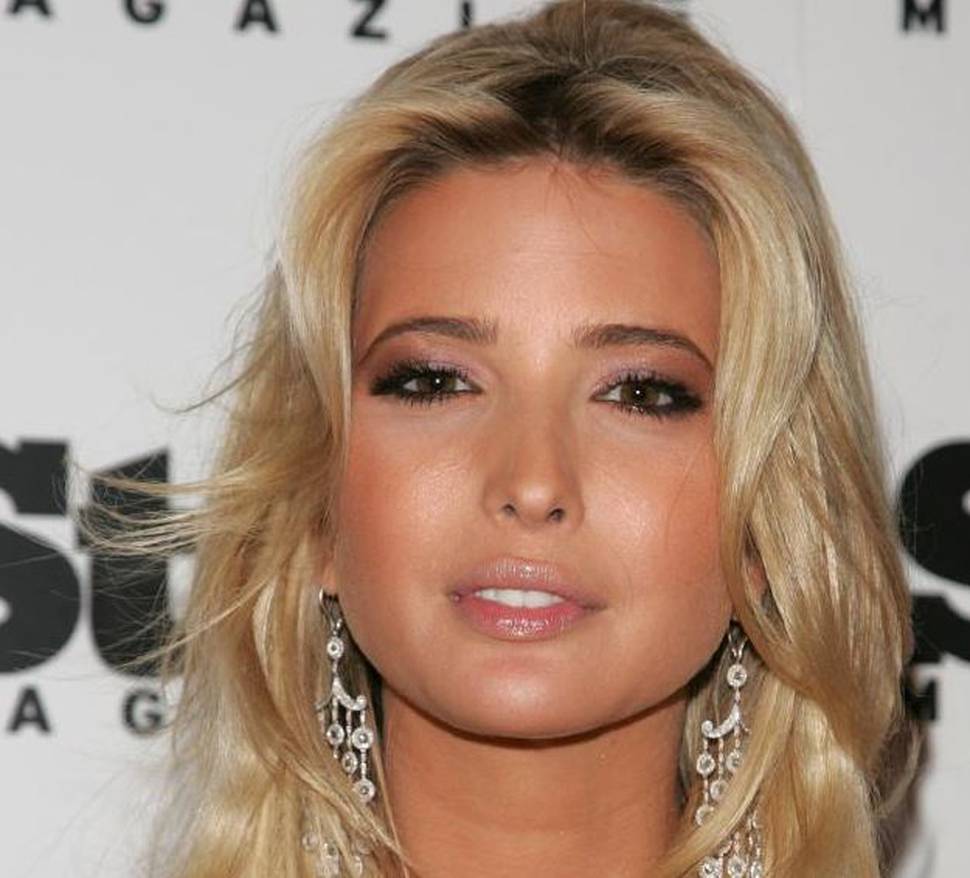 Ivanka avoided attacking Hillary, unlike her brothers, saying: "As a mother myself with three young children I know how hard it is to work while raising a family. I also know how privileged I am."
She was criticised as dangerously naive for introducing her father as "colourblind and gender neutral" but some Democrats loved her appearance, with actress Mia Farrow tweeting: "When is Ivanka running for President?"
It's something she has refused to rule out. The young mum is said to be responsible for important decisions including firing Mr Trump's campaign manager Corey Lewandowski and picking Mike Pence as his running mate.
The wife and mother is different to her father in many ways, "preaching fiscal conservatism" at board meetings, according to The Week, and labelled the "the anti-Donald" for her measured views.
While her feminist credentials have raised some eyebrows, she has never made embarrassing gaffes like other family members. Donald Jr's remarks comparing Syrians to Skittles caused outrage and Melania Trump tripped up when she appeared to plagiarise a speech by Michelle Obama.
Ivanka, on the other hand, has even maintained a smooth friendship with Chelsea Clinton, daughter of her father's bitter rival, throughout this exceptionally aggressive campaign.
"She's always aware of everyone around her and ensuring that everyone is enjoying the moment," the former first daughter told Vogue last year. "It's an awareness that in some ways reminds me of my dad, and his ability to increase the joy of the room. There's nothing skin-deep about Ivanka. And I think that's a real tribute to her because certainly anyone as gorgeous as she is could have probably gone quite far being skin-deep."
Mr Trump has regularly described Ivanka as his "favourite" and is said to count on her more than anyone. It was she who persuaded him to maintain his qualified support for Planned Parenthood in the face on Republican pressure, pushed him to make a plan for maternity leave and appeared in adverts directed at suburban women.
She increased his appeal to women and younger voters by talking about his efforts in areas including childcare and equal pay. But some have accused Ivanka of pursuing a feminism that only serves rich, white women.
During her father's nomination campaign, she took just brief break from the campaign trail to give birth to her third child with real estate developer Jared, for whom she converted to Judaism - something Mr Trump has brought up to ingratiate himself with Jewish voters.
"There's not a lot of bulls*** in Ivanka's life," her husband Jared Kushner told Town and Country. "Living through everything that she saw as a kid, she has a very good filter on what's real, what's not, what's worthwhile, and what's not."
Baby Theodore, brother of Arabella, 5, and Joseph, 3, made a recent appearance on Ivanka's Instagram account after Mr Trump's election in a video of him clapping, captioned with the words: "Congratulations grandpa! #PresidentElectTrump."
Ivanka gives every impression of a woman who cannot put a foot wrong.