Secret telephone recordings provided by Ukrainian authorities were among the most damning evidence presented by the Joint Investigation Team into the downing of MH17 in July 2014.
On Wednesday, the Joint Investigation Team (JIT) made up of forces from Australia, the Netherlands, Belgium, Ukraine and Malaysia released their first results of a two-year search into how the passenger plane was shot down killing all 298 people on board.
Among millions of pages of social media posts, hundreds of eyewitness accounts and containers full of physical evidence pointing to the location of the launch site, were more than 150,000 secretly taped phone calls captured in the region in the days before and after the disaster.
These conversations, combined with the cellphone towers they bounced off provided some of the most chilling evidence from the scene.
One call between Russian separatists on 16 July - the day before the plane was shot - seems to show a request for the missile being made.
LISTEN: Moscow correspondent Roland Oliphant speaks to Rachel Smalley
"If I can receive a Buk in the morning and send it over there that would be good," the voice on tape says. "If not things will be totally f***ed up."
It's followed by another man asking: "Where should we unload this .... b***ch?" before clarifying: "The one I brought with me, I'm already in Donetsk."
Various others provide further irrefutable evidence of the route the missile took towards the launch site.
One call between men codenamed Orion and Delfin has them discussing how "it has to be loaded, camouflaged" and driven away. A separate call after the plane crashed confirms: "The vehicle is in Russia".
"The vehicle is in Russia for a long time."
The damning conversations are just some of the meticulously gathered evidence that has taken more than two years to produce in what is the AFP's most complex and challenging investigation.
The report confirmed the missile was launched from a 500-metre by 600-metre patch of farmland near Pervomaiskyi, just outside the village of Snizhne in area controlled by Russian separatists.
It was then transported back across the border to Russia and has not been seen since.
"We have no doubt whatsoever that the conclusions we are presenting together are accurate and that conclusion is that MH17 was shot down by a Buk from farmland....[near Snizhe] and the system was brought from Russian Federation territory and returned to Russian territory afterwards," said the Head of Holland's Central Crime Investigation, Wilbert Paulissen.
Now the focus will shift to what happened to the Buk once it crossed back into Russia minus one of its missiles. The JIT said there are 100 persons of interest they are investigating with the ultimate aim of bringing them to justice in court.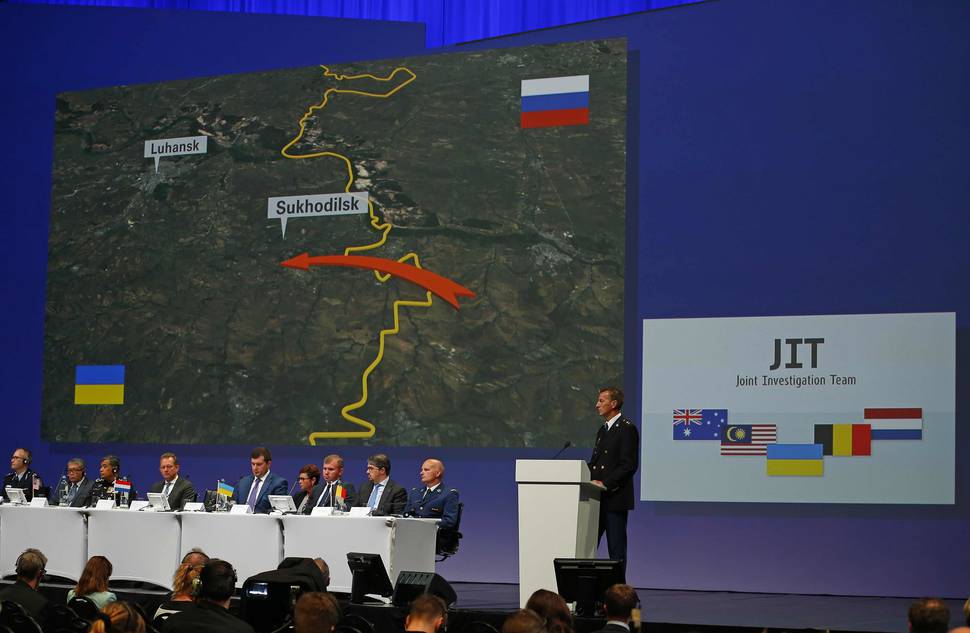 "I'm totally convinced 200 per cent that what is displayed by the JIT team is the correct evidence without reasonable doubt."
Australian Foreign Minister Julie Bishop reiterated calls to bring for a way of bringing those responsible to account through the United Nations.
Dutch Public Prosector Fred Westerbeke has refused to reveal the identity of the 100 people linked so far but is "fully confident' their work will result in a trial.
"If you want to bring people to court then you must know what their nationality is and who they are," he said. "So we won't make that choice until we know who has to be tried."
The JIT extended their remit until 1 January 2018 and Australian Federal Police Commissioner Ian McCartney said he would keep working for as long as it takes.
"I think today is a really important step in terms of progressing that investigation from an AFP perspective."
"At the end of the day 298 people died and 38 Australians. They no longer have a voice so it's very important for us to have that voice for them. "
"We're committed to seeing it right through to the end".