HILLARY CLINTON: 'Normal-ranging vital statistics'
Hillary Clinton's campaign released a letter from her doctor describing her diagnosis and treatment for "mild, non-contagious bacterial pneumonia".
It notes that she received a CT scan confirming the illness and that she is now halfway through a regimen on the antibiotic Levaquin.
The letter, from Clinton's doctor, Lisa Bardack, is intended to put to rest concerns about the Democratic presidential nominee's health after the illness caused her to stumble out of a memorial service on Monday and forced her off the campaign trail for days. Clinton's campaign said the information would update a health history released last year.
The details in the letter show that Clinton has normal-ranging vital statistics, according to several doctors who reviewed the information but have never treated her. Her blood pressure and cholesterol levels are "good" or "excellent" and place her at low risk for illness for a woman her age, the doctors said.
Bardack is the chairwoman of Internal Medicine at CareMount Medical in New York, and has served as Clinton's personal physician since 2001.
Her letter also described various medications that Clinton is taking, including Coumadin, a blood-thinner. And it describes Clinton's normal-ranging vital statistics: blood pressure of 100/70; a pulse of 70; and a cholesterol level of 189.
Bardack examined Clinton as recently today, and has done so several other times since she was diagnosed with pneumonia on Saturday NZT, according to a campaign aide.
According to her doctor, Clinton has received two vaccinations against pneumonia - Prevnar and Pneumovax - although it is not clear when she received those vaccinations.
The new information reveals more about Clinton's pneumonia diagnosis. She was tested with a non-contrast chest CT scan, which discovered a small right middle-lobe pneumonia.
According to the campaign, Clinton was diagnosed with a mild form of non-contagious bacterial pneumonia and is under treatment with the antibiotic Levaquin.
Clinton had previously released a letter from Bardack, which contained information about her current health, medications and past health conditions, including a history of hyperthyroidism and deep-vein thrombosis.
Clinton cancelled three days of scheduled campaign events and has been resting at home in Chappaqua, New York. She is expected to return to the campaign trail with an event in Greensboro, North Carolina, tomorrow.
"Obviously I should have gotten some rest sooner," Clinton said on CNN's Anderson Cooper 360 on Tuesday. "I just didn't think it was going to be that big a deal."
Clinton has previously become severely dehydrated in 2012 and fainted, suffering a concussion. She was later diagnosed with a blood clot in her skull that was discovered during routine testing while recovering from her concussion.
Edward Geltman, a cardiologist at Washington University's School of Medicine, said the information released shows her to be healthy, with normal range for vitals. Her blood pressure is on the "low side of normal," he said, so she would be prone to fainting and sensitive to dehydration.
The one main health item that does not seem to be included is information about the health of her heart, such as electrocardiogram. Those are fairly standard tests, and as people age, it's important to establish a baseline, he said. But because she doesn't smoke, and doesn't appear to be particularly overweight, he said, and has good cholesterol levels, she doesn't appear to be at risk for a heart attack.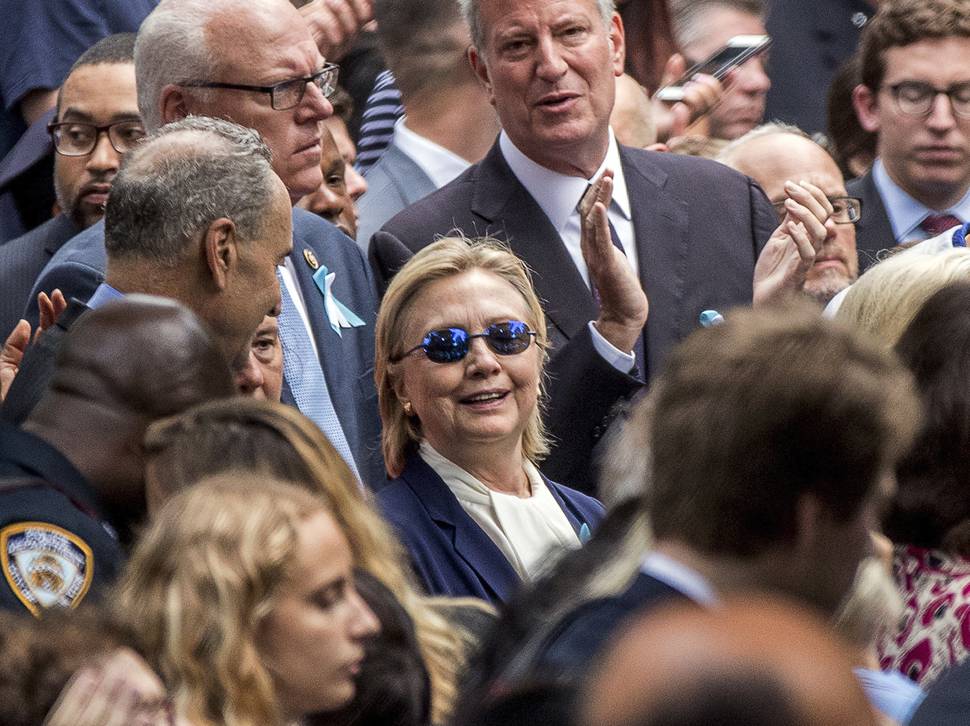 DONALD TRUMP: 'Borderline obese and wants to lose weight'
Donald Trump released a letter from his doctor earlier last year, which contained virtually no objective health information. Trump has since said that he would release more medical information from a physical he received last week.
Today, Trump taped an episode of the Dr Oz Show, in which he discussed his overall health with host Mehmet Oz.
When Oz asked why he had not released his medical results, Trump replied: "Well, I really have no problem in doing it".
"I have it right here," he said, brandishing two pieces of paper that contained his most recent results from his physical. "Should I do it? I don't care. Should I do it?"
Trump reportedly claimed that he has high testosterone levels and is borderline obese.
The interview will air tomorrow, but those who viewed its taping said Trump discussed his desire to lose 5 to 10kg.
He also reportedly said he did not exercise, but bragged he is so good at golf that he could play professionally.
He used to have high cholesterol but was put on a statin drug to bring it down to its current, healthy level, audience members relayed.
Trump has previously admitted regularly eating fast food, and reportedly said in the interview that he tells whichever staff member is picking up his order not to reveal who it is for, out of fear it might be tampered with.
Trump has a body mass index (BMI) of 30, according to the audience. A BMI of 25-29 is considered overweight, while a BMI of 30 or above is considered obese.
The exam also reportedly showed Trump has high levels of testosterone, the hormone which affects sex drive as well as physical characteristics such as muscle mass.
The Trump campaign reversed itself twice over whether he would turn the full exam results over to Dr Oz, leading to speculation that there was something Trump wanted to hide.
In the end, the Republican nominee brought a summary of the medical exam to the set.
It was administered by Harold Bornstein, the doctor who penned a widely ridiculed letter in December proclaiming that Trump would be "the healthiest individual ever elected to the presidency".
He later said he wrote it in five minutes without giving it much thought.
Trump has sought to portray himself as comparatively robust and better equipped for the rigours of the presidency than Clinton.
He had pledged to make the results of his exam public "when the numbers come in".
- additional reporting Daily Telegraph