Terrifying footage has emerged of rafts on the world's tallest waterslide flying off into the air, two years before a 10-year-old boy was killed on the same ride.
Caleb Schwab, son of Kansas State Rep. Scott Schwab, died on Sunday while riding the 168-foot-high Verrückt slide at Schlitterbahn Waterpark in Kansas City.
Witnesses described gruesome scenes at the theme park, saying they saw the boy fly out of the raft, through the harness, and hit the safety netting above where he was beheaded.
The Verruckt slide did not feature a safety net enclosing the chute to keep the rafts secured in early 2014, when it was filmed for the Travel Channel's Xtreme Waterparks series.
The ride was also half the size it eventually turned out to be.
The original May 2014 opening date for the ride was pushed back after early tests showed rafts carrying sandbags flying off the slide, prompting engineers to tear down half of the ride and reconfigure some angles.
Two media sneak preview days in 2014 were also canceled because of problems with a conveyor system that hauls the 100-pound rafts to the top of the slide.
A promotional video about building the slide includes footage of two men riding a raft down a half-size test model and going slightly airborne as it crests the top of the first big hill.
The waterpark realised additional changes needed to be made - they added velcro seat belts and weight restrictions for safety, added an extra five feet to the 'hill' and reduced the ride's slope to decrease speed.
The slide didn't actually start taking riders until July 2014, according to KMBC 9, and the Travel Channel aired their behind-the-scenes footage of the rafts flying off the chute in June that year.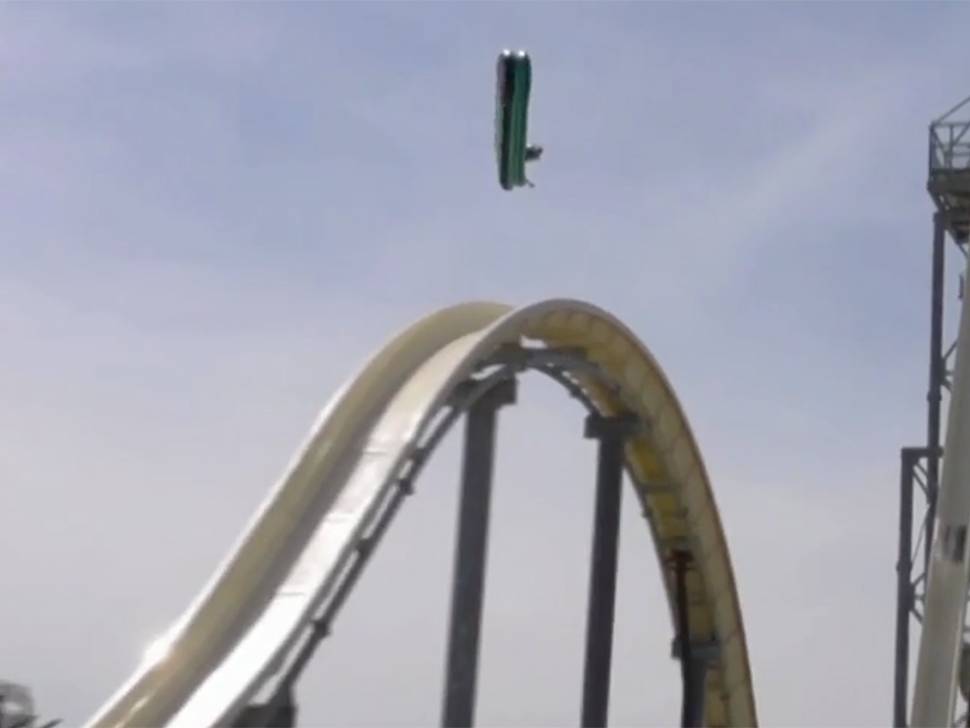 'We had many issues on the engineering side,' Verrückt creator and Schlitterbahn co-owner, Jeff Henry, told USA Today.
'A lot of our math was based on roller coasters at first, and that didn't translate to a water slide like this. No one had ever done anything like this before.'
Henry tested out the ride himself and described it 'like jumping off the Empire State Building. It's the scariest thing I've done.'
The video resurfaced on the same day as a Kansas lawmaker called for closer regulation of water park rides after Caleb was 'decapitated' when thrown from the waterslide's raft.
Since the youngster's tragic death, multiple people have come forward to share their terrifying close calls on the ride after they the waterslide's safety straps malfunctioned.
Now Kansas Senator David Haley is demanding better regulation of amusement parks in the state to keep the public safe.
Kansas has some of the weakest regulation of rides in the United States. State law allows officials to conduct spot safety inspections, but employees in that department have been slashed by a third in recent years.
A Schlitterbahn employee told FOX 4 she had never seen a single state inspection in the multiple years she has worked there. She added that the only inspection the park ever carried out was 'people riding down slides one time - "oh, it's okay",' she said she was told.
Winter Prosapio, spokesperson for Schlitterbahn, insisted on Sunday that the park's rides are inspected daily and by an 'outside party' before the start of each season.
State inspectors reportedly last checked the waterpark in 2012, well before the Verruckt opened in 2014.
State law leaves it to the Kansas Department of Labor to adopt rules and regulations relating to certification and inspection of rides, adding that an amusement ride at a permanent location 'shall be self-inspected by a qualified inspector at least every 12 months.'
Regulations require only that owners of permanent amusement rides retain records for a year and rides are randomly selected quarterly for a records audit.
Documents released Tuesday by the state department showed that in June 2012, a records audit found that the park was not maintaining records of testing for current and previous years. The report said that instead of such testing, 'visual inspections are conducted annually and daily.' There was no record of a state response, and the audit was marked 'pass.'
There were no indications of further records audits, and department officials did not immediately answer questions about why that was so.
The state requested documentation from Schlitterbahn 'to ensure all safety requirements have been followed.' Department officials didn't immediately provide additional details.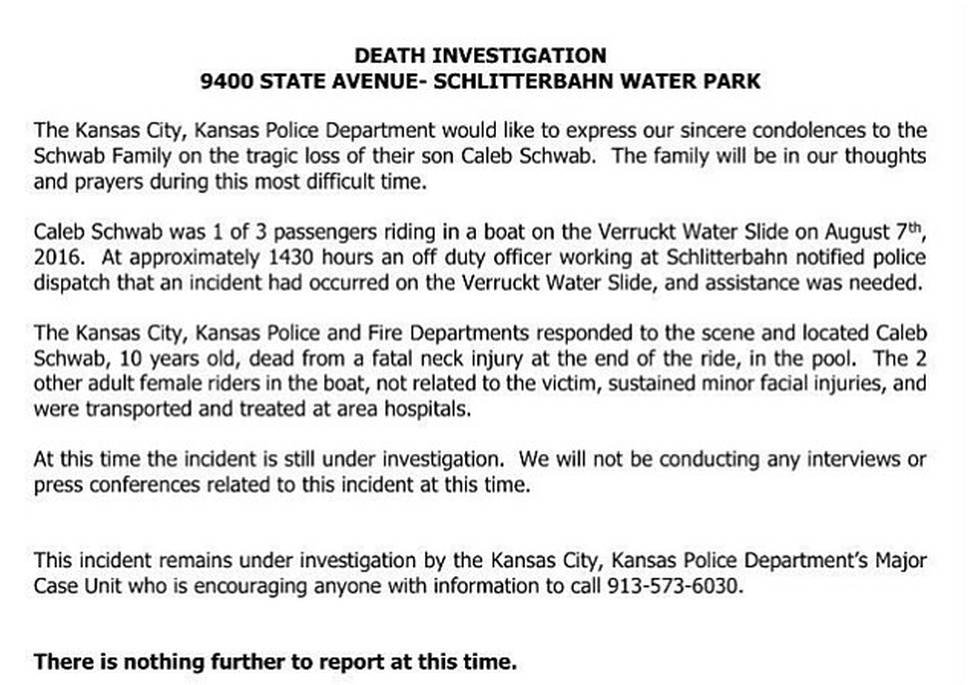 Haley said: 'In light of the tragic accident, I hope there will be a review of existing policies to see if there is a need... for additional oversight.'
That could include state inspections or a legal requirement for theme parks to be regularly checked by an independent inspector.
Police are investigating the death of Schwab as a criminal case although police spokesman Cameron Morgan said Tuesday that designation did not mean they suspect foul play.
Kansas City Police confirmed the boy had died from a 'fatal neck injury at the end of the ride, in the pool'.
Kobey Lyons told the Dailymail.com that he'd been told by woman at the park that day that the velcro straps on the ride were not working properly on the day of the tragedy.
He said that blood was spotted 'all over the slide' which had tarps thrown over it to cover it. The boy's body was covered up with a sheet.
Two women, still strapped into the raft, were injured with another witnesses describing one as having blood pouring down her face. One of those women's jaw was broken and the other had a broken face bone, according to reports.
The front seat of the raft - where Schwab most likely sat - was empty.
Each rider on the Verruckt must be at least 54 inches tall, and the group's weight is limited to a total of 400 to 550 pounds.
Riders are harnessed in with two nylon seatbelt-like straps - one that crosses the rider's lap, the other stretching diagonally like a car shoulder seatbelt. Each strap is held in place by long Velcro-style straps, not by buckles.
Ken Martin, a Richmond, Virginia-based amusement park safety consultant, questioned whether the straps were appropriate for what he called 'nothing more than a roller coaster with water.'
Paul Oberhauser told local television station KCTV his shoulder restraint 'busted loose' on his Verruckt raft July 26.
'As soon as I hit the bottom of the first curve the shoulder strap just kind of busted loose,' Oberhauser said.
He said he had to grip the handles using his legs and told park staff what happened once he got down.
'They kinda said, "Oh no, really," or something, "Yes, that's not good." And so it sounded like you know they were gonna do something about it,' Oberhauser said.
The Nebraska man said he 'just held on,' and a video shot by his wife shows the strap loose at the ride's end. Oberhauser said he reported the matter to park workers.
Kenneth Conrad told WDAF-TV that during his trip down the waterslide last year with a friend, the friend's shoulder strap came 'completely off.'
'As we were going down, we went down the first one, and as we were approaching the second one, he was in the back and you could hear him say that his strap came off and when we hit, he was real tense, shaken, because his strap had come completely off and literally he was using all of his force to hold him onto the slide,' Conrad told Fox4.
Matt did not file a complaint after his harness came off during the ride that day last year, but after Schwab's death, he is planning to report the incident.
Conrad's wife Erica, who snapped a picture of her husband and Matt on the ride - which showed the latter's harness missing - says the news of the boy's death is 'devastating.'
'I think they designed this ride, and they figured since stuff was flying out, we better do something to keep people from flying out,' he said. 'I think we have a serious issue with the restraint system. Period.'
Although he has not seen or ridden Verruckt, Martin said a more solid restraint system that fits over the body - similar to those used in roller coasters - may have been better.
The park's spokeswoman didn't return messages Tuesday from reporters seeking comment on the claims.
The Verruckt- German for insane - is the highest waterslide in the world. It remained closed today amid the investigation.
One report says that it used to have an age restriction of 14 when the ride opened at Schlitterbahn in 2014.
It also had a minimum height of 54 inches and a combined weight of all riders in the raft to be between 400 and 550 pounds.
But officials scrapped the age restriction, deeming the height requirement sufficient.
An image, obtained by Heavy, shows netting being removed from a portion of the ride following the tragic incident on Sunday.
State Rep. Scott Schwab, an Olathe Republican, and his wife, Michele, released a statement asking for privacy as the family grieves.
'Since the day he was born, he brought abundant joy to our family and all those he came in contact with,' the statement said.
Caleb's death is not the first at a Schlitterbahn facility. In 2013, lifeguard Nico Benavides, 20, was killed at the company's park on South Padre Island, Texas, when a mechanical door slammed on the guard's head.
The park was hit with fines of $96,000 although they settled for $66,000.
Meanwhile, the Kansas Schlitterbahn has been sued three times for negligence since 2014, although none were related to the Verrückt water slide,KCUR reports.
WHY WASN'T WORLD'S TALLEST SLIDE INSPECTED?
There are no federal inspection laws for waterparks in the U.S., and inspections are handled on a state-by-state basis. State inspectors reportedly last checked the waterpark in 2012, well before the Verruckt opened.
'All of the regulations are really done at the state and local level with respect to amusement parks and waterparks.
'There are no federal standards and so it really is up to the park operators, the manufacturers of the rides and the states to make sure this is a safe environment,' said Deborah Hersman, president and CEO of the National Safety Council.'
SCHLITTERBAHN WATERPARK SUED THREE TIMES SINCE OPENING IN 2014
The Schlitterbahn waterpark, in Kansas city - where Caleb Schwab tragically died on the Verruckt ride Sunday, has been sued three times for negligence since 2014.
In March 2014, Linda Stomboly sued the water park alleging she was seriously injured in August 2012 on the King Kaw white water rapids attraction, KCUR reports.
She said her flotation tube collided with another tube during the descent sending her flying.
While trying to get back in her tube, her leg became stuck 'resulting in multiple spiral fractures of her tibia and fibula,' according to the suit, which was settled for $20,000.
Robert Boepple filed his lawsuit just two months later claiming he suffered injuries to his head, neck, back, arm and spine when his toe got caught on a 'protruding item' on the Boogie Bahn surfing ride.
His case was settled out of court for an undisclosed sum.
The third suit was brought by Frances Logan which alleged she had been severely injured on the park's King Kong River ride when the inner tube she was riding tipped over and her left foot hit a concrete wall.
She claimed there were no lifeguards on duty at the time to help and she had to be saved from the water by waterpark customers.
Her case was also settled, according to her lawyer.