You know that feeling that comes with the worst kind of hangover?
There's no cure and no way out, you just have to battle through it. You have no choice but to face up to what's happened and the mistakes you've made that led to your confused and pitiful state. The only option is to resolve those issues, although most of them are out of your hands.
That's pretty much the state of Australian politics right now following Saturday's so far fruitless election.
Politicians, Australian Prime Minister Malcolm Turnbull especially, are being forced to think about what they've done and await the ultimate outcome.
They're having to call in favours and phone those whose help they need and feelings hurt or embarrassed the night (or eight weeks) before - the crossbenchers and those who lost their seats - and scramble to get things in order so they can go about their business with as few scars as possible once this whole thing blows over.
Saturday night was expected to be a big celebration for the government, with Mr Turnbull the life of the party.
Instead, thanks to a knife-edge count and inconclusive outcome, we have no result and all that's left for Mr Turnbull is to wait, think about where it all went wrong, and text his mates asking "I wasn't that bad, was I?".
It was always going to be close but Saturday's poll result so far, with about 20 per cent of the vote still to be counted, was never expected.
The nation's political future remains in limbo with just 42,895 votes between the two parties and Australians will have to wait at least another day before getting a clearer picture of the Federal Election result.
Mr Turnbull has warned a final outcome may not be known until the end of next week.
Electoral commission officials won't resume counting votes until Tuesday and six seats remain in doubt.
After a swag of pre-poll votes was added to the count early on Sunday morning, the coalition had 72 seats in the 150-seat lower house, Labor 67, Greens one and independents four.
Neither the coalition or Labor has so far won enough seats in the lower house to form a majority government.
Although Mr Turnbull has said he is "quietly confident" in gaining a majority, he's started discussions with the independents who will make or break his, or Bill Shorten's, chance of forming government.
With the possibility of a hung parliament looming, the Prime Minister has opened talks with kingmakers who he may need to count on for support.
The most likely outcome has been predicted as a minority Coalition government with 75 seats - that relies on one or two crossbenchers for support.
The line-up includes conservative Queenslander Bob Katter, independent and former Liberal staffer Cathy McGowan, far left Greens representative Adam Bandt, Tasmanian independent Andrew Wilkie, and new entrant from the "centrist" Nick Xenophon, Team Rebekha Sharkie.
According to The Australian, Mr Turnbull had yesterday spoken to at least three crucial crossbenchers and was hoping to shore up support from other influential players in coming days, without striking a formal alliance.
Mr Turnbull confirmed yesterday he had spoken with "a number of the crossbenchers", but repeated the line that he was confident he wouldn't need to woo them.
"What I've said to them is what I say to you now - that we will be able to form a majority government," he said.
"And in those circumstances, and indeed in any circumstances, we always seek to work constructively with all the members of the parliament, as we have done in the past."
The Coalition, if it retains power, will also need to deal with 10 crossbenchers in the Senate.
Returning senator Pauline Hanson said she'd had a call from Bill Shorten on Friday, but hadn't heard from either leader since the count.
The One Nation leader believes her party could win up to six senate spots - two in Queensland, one in NSW, one in Western Australia and possibly one in each of Tasmania and South Australia.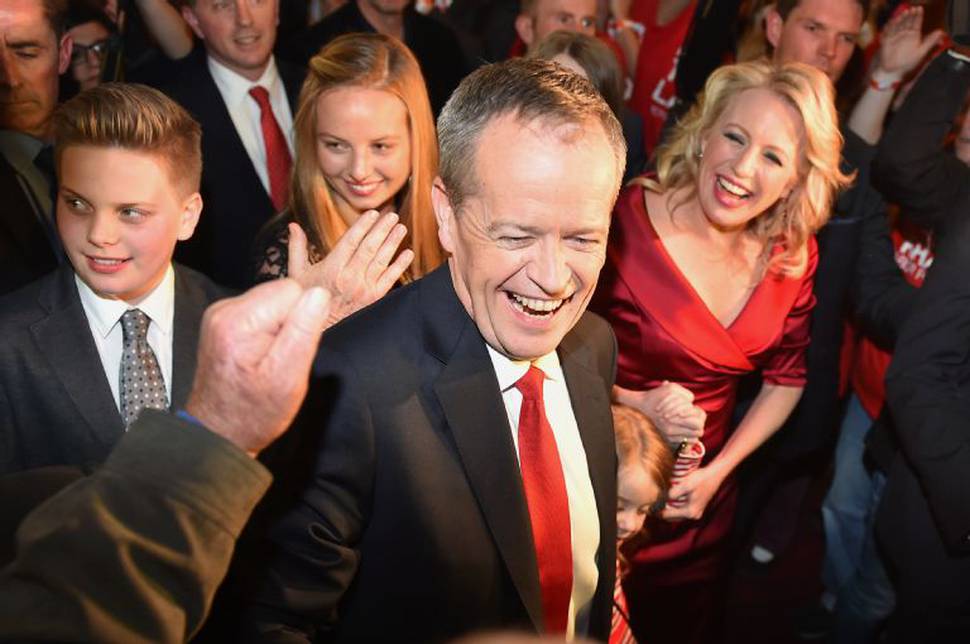 She told Sunrise the Prime Minister must have "lost her number".
But her likely senate colleague Derryn Hinch said he has had a very long with Mr Turnbull on Sunday, and had heard from Mr Shorten on Friday before the election.
"I spent 50 minutes on the phone last night with the Prime Minister of Australia," he said.
Mr Hinch refused to detail either conversation but said his conversation with Mr Turnbull was "interesting".
"We did not discuss the football, I can tell you," he said.
Independent Senator Nick Xenephon has refused to back either party in the event of a hung parliament.