The "six-year-old boy" cuddled by lingerie tycoon Michelle Mone has been revealed as a baby-faced 22-year-old estate agent from Vietnam.
It had previously been claimed the "child" was a 46-year-old married man whose "wife" took exception to the Tory business tsar picking him up.
But now it has emerged not only is the man not married but he is also single.
And so shocked is Nguyen tan Phat by the international publicity Baroness Mone's gaffe has sparked that he has even threatened to take up drinking.
Mone - nicknamed "Baroness Bra" after being made a peer last year - was speaking at an entrepreneurs' conference in Vietnam when the Phat ran up to her with flowers.
She picked him up for a cuddle and a selfie.
But then a woman sitting in the front row shouted: 'Put him down - I'm his wife!'
Baroness Mone of Mayfair told The Mail on Sunday: "The guy was fine with it and the whole room was screaming with laughter.
"I thought something was wrong - his teeth were bright yellow from nicotine."
It was this comment that Phat took exception to, having never smoked in his life, but he also saw good fortune in the bizarre incident, saying: 'I think after this event, for sure, I'll be so famous.
It all started after Mone finished addressing an audience of 3,000 at the National Achievers Congress in Ho Chi Minh City when what she believed to be an adorable little Vietnamese flower boy stepped onto the platform to present her with a bouquet of flowers.
The Scottish founder of the Ultimo underwear chain - and who is said to be worth £20million - revealed her faux pas on Twitter at the weekend with a photo of her cuddling the "flower boy" along with the comment: "Thought this was a six-year-old, picked him up, he's a MAN."
A spokesman for the Baroness, a member of the House of Lords as a Tory peer, denied that the "gaffe" was a cunning publicity stunt.
The reaction of little Phat confirmed that if it was a stunt by the baroness, he certainly wasn't in on it - when he first learned of the spreading international publicity he starting talking about "fictitious and slanderous reports", which misled people into believing that he was a 46-year-old man.
He was, he said, 22 years, seven months and five days old - and he posted an identity card to prove his date of birth. Not only that, he said, "the year I was born is there on Facebook".
Then came the angry denials: "I don't have a wife or lover and I've never smoked." The reference to smoking was to dispel Mone's claim that his teeth were yellow from nicotine or talk that he even had gold teeth. "It's not true," he said in a Facebook post.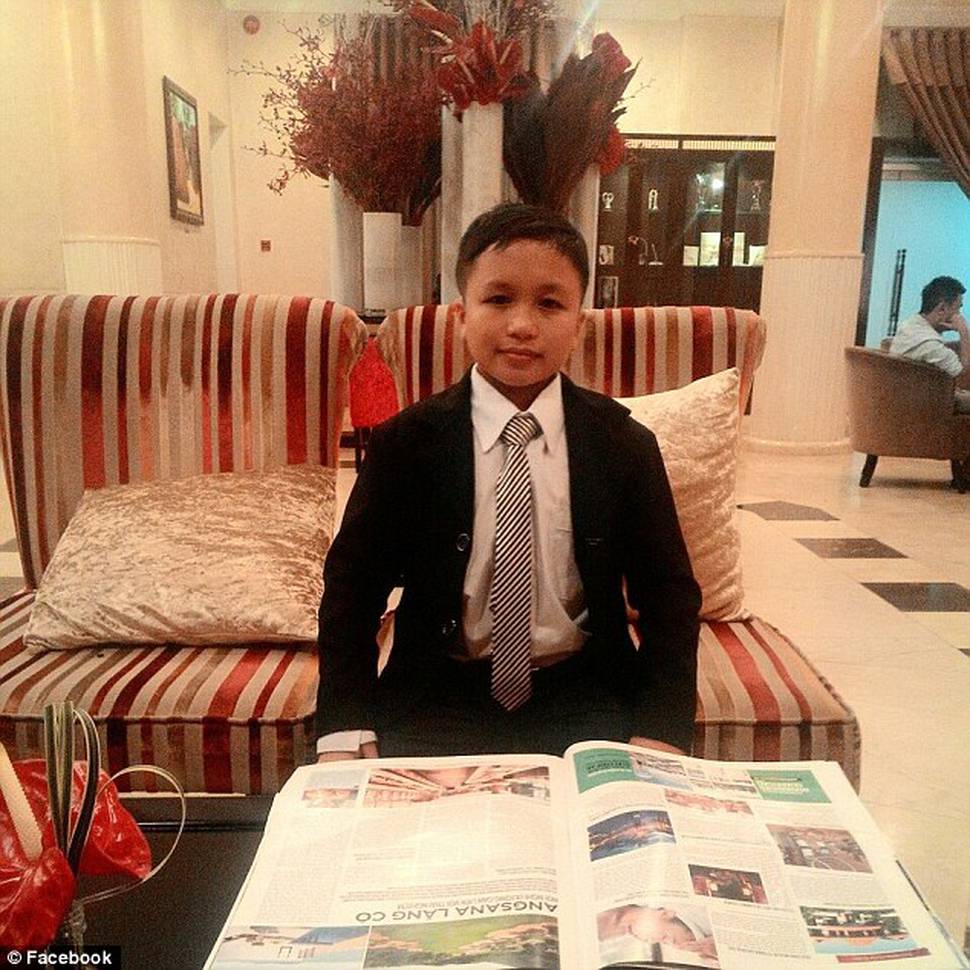 So, because of his small stature - about the height of an eight-year-old - does he consider himself as a child or a man? "The most important thing is that I'm still a boy, even though it's been 22 years (since I was born).
"I've been like this since I was six years old" - a comment that might explain why Mone thought he was still aged six. As for directing any anger towards the baroness, there appeared to be none, as Phat described her as a "shy girl" whom he idolised.
Photos he posted on Facebook, in which he is virtually lost among his group of friends, might well explain why Mone thought she was picking up a little boy.
While Phat has not revealed why he is so small, it is believed his lack of growth is due to what is known as growth hormone deficiency, a rare disorder that occurs when the pituitary gland, at the base of he skull, fails to produce enough growth hormone.
Baroness Mone said that any confusion may be due to matters becoming lost in translation.
She said: 'I hope the man's age and marital status isn't the only thing the translators got wrong... I had countless conversations through them during my visit.
"People did seem to find most things I said (through the translators) very amusing..."