One year after a devastating earthquake, Nepal is piecing itself back together and hoping tourists, trekkers and climbers will return. Phil Taylor reports.
A year ago today, a 7.8 magnitude earthquake killed 8557 in Nepal. It set off landslides that wiped out villages, cut off roads and triggered an avalanche of ice and rock that swept through Everest base camp, killing 22 climbers and support workers.
In respect to those lost and for logistical reasons, most Everest climbing parties pulled out. For the first time in 41 years, no one set foot on top of the 8848m mountain. It was the deadliest season in the mountain's history and it came immediately after the previous most deadly season.
On April 18, 2014, a serac " a block of ice estimated to weigh 14 million tonnes " crashed on to the climbing route through the Khumbu Icefall, killing 16 Sherpas. It was a brutal year for the trekking and climbing sector. In October, 21 trekkers on the Annapurna Circuit in Nepal's west were among 43 people who perished in snow storms.
The new climbing and trekking season is about to begin. A new path has been forged through the Khumbu Icefall and ropes fixed to Camp I by a specialist team of Sherpas. Stakeholders are anxious to see how many will come.
Numbers are expected to be down. "We have very less tourists compared to last year in Khumbu region," Sonam Sherpa, a guide just back from a trek to the Buddhist Monastery at Tengboche, told the Herald.
The lodges are ready and trail conditions are good. Locals are crossing their fingers. "We Sherpas always welcome any foreigner guest with our open arms," said Sonam. "Tourism is the only thing that we depend on, without which we cannot survive."
Figures from the Ministry of Culture, Tourism and Civil Aviation support expectations of a quiet year. That can indicate the pattern for trekking too. The ministry has issued 275 Everest climbing permits this season (about 40 per cent of these are extensions for permits issued in the ill-fated 2014 and 2015 seasons). By comparison, the ministry issued 315 permits in 2013, the last normal year on Everest.
A normal Everest season contributes about US$11 million ($15.9 million) to the Nepalese economy and can be a bellwether for expeditions to lesser-known peaks (an additional US$26 million) and for the trekking industry (US$120 million), according to a recent report in National Geographic.
Exactly 12 months ago, Sonam had just finished lunch in Cafe 8848 in the village of Namche Bazaar, one of many settlements scattered through the Khumbu Valley, the southern approach to Everest and the home of the ethnic Sherpa people.
"I was with my wife, Dolma, and a friend, Kami. We were waiting for our coffee when I noticed the hanging lights moving and then the ground started shaking. We were outside the cafe in seconds and still feeling it. I saw lots of dust coming from every house. Kami started crying as she saw her father. Dolma and I was very scared."
Sonam ran back into the cafe to collect his wife's phone.
"I could see the coffee [maker] and cups falling off. We saw the Namche dental building collapse, a big pile of dust up in air. Everyone was on their phone but the network was poor. People were running up and down looking to see if their family and friends were safe. An old woman and her daughter were trapped in their house. The army men came and rescued them but they were quite injured."
Sonam plans to set up his own trekking company and says he will target New Zealanders.
"Kiwis are a very easygoing people," he said, "always funny, sporty and smiling." But fewer seemed to be coming.
One Kiwi with close links to Nepal is Guy Cotter, chief executive of Adventure Consultants, a company with a long history of taking expeditions to the roof of the world.
Cotter was above Everest Base Camp when the earthquake triggered an air-blast avalanche which killed five friends and staff.
Cotter, who was left with the clothes on his back and a satellite phone, called off the company's Everest season but stayed to help clean up.
On the phone from the company base in Wanaka, he has the resilient demeanour of someone who has stood on the summit of Everest four times. He is the son of Ed Cotter, a companion of Sir Edmund Hillary on Himalayan climbs in the 1950s.
Recently returned from the Khumbu Valley, Cotter said he was amazed how quickly the rebuild had happened there. "I guess that's what happens, compared to Christchurch, when you don't have to deal with rules and regulations around rebuilding. So they have just got in and done it."
They had done it without government help, wanting to be ready for the new trekking and climbing season.
Tourism provided about 9 per cent of Nepal's GDP in 2014 and generated 487,500 jobs, 3.5 per cent of the total number employed, according to the World Travel and Tourism Council.
Visitor numbers dropped 80 per cent as many countries, including New Zealand, posted travel advisories noting earthquake damage and ongoing risk of landslides and avalanches. Most have now been lifted. Sixty-two New Zealanders are currently registered as being in Nepal.
Royalty and football royalty have done their bit to signal that Nepal is open for business. Prince Harry's visit last month followed David Beckham's.
Sonam reports that life has returned to normal in the capital, though everyone is sensitive to aftershocks.
Historic sites in Kathmandu, such as Boudhanath, the biggest Buddhist stupa in Southeast Asia, are being rebuilt. An exception is the 1832 Dharhara Tower, which killed several people when it fell.
Rosemarie North, an Aucklander working for the Red Cross' international body, IFRC, is in Kathmandu and says the city varies street to street. There are gaps where buildings once stood " as in Christchurch " but, crucially, the city's water and sewerage systems survived.
Cotter's assessment is blunt. "Kathmandu always looks like an earthquake has hit it, so not much change there."
Places off the beaten tourist track fared worst. "I hear there are a lot of areas that haven't rebuilt because they don't have the same financial capacity and the incentive to get everything rebuilt so that they can start earning again," said Cotter. "They are waiting for the government to come through and give them assistance and the government has been very slow. They got US$4 billion in overseas aid and haven't managed to spend any of it yet because they couldn't get a committee together to deal with the process. Such is the way that Nepalese politics doesn't work."
In the months immediately after, aid agencies handed out tarpaulins, food, cooking utensils and organised access to clean water. The focus then turned to training locals in techniques to build more robust homes.
Locals haven't been sitting on their hands, said North.
"If you go out now into any of the 14 earthquake-affected districts [of 75] you will see that everyone has piled up stones, often in order of size. They will have collected wood that they might use to rebuild. They will have built [temporary] shelters."
Many hesitate to rebuild permanent homes for fear it will disqualify them from rebuilding payments of 200,000 Nepalese rupees ($2725) the Government has promised but has yet to distribute. Though no reliable data is available as to how many of the 800,000 homes destroyed (displacing four million people) have been rebuilt, the Red Cross' shelter experts think it is a small proportion.
Tourism is the only thing that we depend on, without which we cannot survive.

SHARE THIS QUOTE:
However, the Kathmandu Post reported last month that the fear of spending another monsoon season under flimsy shelter was prompting many to begin to rebuild despite the risk of missing out on the grant.
North: "I think the people are really pragmatic. They are just getting on with things the best they can."
Perhaps the longest aftershock of last year's quakes was the loss of a trekking season. This season, it will likely take double the business to run the schools and medical centres.
Cotter's outfit had clients there in post-Monsoon season (last September-October). It was dire. "It wasn't only the earthquake but the Indian border blockade where they wouldn't let any goods into Nepal for a long period of time. Nobody had any fuel, nobody had any food, nobody had any building materials. That didn't help the reputation of Nepal as a place to go because you couldn't get anything when you got there, couldn't go to restaurants and so on. It was a terrible thing to happen straight after the earthquake.
"They are saying the impact of the blockade was worse [for the economy] than the earthquake. The post-Monsoon was very quiet, the place more or less shut down."
Overall, he suspects operators are down this season, some significantly, but Adventure Consultants currently has groups on several mountains including Everest. Loyalty had been a factor.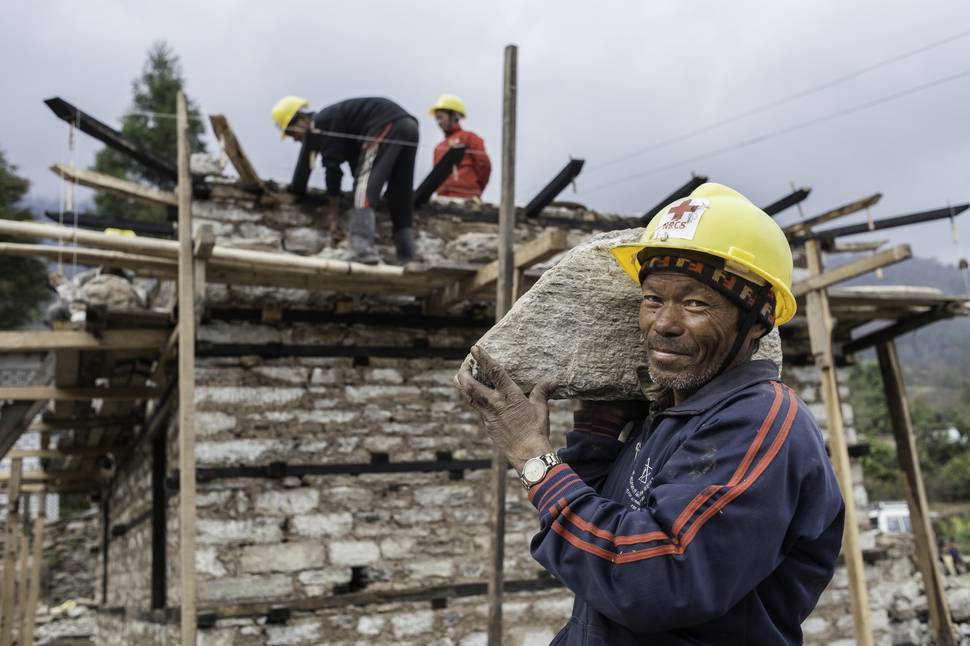 "There are people who have done trips with us before going back because they want to help with getting the country up and running again."
Cotter is optimistic that Nepal will soon be as popular as ever among adventurers. "It is such an amazing place to visit. The scenery is stunning, the people are wonderful. Always the feedback we get is how wonderful the experience is with the locals. That's something Nepal will never lose. It's not just about the mountains, a lot of the appeal is the people and the culture."
This is despite an administration that was "the chaos theory in practice. Somehow things happen. It has a bureaucracy used to operating in a kingdom which didn't have to try very hard. There is a lot of corruption.
"They all want democracy but only if their own party is in power, and there are so many political groups and sub-groups. It's not going to sort itself out any time soon."
Tourists had always been welcomed, Kiwis doubly so because of Sir Edmund's development work. Even Maoist rebels didn't target foreigners, Cotter notes. "Considering what Nepal has to offer, tourism numbers are actually very low. They probably get a quarter of what we get in New Zealand and yet they are so close to the European market."
It appeals to "a more robust traveller because it is not sanitised. Part of the allure is that you are almost stepping back in time ... into the Middle Ages in some places.
"I saw a sign many years ago " 'Don't come to Nepal and try to change Nepal, come to Nepal and let Nepal change you'. That is what happens to people when they go there."
Snapshot of a nation
Political
Historically run by monarchy, a multiparty democracy was set up in 1990 within the framework of a constitutional monarchy. An insurgency by Maoists evolved into a decade of civil war that in 2002 resulted in the resumption of absolute power by the King. It became a federal democratic republic in 2008 when the monarchy was abolished and a President elected. In 2013, the Nepali Congress and the second-highest polling party, the Communist Party of Nepal, formed a coalition Government. A new constitution came into effect in September.
Economic
Among the world's poorest and least-developed nations. About 75 per cent of its population of 27 million rely on agriculture and one quarter are impoverished, says the World Bank. As much as 25 per cent of its US$66 billion or so GDP comes from international remittances. Has splendid hydro-power potential but lacks investment. Tourism is about 8 per cent of the economy but gives the most foreign exchange. About 800,000 visited in 2014.
- Sources: World Bank, CIA