Locals and Kiwi tourists sought refuge as cyclone smashed holiday hotspots.
Fiji is expected to wake up this morning shaken and smashed by Cyclone Winston, the most powerful storm ever to hit the islands.
The category 5 tropical cyclone reached full force around 5pm last night and by 8pm had made landfall. Fiji Radio reported last night that one elderly man died when his house collapsed.
Winston generated 12m swells offshore, and coastal flooding was expected. Intense winds from the cyclone were due to be felt at Nadi around dawn.
Tourists - including New Zealanders - sought refuge at holiday hot-spots and Fiji's Prime Minister Frank Bainimarama warned of "an ordeal of a most grievous kind" as Cyclone Winston maintained a collision path with the island nation after hitting Tonga three days ago.
As the cyclone neared, Bainimarama begged people to pray for the country. Fiji's government declared a state of natural disaster and imposed a total public curfew as the country braced for anticipated wind gusts of up to 315km/h.
Some buildings had already been wiped out last night. Many more had roofs torn off and hundreds more were damaged. Power was cut in a number of areas. Suva and Nadi were among sites that were evacuated while flights were cancelled and hundreds of emergency shelters were opened.
The New Zealand Defence Force was on standby last night, awaiting instruction from the Ministry of Foreign Affairs and Trade. The ministry confirmed there were 186 Kiwis registered as in Fiji.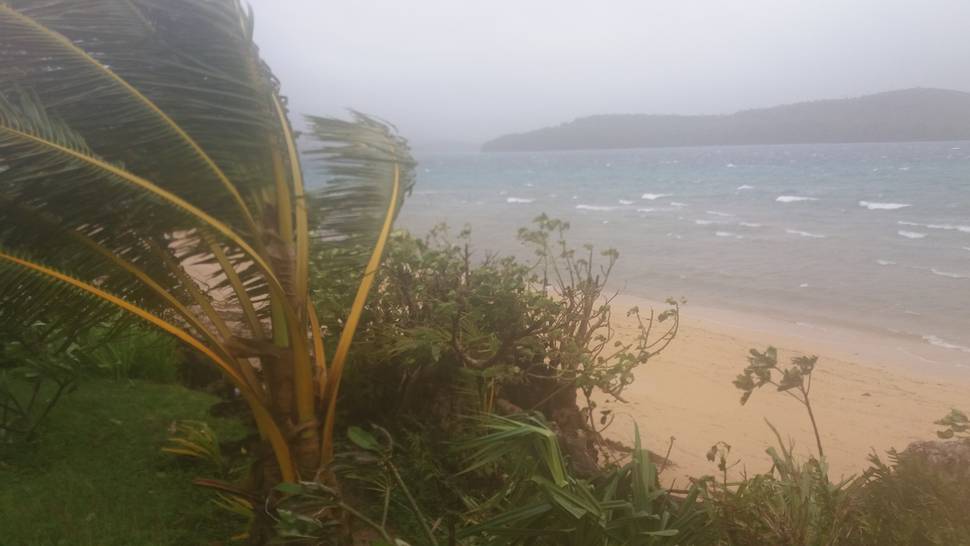 The Herald on Sunday spoke with a number of New Zealanders on the ground - some with grave concerns for the potential loss of life.
Simon Fenton moved from Auckland to Nadi a year ago and said while he was confident of his own safety, others were in obvious danger.
"My place is cyclone-proof but I can see a village where people live in tin shacks. Those people don't stand a chance," Fenton told the Herald on Sunday.
"Wind of over 200km/h can move a car, so if your house is literally a few pieces of tin flashing, it's going to get blown clean away."
Meredith Perkins lives in Denarau and in a bid to survive the storm, she and her husband made a fort with a mattress in their bathroom.
"We should be fine. It's the locals in tin shacks I'm worried for."
Aucklander Ben Rose is on holiday with his wife, Ashlee, at the Sofitel on Denarau Island and the couple were preparing to hunker down overnight - ordered by staff to take bedding to the ballroom, where they all spent the night.
"Staff were boarding up windows and moving all outdoor furniture indoors," Rose said.
Christchurch man Nick Darling and his family run the Volivoli Beach Resort on the northeast of Viti Levu.
"It's very, very scary for everybody. All of the hotels in Nadi are already full and obviously it's very unsafe to travel so we're just keeping our guests here and taking care of them," Darling said.
But not everyone took the warnings seriously. Mark Wager, staying at the Grand Pacific Hotel in Suva, said the lack of concern among locals was alarming.
"All the shops were still open this morning and are very relaxed about it. They don't seem to comprehend how bad it could be," he said. "They're not fully prepared."
As Winston approached, Bainimarama had a chilling warning.
"I urge you all, if you haven't already done so, to finalise your own preparations to survive this terrible event. We cannot afford to be complacent," he said.
"I am especially concerned that some people in urban areas of the country in particular do not appear to have heeded the warnings about the seriousness of the threat we all face.
"Let us all pray for our nation, ourselves and each other and ask God's blessing on our beloved Fiji."
A team from housing charity Habitat for Humanity is in Fiji already, beginning to assess where shelter kits need to be distributed as soon as it is safe.
Air New Zealand cancelled all five flights in and out of Nadi yesterday and today. The airline will make a decision this afternoon on whether two flights tomorrow will also be cancelled.
Cyclone Winston destroyed at least 10 homes and seriously damaged another 200 in Tonga.
WeatherWatch analyst Philip Duncan said the cyclone's movements had proven extremely unpredictable and New Zealand could be affected to a lesser degree over the next week.
A monster category 5 tropical cyclone is barrelling towards Fiji, with some islands already being evacuated and flights and sailings cancelled. Video: Breaking Disaster, Youtube
"By Thursday or Friday, there's a chance it will come in closer to the North Island, bringing a risk of heavy rain and high winds."
Kiwis in Fiji are advised to register with Mfat at safetravel.govt.nz
Fiji trembles before onslaught p35