It's the coldest, driest, windiest, most remote and naturally hostile place on the planet. So what kind of maniac would choose to live in Antarctica? Jamie Morton went there to find out.
So I'm an Antarctican.
I've sat in an ice trench, with snow falling thick and heavy, licking my lips over a hot packet of dehydrated sweet and sour lamb as though it was Parisian haute cuisine.
I've pulled dishes duty in the Scott Base dining room kitchen, whistling to Radiohead as I scrubbed oily remnants of fried fish from great stainless steel pans. Though I didn't see a single penguin, I did learn how to operate a pee bottle.
I'm part of an exclusive group of humans who have seen Antarctica with their own, squinting eyes.
A cloudless day on the Ross Ice Shelf can utterly up-end your entire perception of clarity and scale.
Vast mountain ranges hundreds of kilometres away appear within walking distance; it's a trick of the sterile atmosphere - a striking contrast to the polluted air many of us city-dwellers are so accustomed to.
My feet have known the weight and warmth of extreme cold weather boots and my face has been lightly reddened by the glare of a bright white night out in the cold.
I've smelt the faint odour of decaying, century-old seal blubber in Robert Falcon Scott's old timber hut and I've heard the eerie crunch of polar ice underfoot. Yet I still can't claim to be an Antarctican in the veritable sense of the term.
My time there spanned just a few days; some of the veterans have clocked up thousands of them.
Antarcticans invariably have nicknames - Grumpy, Swifty, Beanie - and they're well versed with the howling fury of "Condition One" storms that are incomparable to any other on Earth.
Scientists who have made multiple trips south understand what it's like to live for weeks out of polar tents and down-lined sleeping bags.
Antarcticans are resourceful, almost always outgoing and above all, passionate about a place they know to be indescribably special.
When Sir Edmund Hillary sailed to the ice with Dr Vivian Fuchs' famed Trans-Antarctic Expedition of the 1950s, he'd only just stood atop the highest place on the planet.
I can't help but wonder how his impression of the bewildering panorama from Ross Island's Observation Hill might have compared to the vista from Everest's summit. I doubt he ever forgot it.
"A great thrill" was how the great adventurer described his final trip, nearly a decade ago, back to the outpost he and his team hammered together on Pram Point's permafrost and icy scoria.
Scott Base, New Zealand's first physical presence in Antarctica, began as just a single building perched on the edge of the ice shelf.
Hillary's team decorated its walls with maps, blackboards and a portrait of the Queen.
They stocked its kitchen cupboards with Bournville cocoa, shredded suet, quick-cook meat bars and, no doubt, an ample supply of whiskey.
"It would have been lovely," reckons Major Mac McColl, the senior officer in charge of defence force personnel stationed at the base, and something of a walking authority on Antarctic history.
"It was quite small and there were a number of people there, but they were his mates, so it would have just been like being at somebody's bach back home."
By the time the oldest surviving former leader of Scott Base spent a season there a decade later, several more buildings had cropped up.
Still, Robin Foubister reckoned his experience wouldn't have differed too much from Hillary's.
"It was Kiwis wearing hair shirts, left to their own basic amusements - playing table tennis, cards, a few party nights here and there."
He fondly recalled a 12-day trip by dog sled to Cape Crozier's emperor penguin colony - a place made famous by the 1922 heroic era chronicle The Worst Journey in the World - and setting up Vanda Station in the deathly-silent McMurdo Dry Valleys.
Today, you might say Scott Base is the closest thing our small country has to a space station.
It's a lime-green chain of laboratories, offices, supply rooms, cargo bays, sleeping quarters, shower blocks and cosy communal areas including a library, movie room, dining room and bar.
Of the 50-or-so people living there over the summer at any one point, it might be a glaciologist, a mechanic, a chef or a firefighter you exchange a quiet "gidday" with as you stroll down the link-way that connects it all.
The utes, snowmobiles and Hagglund carriers parked outside base have long taken the place of Hillary's trusty Massey Ferguson TE20 tractors, but the undying Kiwi traditions of ingenuity and dry wit are still just as much part of New Zealand's Antarctic identity.
Compare the designated call-sign on Sir Ed's old telephone - simply "Eh?" - with the hard-case messages that regularly pop up on the base whiteboard: "Internet is down. Facebook withdrawal support group meeting in bar."
Or the old Shacklock coal range Hillary's men re-built to run on liquid fuel with the bar's recycling bin, fitted with a mechanised contraption that crushes empty beer cans with a good stomp on a foot lever.
In charge of running the base, and our wider programme on the continent, is Christchurch-based Crown entity Antarctica New Zealand.
On a relatively tight annual budget of $12.8 million in Government funding, it employs a range of base staff, co-ordinates supplies and logistics, and hosts dozens of separate visiting groups each season, among them geologists, journalists, artists, teachers and leaders.
Chief executive Peter Beggs tells me his base staffers are proud of the legacy they're continuing.
"They want to be a part of Scott Base, and perhaps all of the legend that's gone on there before."
But he disagrees with me when I suggest that tough and rugged nature of those polar explorers from the much romanticised "Heroic Era" - Scott, Shackleton, Amundsen - also surely lingers.
Beggs simply points to the nearly 60 group photographs that hang in the corridor, showing every team that has wintered over at the base since 1957.
Start with the first picture, framing a beaming Hillary and his hardy party, and work your way through the decades, past all of the white, gruff, thick-bearded men, until you arrive at the most recent photographs. There are more females, fewer beards. "We've now got a more diverse range of cultures and genders - and none of it is built on bravado," he says.
"And for scientists, it's about actually achieving something that tells us about what the future of our planet is going to look like: that's passion, not being rugged."
Still, venturing where some of our top Antarctic researchers do in the name of science surely does demand a great dose of fortitude.
In December, the New Zealand Antarctic Research Institute's intrepid director, Professor Gary Wilson, spent nearly 40 straight hours with a small party trapped inside a polar tent at Cape Adare.
Outside, the winds raged at 140km/h and temperatures dropped to -20C.
Their mission was to survey whether it's worth coming back there regularly, as, extreme isolation and furious weather aside, Cape Adare's acutely sensitive ecology would make it an excellent sentinel site to monitor subtle signs of climate change.
Because Antarctica represents something of climate science's elephant in the room - it stores about 70 per cent of Earth's fresh water, which, if melted, is the equivalent of about 60 metres of global sea level rise - better understanding it has become an increasing priority to the world.
As such, Antarctica New Zealand is set to back a deeper push into the continent's white outer reaches, where the scientific pay-off could be invaluably greater.
While I'm at Scott Base, Victoria University's Professor Tim Naish and GNS Science's Dr Richard Levy are camping out at Mt Discovery, where an American camp's tents had shortly before been shredded to pieces by 150km/h winds.
It's clearly not a pleasant place to be, but they manage to collect ancient samples that will hopefully give us a window to what Antarctica looked like the last time we had as much carbon dioxide in our atmosphere as we do today.
"I think most scientists would lie if they said they don't get some enjoyment out of going to a new place, camping out, and doing something adventurous," Naish says.
"But I think Peter is absolutely right, that most of us are driven by the fact that the science is really important, it matters and we have to go there to do it."
He says it requires resilience and an absolute devotion to the research.
"You can get a bit sick of the hassle, and there is certainly easier ways to do cool science, but still, there's an element of Antarctica that gets under people's skin."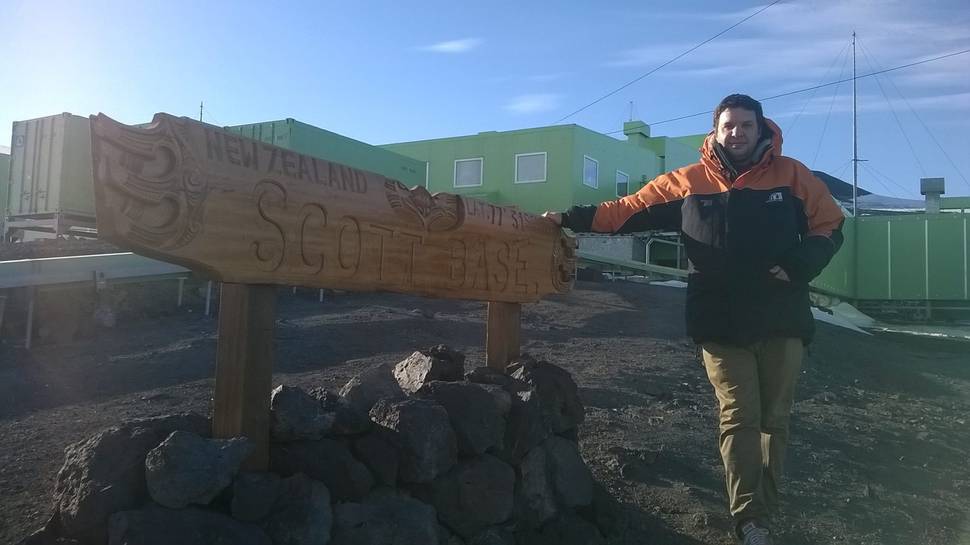 Some get the bug as soon as they've completed their induction, known as AFT, or Antarctic Field Training.
For me, it was a series of training sessions and a night out on the ice, where I learned how to erect a tent and dig a trench using just a saw and shovel.
I might say it was like camping out in the bush, only in this instance there was the alien absence of any vegetation and the constant threat of the weather taking a turn for something terrifyingly Antarctic.
If that happens, you can rest assured your body is wrapped in an onion-like layering of specially-designed polar clothing, topped off with a bulky down jacket that takes an average eight hours just to make.
Try walking in thermals, fleeces, three coats, salopette overalls and heavy boots - add to that mittens, leather gloves, balaclava and wind-proof cap - and you feel less Amundsen, more Neil Armstrong.
In the New Zealand wilderness, you often also have the luxury of a longdrop.
On the ice, it's a bottle to pee in or "poo bucket", all of which must be emptied and treated back at base.
As per international law, not even one blotch of Milo can be left on the pristine ground.
In the morning, which appears no different than the night, I sit behind a wall of ice bricks and hold my steaming coffee mug close as the wind begins to bite at my cheeks again.
Yet summer is a pleasant time on the continent, where the temperature can rise to a few degrees and the calmer conditions enable the 100-odd flights to and from Christchurch each season.
In March, as the last plane soars off into the distance, the small skeleton crew preparing to winter over might gather out by Scott Base's flagpole for a glass of champagne.
They know that after the sun goes down for the final time, the isolated months ahead are going to be longer and darker than they could imagine.
"When it was my first time, the most terrifying moment was when the last staff member with all the experience left," says Becky Goodsell, a former base leader whose five stints have included two winters.
"So for the next half-hour, you're like, what have I done? But then after half an hour, you just get on with it."
Despite what many people assume, she says, wintering over isn't the stuff of a claustrophobic horror story like The Shining.
Nor is it an endless run of dark, idle days spent learning a new language or reading every page of War and Peace.
"You're working eight till five or six, six days a week, and you have more than enough on to fill every single day," she says.
In the evenings, the crew meets for social activities like American night (Thursday), dart night (Friday) movie night (Saturday) or games of mini-putt down the link-way.
"It's almost like a little Utopia, it's how you wish life could always be like: you all say hello to each other and you're all there to help each other get through."
Further company can be found just over the hill at US-operated McMurdo Station, where around 100 people stay on through winter.
Inevitably, there are downsides: slow internet, mysterious memory blanks known as "T3", homesickness and the absence of fresh fruit and vegetables, save for hydroponically-grown cabbage.
In Kiwi film-maker Anthony Powell's hit documentary Antarctica: A Year on Ice, avocado was curiously singled out as a constant craving among winter staff.
He's no doubt experienced it himself enough times.
With 18 separate stretches on the ice working as a communications technician, Taranaki-raised Powell is one of New Zealand's longest-serving Antarcticans.
This season, he's been freed up to focus entirely on his passion for film-making, something he previously had to squeeze between jobs out in the field.
You'll now find him either editing footage in his small office at the back of the base, or climbing aboard a helicopter to some stunning spot like the Friis Hills.
"A lot of being down here is about getting back to basics, away from all of the clutter and the social expectations of life back home," he tells me.
"You get all the extremes that can be possible - isolation, cold and wind, complete silence, or at night in winter, just being able to look up at the cleanest sky in the world."
Powell is madly in love with all of it. The least-suited type of person who could come here, he says, would be someone on a spiritual journey to "find" themselves.
"If you come here and you don't like what you find, you're definitely in the wrong place."
I pause to think about that comment. How could anybody come to this world and feel underwhelmed?
For the many people who have asked me to describe it, the nearest I've come is something between mountains and Mars. I wasn't at all surprised to hear scientists recently found an Antarctic fungus that could probably survive on the red planet.
As I trudge toward my waiting LC-130 Hercules, that now familiar crunch sounding beneath my icy boots, I stop to steal one more glance at the frozen continent.
Those far-away mountains still seem so clear, and so close.
I've experienced the driest, coldest, windiest, most remote place on Earth and I'll never see anything like it again.