The British nurse being treated for Ebola is now in a critical condition after her health "gradually deteriorated" in hospital.
Pauline Cafferkey, a Scottish NHS nurse, caught the deadly virus while volunteering in a government-funded clinic in Sierra Leone, despite the use of protective equipment and strict infection controls.
She became the first person to be diagnosed with Ebola in the UK on Monday after she returned to Glasgow, sparking an operation to trace other passengers on her flights.
The 39-year-old is being treated at the Royal Free Hospital in London. It houses the UK's specialist treatment centre for the disease, which has killed almost 8,000 people worldwide.
A brief statement on the hospital's website today said: "The Royal Free London NHS Foundation Trust is sorry to announce that the condition of Pauline Cafferkey has gradually deteriorated over the past two days and is now critical."
On Wednesday, a spokesperson had issued happier news that Mrs Cafferkey was "sitting up in bed, talking and reading".
She chose to receive plasma treatment, which uses the blood of Ebola survivors, as well as an experimental anti-viral drug that was not officially named.
Dr Michael Jacobs, infectious diseases consultant at the Royal Free, said on Wednesday: "We are giving her the very best care possible. However, the next few days will be crucial. The disease has a variable course and we will know much more in a week's time."
The Prime Minister said his "thoughts and prayers" were with Mrs Cafferkey, while Nicola Sturgeon, the Scottish First Minister, said she was thinking of the nurse and her family during "this extremely distressing time".
"I would like to thank all of the health professionals involved in treating Pauline, as they continue to show tremendous dedication and expertise," she added.
The Health Secretary, Jeremy Hunt, said he knew the nurse was being given the "best possible care".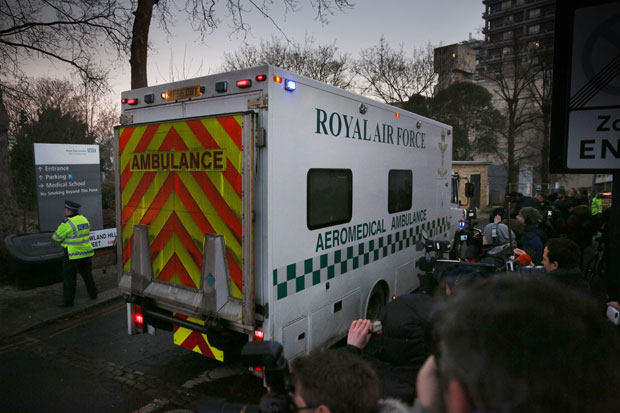 The convoy carrying Pauline Cafferkey arrives at The Royal Free hospital in London. Photo / Getty Images
"My thoughts are with Pauline Cafferkey and her family and friends at this difficult time," he added.
"I know Dr Mike Jacobs and his team at the Royal Free Hospital are working tirelessly to provide her with the best possible care."
Mrs Cafferkey had worked as a nurse for 16 years before starting volunteering with Save the Children to help with the Ebola crisis.
She flew out to Freetown in November with four other Scottish volunteers and a contingent of 30 NHS staff from around the UK as part of a government-funded project.
During her time in Sierra Leone's "red zone", she wrote a diary about her experiences for the Scotsman newspaper, chronicling her journey from the Blantyre Health Centre in South Lanarkshire to Ebola's front line.
She said she felt well-protected in the "alien-type suit" of protective clothing health workers wear in 30C heat, joking that they would "certainly be beneficial on a cold winter's night in Scotland".
In her third week, Mrs Cafferkey described the harrowing experience of watching a woman die from Ebola as her young son watched through the window, made an orphan by the virus that claimed both parents and his sister.
"The sad thing is that this is a regular occurrence and we see and hear of whole families being wiped out by this awful disease," she wrote.
Despite the sorrow, she said seeing survivors be discharged back into the outside world with celebratory singing and dancing made the work worthwhile.
"It helps us remember the good work we are doing and the reason we are all here," she wrote.
Save the Children said almost 200 people had been treated for Ebola at the Kerry Town Treatment Centre, which opened in November and has 80 beds.
One of Mrs Cafferkey's colleagues, who sat next to her on the flight home, said he and other medical workers had felt protected from infection.
Dr Martin Deahl told Sky News the group had 10 days of army training in York, which left them "feeling totally confident and safe".
There was "a bit of a reunion" between NHS volunteers when they met at Freetown airport for the flight home from Sierra Leone, he said, and "everybody sat next to everybody else" as they shared their experiences.
"I would bet anything that she caught this in the community and not in the treatment centre. We had absolute confidence in the equipment and in our training," he added.
"I cannot see, if you followed the procedures and the protocols properly, I cannot see any way that someone could be contaminated."
Dr Deahl raised doubts about Britain's "disorganised" screening measures for Ebola after it emerged Mrs Cafferkey was cleared to fly home to Glasgow despite telling medics she feared she had symptoms.
While waiting for a connecting flight to Glasgow she raised fears about her condition and was tested a further six times in the space of 30 minutes.
Public Health England (PHE) said its procedures would be reviewed and confirmed on Friday that all 101 UK-based passengers and crew on board the Casablanca to Heathrow flight had been contacted by medical authorities and given advice. Health Protection Scotland has also contacted all 71 passengers and crew who were on board the London to Glasgow flight.
Health authorities in both countries say the risk to other passengers was "extremely low".
There are no proven treatments for Ebola virus disease, but several experimental treatments have trialled used during the current outbreak, including the use of plasma from the blood of survivors, which contains antibodies against the virus. Chances of survival are also improved if patients are kept hydrated with oral or intravenous fluids.
Dr Jacobs said on Wednesday that further experimental therapies could be used if necessary. A spokesperson for the hospital was unable to confirm whether further experimental treatments were being used following the deterioration of Ms Cafferkey's condition.
The only other British person to have contracted Ebola, nurse William Pooley, who was infected while caring for Ebola patients in Sierra Leone in the summer, was also cared for at the Royal Free Hospital. He was treated with the experimental drug ZMapp, stocks of which are currently not available.
- Independent