The SEAL Team Six member who was named as the man who shot Osama bin Laden dead is facing a whispering campaign from other SEALs claiming that his account of the killing is not truthful.
Yesterday it was revealed Rob O'Neill, a retired 16-year veteran of the elite squad, was the man who says he shot bin Laden in the head to kill him.
His identity had been a closely-guarded secret but he is due to reveal his account in an interview with Fox News next week.
Today it became clear that other SEALs are about to accuse him of lying - although there is agreement that he was on the raid.
A SEAL source told MailOnline: "The real shooter would never discuss it publicly.
"Members of SEAL Team Six haven't discussed it publicly so there's a reasonable chance he's not being truthful.
"There is no way O'Neill could really prove it was he who took the fatal shot on Osama bin Laden unless his comrades all attested to it.
"But again, the code of secrecy with these special operators would preclude that."
A second source told MailOnline that other SEALs were expected to speak out anonymously against O'Neill.
When a previous SEAL went public, the then head of US Special Operations took the personal steps of asking members of SEAL Team Six whether that account was accurate.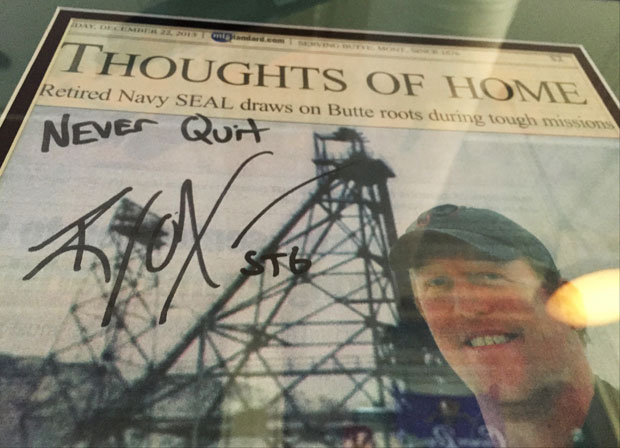 A framed Montana Standard newspaper article on O'Neill hangs on the wall of the Metals Sports Bar in Butte. It is signed by O'Neill himself. Photo / AP
CNN's Pentagon reporter said that military officials concluded the account was inaccurate.
Although it is not known if a similar operation is planned by the military, a SEAL Team Six 'operator' spoke to CNN in March 2013 to contradict the version of events O'Neill had then given anonymously to Esquire magazine.
One other SEAL has previously gone public - Matt Bissonnette. His version of events is different.
He told NBC News: 'Two different people telling two different stories for two different reasons.
"Whatever he says, he says. I don't want to touch that."
The decision of O'Neill to go public and speak at length will prompt fresh examination of that version of events, in which the SEAL said that "The Shooter", now known to be O'Neill, had fired the first,non-fatal shot at bin Laden and that other SEALs finished him off.
The reason for O'Neill going public - which was to happen next week until MailOnline revealed his identiy - has yet to become clear.

O'Neill with a fan. He is a popular speaker and has more than 30 confirmed kills. Photo / Twitter
One account emerged today claiming that he had decided to go public after meeting relatives of the victims of the September 11 2001 terror attack.
The Washington Post said that it had planned to reveal his identity along with Fox News later this month. Fox News had not disclosed the newspaper's involvement when it announced the two-part interview last week.
The newspaper reported that he had become convinced his identity was about to emerge anyway and at the meeting - before the opening of the memorial to the victims in New York - decided spontaneously that he should go public.
"The families told me it helped bring them some closure," he told the paper.
But his decision has been greeted with fury by the SEAL establishment.
He is one of the most distinguished members ever of the elite force - but now faces being frozen out of its circles for revealing its most closely-held secrets.
O'Neill was personally congratulated for killing bin Laden - in his account at close range with three shots to his forehead - during the SEAL raid on Abbottobad, in Pakistan, on May 2, 2011.
Questions have previously been raised over the exact narrative of how bin Laden came to die.
But the row is now set to become ugly and high-profile.
The only other account by a named SEAL was given by Matthew Bissonnette, who wrote an inside account of the mission.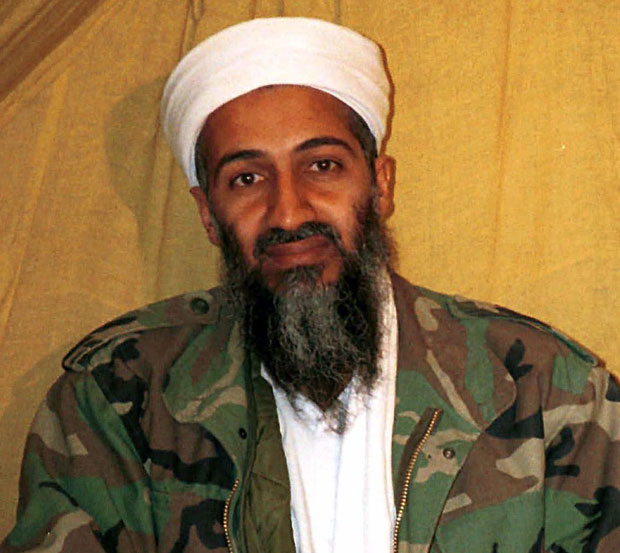 Osama bin Laden was shot dead in 2011 in an operation authorised by President Barack Obama.
Bissonnette released his controversial book No Easy Day in 2012 - under the pen-name Mark Owen - and immediately faced the ire of the Pentagon and fellow SEALs.
In his book Bissonnette said that bin Laden was on the floor having already been shot when he and other SEALs entered his room, having been fired upon by another SEAL when he craned his head into the hall as the team approached.
Bissonnette's book claims that when he entered the room bin Laden's body was already lying at the foot of the bed, twitching and convulsing and that the SEALs, including Bissonnette shot him in the chest until he was motionless.
Because this version of events differs from the account that the White House and other US officials have given, Admiral William McRaven, the head of US Special Operations Command personally went back to the head of Team Six to examine the contradicting claims.
Following this, senior Pentagon officials told CNN that the conclusions they reached were that Bissonnette was wrong in his version of events.
They re-confirmed that the al-Qaeda leader was standing in his room when the SEALs entered and they shot him then, as he was able to access weapons that were already in the room.
Despite the fact that bin Laden was unarmed, the SEALS had come under heavy fire as they made their way through the house to reach him and bin Laden showed no signs of surrendering.
O'Neill first made his version of events in anonymous form, in an interview with Esquire magazine.
In that interview, published in March 2013, he said that he burst into bin Laden's bedroom, saw a gun within bin Laden's reach, and shot him in the forehead.
He was one of three SEALs - the other two being Bissonette and "the point man", whose identity remains secret - to make it to the top floor.
A third version of events was then presented to CNN by an unnamed "SEAL Team Six operative".
The SEAL claimed that the "point man" rushed up the stairs, and seeing bin Laden poke his head out of his bedroom door, shot him once in the head, gravely wounding him.
He then rushed past bin Laden's body to grab the two women in the room in case they were wearing suicide belts.
Two more SEALs shot bin Laden in the chest, killing him.
The CNN source said that it would have been impossible for The Shooter - O'Neill - to have seen a gun because the only two recovered from the bedroom were sitting on a shelf above the frame of the door, so invisible to someone rushing in the door.
CNN reported than a "senior US official" said the account "has it right in my view".
However CNN did not say whether its senior SEAL team operative was actually on the raid itself.
O'Neill's decision to speak out was prompted by losing some of his military benefits by quitting the SEALs after 16 years rather than staying for a full 20 years of service.
But he has been heavily criticised for speaking out.
In a letter to past and present SEALs, Force Master Chief Michael Magaraci and commander Rear Admiral Brian Losey, made it clear that the vow of silence remains one of the most important tenets of SEAL life.
"A critical tenant (sic) of our Ethos is 'I do not advertise the nature of my work, nor seek recognition for my actions.'" Magaraci and Losey wrote.
'We do not abide willful or selfish disregard for our core values in return for public notoriety and financial gain, which only diminishes otherwise honorable service, courage and sacrifice."