Technology giants including Samsung, Sony and Panasonic are among the firms still using hazardous chemicals that are contributing to a "growing environmental crisis", a major new report has found.
While there has been some progress in recent years, the latest Greenpeace Green Gadgets report shows that leading consumer electronics companies are continuing to use toxic chemicals in smartphones, televisions, tablets, computers and cables.
Read more: Live Chat: What's next for climate change action?
The report comes on the eve of Europe's biggest consumer technology show which opens in Germany tomorrow.
Major technology firms are set to descend on Berlin for the IFA technology show to launch hundreds of new smartphones, tablets and computers.
Sales of electronic gadgets are set to reach 2.5 billion this year. But the Greenpeace report on the progress of 16 leading technology firms found that up to 50 per cent of smartphones use hazardous substances - including polyvinyl chloride (PVC) and brominated flame retardants (BFRs) - and that, overall, electronics companies are failing to address their growing energy footprint.
PVC and BFRs are common in many devices and are often released during the recycling of so-called e-waste.
This process often involves more toxic chemicals and the burning of components, and generally takes place as a "backyard" activity in the developing world, far from where these devices were sold and used.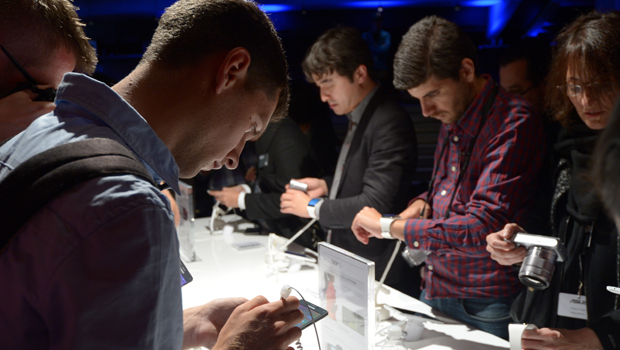 People test new Samsung products at the IFA, one of the world's largest trade fairs for consumer electronics and electrical home appliances in Berlin. Photo / AP
Greenpeace highlighted Samsung, the world's largest electronics company, for criticism. It said that the firm is failing to meet previously stated elimination goals for its products beyond its phone range and had joined other firms in backtracking on commitments.
Apple was praised for reducing its impact and becoming the only company to totally eliminate the use of PVC and BFRs from its entire product range, after a recent policy shift at its Chinese factories.
However, Greenpeace attacked Microsoft for dropping a previous "phase-out commitment" and Amazon for "failing to provide any information to the public".
"Apple has shown us a glimpse of a greener future, leading the sector on toxic-free products and starting to address the huge environmental footprint of electronics manufacturing," said Greenpeace UK's head of IT, Andrew Hatton.
Watch: Greenpeace protest LEGO toys
"But the industry still has a long road ahead of it before they're giving customers the level of efficiency and sustainability they are asking for."
He said: "The innovative electronics industry is perfectly placed to re-imagine their manufacturing and marketing processes. They're designing our future, and we need that future to be a lot cleaner and greener than where we are now."
Spokespeople for Samsung, Sony, Panasonic, Amazon and Microsoft were yet to respond for requests for comment last night.
- UK Independent