Their relationship, now the subject of feverish worldwide interest, began some six years ago, in the fields surrounding Jhok Kallu Khan, a remote Punjab village.
It ended 10 days ago when Farzana Parveen, 25 and pregnant, was bludgeoned to death outside the high court in Lahore - a bustling city of five million, a hundred kilometres from those fields where they fell in love.
Among her killers were members of her own family. "She was crying for help and I could do nothing," said her husband, Muhammad Iqbal.
Explaining the background to the killing, he told The Independent that the marriage had been agreed by their families: "I gave 80,000 rupees and around 40 grams of gold to her family to take her hand in marriage. The two families were already related through different marriages and also shared the same caste. It wasn't a faux pas when I developed a liking and desire to marry her."
Read more:
• Husband admits he killed his first wife
• Pregnant woman stoned to death by her family
After Ms Parveen's mother died, Mr Iqbal claims, her father "backed out" of the agreement and demanded another 100,000 rupees. Then, when the couple married "for love" in 2009, Mr Iqbal says, the father accused him of kidnapping his daughter.
Mr Iqbal says he and his wife had been on the way to the Lahore court to contest the kidnapping allegations when Ms Parveen was attacked and killed on the court steps.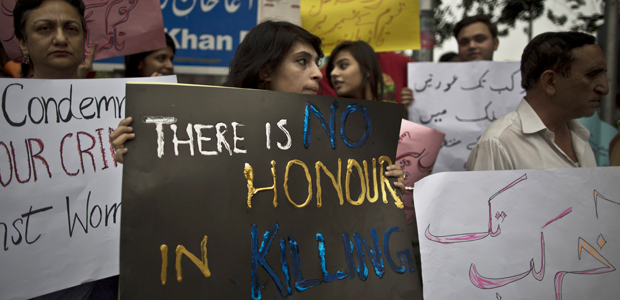 Members of Pakistan's civil society hold banners during a protest to condemn the killing of pregnant woman Farzana Parveen. Photo / AP
Pakistan's Prime Minister, Nawaz Sharif, described the killing as "totally unacceptable" and demanded to know why police had stood by and not protected Ms Parveen. Her father, reportedly, was one of five people arrested.
Although Mr Iqbal claims his wife testified in the lower courts and the high court that she consented to the marriage, he is still wanted for kidnapping and has now been declared an absconder by police.
He told The Independent: "I am scared now. My marriage is valid and legal, yet I have been declared an absconder. My wife has been killed in broad daylight but those who did it have now filed a petition against me."
He added: "We used to hear that in conservative cultures in the past, people used to stone women to death, but they have revived the brutal custom in today's times."
Watch: Pakistan woman stoned to death over honour
Mr Iqbal's story was given a further twist when he admitted recently that he had killed his first wife, Ayesha, after meeting Ms Parveen - then Farzana Bibi - and falling in love with her.
"I was going to Farzana's place to run a few errands when my first wife stopped me," he said. "We had an argument and I held her from the neck and only pushed her, after which she fell down and received fatal injuries. I never intended to kill her. She was just very weak, perhaps."
His sons later pardoned him under Islamic laws.
Ms Parveen's murder, in a place where she should have been safe, has drawn international condemnation, including from the United Nations. Last year in Pakistan, 869 such "honour killings" were reported, according to the Human Rights Commission of Pakistan.
- UK Independent