Nepal has named two Himalayan peaks near Mount Everest after Sir Edmund Hillary and Sherpa Tenzing Norgay and opened them to foreigners for climbing in an attempt to revive Nepal's appeal to mountaineers.
Last month a deadly avalanche killed 16 sherpa guides, forcing hundreds of foreign climbers to abandon their attempts on Everest.

The mother of a Nepalese mountaineer Ang Kaji Sherpa who was killed in an avalanche on Mount Everest. Photo / AP
The conquest of the peak by Hillary and his Nepali guide Tenzing in 1953 popularised Nepal as a destination for mountain climbers.
Read more:
• 12 extreme facts about Mount Everest
• Sir Ed's team mate the 'forgotten man of Everest'
The Himalayan country is home to eight of the 14 peaks in the world which are over 8,000 metres (26,247 ft) high.
A senior official at Nepal's Tourism Ministry, Tilakram Pandey, said the peaks - Hillary at 7,681 m (25,200 ft) and Tenzing at 7,916 m (25,971 ft) - were unclimbed so far.
The renaming exercise could put Nepal back on the map as a popular destination, says Pandey.
"We believe climbers will be attracted to these peaks and help promote mountaineering activities," he said.
"Many foreign Alpine clubs and climbers have shown interest in the opening of these mountains."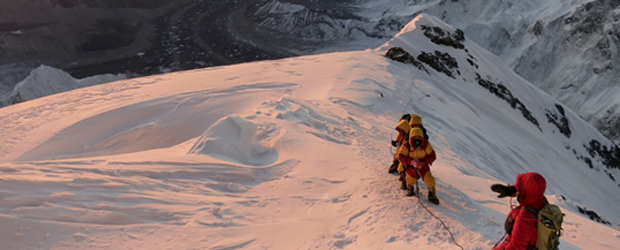 Climbers make their way to the summit of Mount Everest. Photo / AP/Alpenglow Expeditions
Tourism accounts for four percent of Nepal's gross domestic product, and fees paid by climbers for permits is a major source of income for the cash-strapped government.
According to Nepal's Ministry of Tourism, other major tourist activities in the country other than climbing include wilderness and adventure activities such as mountain biking, bungy Jumping,ziplining, trekking, bird watching, flights, paragliding and hot air ballooning over the mountains of Himalaya, exploring the waterways by raft, kayak or canoe and jungle safaris especially in the Terai region.
Hillary and Tenzing were part of the ninth British expedition to Everest, led by John Hunt. Both climbers were subsequently named by Time as one of the 100 most influential people of the 20th century.
- Daily Mail