Key Points:
In an all-girl state secondary school in Chibok, a local government area of Borneo State, Nigeria, girls were sitting their exams when heavily armed Islamist gunmen stormed the school, over-powering soldiers guarding the school and abducting 300 girls. Islamist military group Boko Haram has claimed responsibility for the mass abduction and is now threatening to sell the girls. Here are ten things you need to know about Boko Haram:
1. It was founded by Mohammed Yusuf in 2002
Born in 1970, Yusuf was a Muslim sect leader and founded Boko Haram as its spiritual leader. He was killed in the 2009 Boko Haram Uprising while in police custody - a conflict between the militant group and Nigerian security forces that led to more than 1000 deaths. He had four wives and 12 children. There is some discrepancy around how he died, the Nigerian government claiming it was during a fight but
a video interview of Yusuf in prison
disputes this.
2. The group is now run by Abubakar Shekau
Shekau served as deputy leader to Yusuf and authorities believed he had been killed in the 2009 clash, but he appeared in a video in 2010 claiming leadership. He posts videos online stating that he 'cannot be stopped' and in his recent video claiming responsibility for the abduction of the 300 girls. He described the girls as "slaves" and said "By Allah, I will sell them in the marketplace."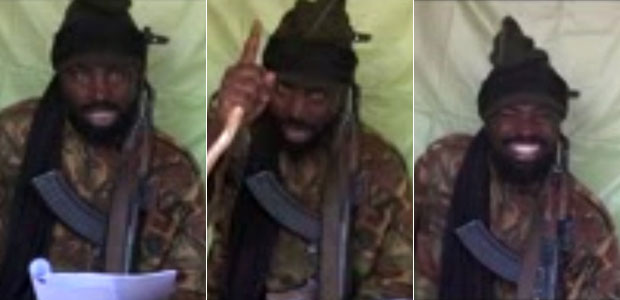 The leader of Boko Haram, Abubakar Shekau claimed responsibility for a bombing in Nigeria's capital that killed at least 75 people in April. Photo / AFP
3. It's full name is The Congregation of the People of Tradition for Proselytism and Jihad
It is better known by its Hausa name, Boko haram, loosely meaning "Western education is sinful."
4. It is designated as a terrorist group
Gen Ham, commander of the US Africa Command (Africom) believes that there are links between Boko Haram and al-Qaeda. He believes that that they are sharing explosives and funds. On October 13, 2013, the US government designated the group as a terrorist organisation.
5. It was a peaceful group until 2009
Women hold banners during a march of Nigeria women and mothers of the kidnapped girls of Chibok, calling for their freedom, in Abuja. Photo / AFP
Yusuf founded the group with the intention of establishing a sharia government in Borneo State. Sharia essentially means the religious law (including crime, politics and economics) of a prophetic religion - in English it usually identified with Islam. Yusuf set up a religious complex that included a school where many poor families sent their children. Yusuf began recruiting future jihadists, using the high unemployment, poverty and political corruption of Nigeria to encourage people to join.
6. The Nigerian government launched investigations in 2009 which brought the beginnings of violence
With reports that the group was arming itself, the Nigerian government began taking action. Several arrests resulted in deadly clashes that resulted in the deaths of more than 1000 people.
7. The violence is escalating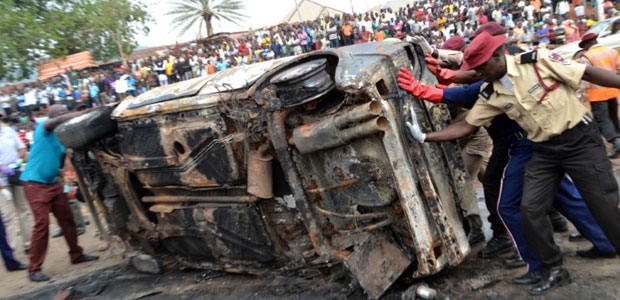 Nigerian security personnel remove the wreckage of a vehicle from the site of a blast at Nyanya bus station in the outskirts of in Abuja. No group has claimed responsibility for the latest attack, but suspicion immediately fell on Boko Haram. Photo / AFP
There were an estimated 3600 people killed by the group between 2010 and 2013, while more than 1500 have died in the insurgency this year.
8. Nigerian police, military and government have contributed to its success of Boko Haram
Despite Nigeria's wealth due to its oil, around 75 per cent of its population is considered poor. The police and military are known to execute prisoners without trial and there has been factional fighting between the northern Islamic Fulani and southern Christian Berom tribes, that included a conflict between 2001 and 2004 that left more than 50,000 people dead.
9. The group doesn't represent Islam
Boko Haram has come under much criticism by Muslim leaders, including Dr. Mu'azu Babangida Aliyu, the Niger State governor and The Sulton of Sokoto Sa'adu Abubakar, the spiritual leader of Nigerian Muslims, as not representing Islam, and even anti-Islam. "Islam is known to be a religion of peace and does not accept violence and crime in any form and Boko Haram doesn't represent Islam," says Dr. Mu'azu Babangida Aliyu.
10. Boko Haram kills both Muslims and Christians alike
There are varied reports of how many Nigerians are Christian or Muslim - but the margin between them is slim - with around half of the population Christian and half Muslim. Boko Haram has instigated attacks on both Muslims and Christians alike, indicating that the group is not necessarily influenced by religion, but also by corruption and poverty. The group has blown up schools, religious buildings, sports venues and even family dinners.