A 15-year-old boy has been charged with the murder of teacher Ann Maguire who was stabbed to death in front of around 30 pupils.
The 61-year-old Spanish teacher had worked at Corpus Christi Catholic College in Leeds for more than 40 years, and was months away from retiring, when she was attacked in a classroom on Monday morning.
The Crown Prosecution Service (CPS) has concluded that there is sufficient evidence to charge the 15-year-old with the murder after he was arrested and interviewed under caution by police.
Read more:
Stabbed teacher screamed 'don't let them see me die'
Floral tributes show love for stabbed teacher
The boy, who cannot be named for legal reasons, will first appear at Leeds Youth Court tomorrow and at Leeds Crown Court for a bail hearing on Friday, the CPS said.
In a statement, Peter Mann, head of the CPS Yorkshire and Humberside Complex Casework Unit, said: "The family of Mrs Maguire have been informed of this decision and they will be offered a meeting to explain the trial process and answer any questions they may have.
"The death of Mrs Maguire has attracted a very considerable amount of public interest and media activity. This defendant now stands charged with an extremely serious criminal offence and has the right to a fair trial.
"It is extremely important that there should be no reporting, commentary or sharing of information online which could in any way prejudice these proceedings."
Mrs Maguire, who was head of Year 11 at the school for more than 10 years, lived in the Moortown area of Leeds with her husband, Donald, who is believed to be a retired maths teacher.
The head of the school, Steve Mort, earlier described his immense pride at leading the students and staff as they tried to cope with the tragedy.
He singled out the children at the school for praise as he inspected the mass of floral tributes which have accumulated since the death.
He said: "I am immensely proud to be headteacher at Corpus Christi.
"Our children have proven themselves to be great ambassadors for the school. And I want to pay particular tribute to them and to the professionalism and dedication demonstrated by our staff at this very difficult time."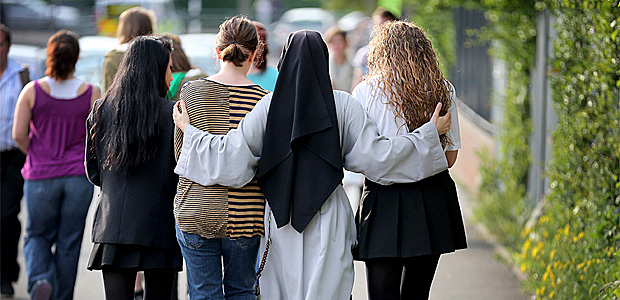 A nun supports students at Corpus Christi college. Photo / Getty Images
The head spent around 15 minutes reading some of the hundreds of messages along the 50m line of tributes placed against the school's metal railings along with his deputy, Cath Bielby, and assistant heads, Kieran Sykes and Andy Kellett.
Mr Mort said: "I want to say on behalf of the pupils, the staff and the governors and of the school that we are overwhelmed by the amazing outpouring of love and affection for Ann from the local community, from friends of the school past and present and from colleagues across the city.
"Over the past 48 hours we have drawn an incredible amount of strength and comfort from all the amazing tributes and messages of sympathy and support that we have received from right across the country and, indeed, the world.
"I would personally like to express my gratitude to all of the people that are currently supporting us within the school - West Yorkshire Police, Leeds City Council, the diocesan family and, in particular, our partner primary schools and Catholic Care."
Scores of the children leaving the school this afternoon stopped to read hundreds of messages pinned to a mass of floral tributes outside the gates.
It has emerged that Mrs Maguire, who was described as a "wonderful, dedicated teacher" by the school's chairman of governors, raised her two nephews following the death of her sister, who was a single mother.
Mrs Maguire, who is understood to have two grown-up daughters of her own, brought up Andrew and Daniel from a young age after their mother, Eileen Poole, died from cancer.
Her former brother-in-law, Mike Thomas, told the Sun newspaper: "Ann took on the two sons and brought them to live with her. She brought them up 'til they were about 18.
"She had two daughters so her family doubled overnight. It must have been hard work for her with four kids, but she didn't bat an eyelid."
Mrs Maguire's death is thought to be the first time a teacher has been stabbed to death in a British classroom, and the first killing of a teacher in a school since the 1996 Dunblane massacre.
She went to Corpus Christi as a student teacher and, last year, the school held a celebration of her 40 years' service.
This year, she moved to working four days a week ahead of her planned retirement in five months' time.
Police have confirmed that Mrs Maguire died from multiple stab wounds.
- UK Independent